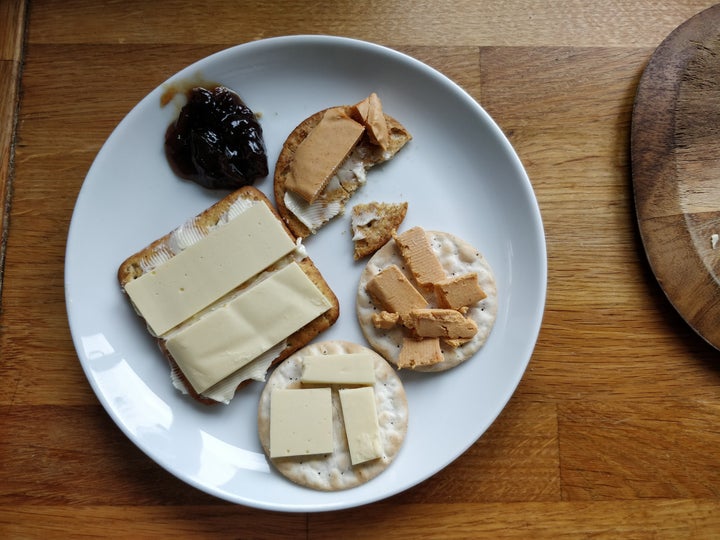 A few years ago, heads would have turned at the very idea of 'vegan cheese' – but not anymore. There are so many options for those on a plant-based diet – with vegan takes on hard cheese, soft cheese, spreadables and everything in between.
So, what happens when a load of real cheese fans sample the vegan varieties we can get our mitts on? The HuffPost UK Life team are up for this taste-test. Before we start, our head of news – who is actually vegan – cautions us that (at least in his experience) vegan cheese tends either to look, taste or melt like the real deal, but rarely achieves the holy trinity.
Are the vegan cheeses below enough to persuade a bunch of dairy lovers to make the swap? The results are in – from worst to best.
Nurishh Plant-Based Camembert Alternative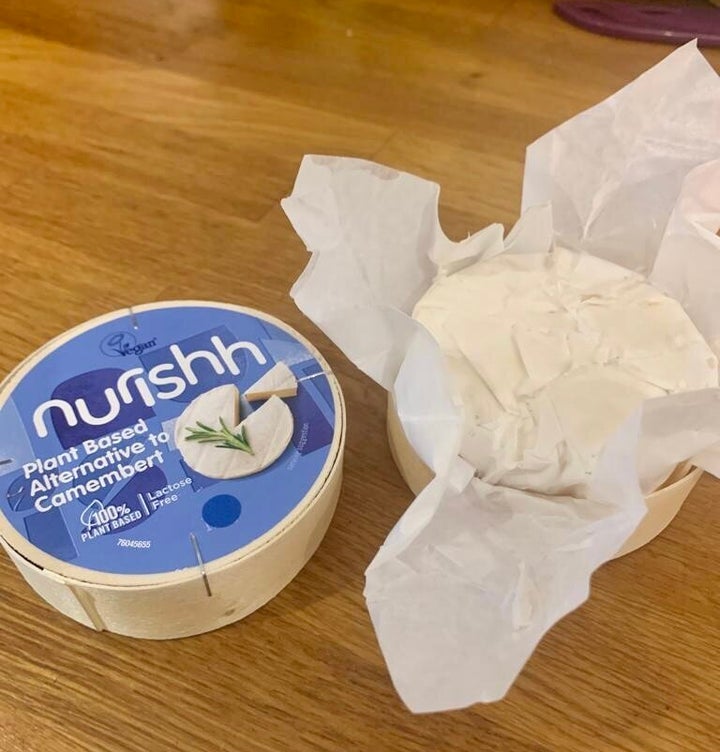 "Yes, that is a minus you see in my rating. I find with most vegan cheese, so much effort is put into making it look like cheese, they easily forget the all important flavour. I only manage a small nibble of this admittedly convincing-looking 'camembert' and it's like biting into a very soft soap bar. Not only does it taste like a Lush shop, there's an overwhelming coconut oil flavour followed by a stinky sock taste. Visually, it may look the real deal, but it's failed in tasting remotely like cheese. I really don't want to waste it. Perhaps I should give to some of my vegan pals to try. But I don't think I can inflict it on them."
M&S Plant Kitchen Mature Style, Block and Sliced
Reviewed by: Adam Bloodworth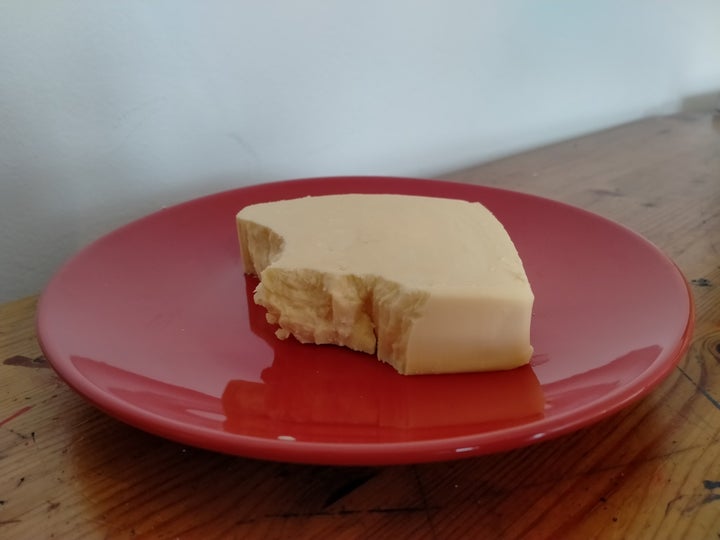 "There's really brilliant vegan cheese out there, I've had it, but this is not it. The flavour of this cheddar-like substitute, made with 21% coconut oil (the second ingredient listed behind water), is really jarring and not like traditional cheese at all. The texture is almost like cheese, but not quite: enough to trigger my mind to know it definitely isn't. The sharp, tart aftertaste and smell is off-putting, too."
Mature Cheddar Style Sheese
Price: £2.30 for 200g from Vegan Kind Supermarket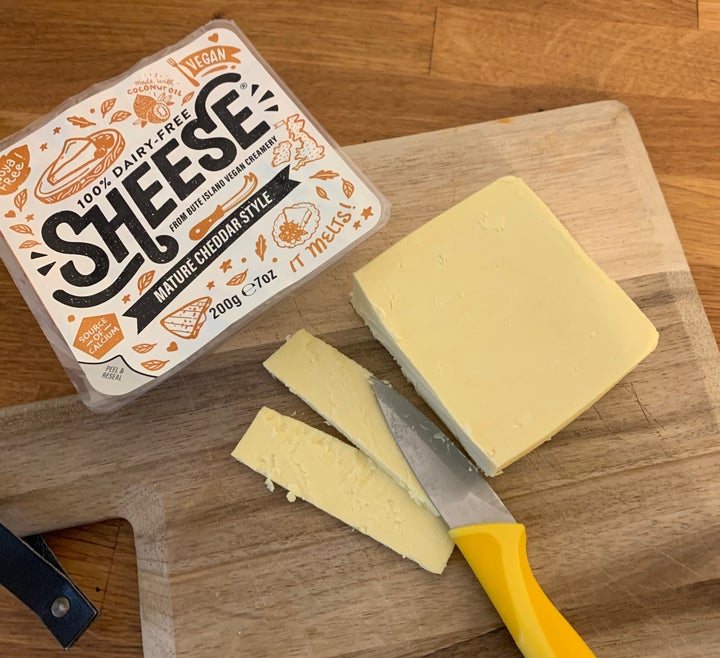 "First thoughts: this looks like a block of cheese – no doubt about it. There's an excellent funk and, when I bite into it, an undeniable cheesiness, which is probably the yeast extract. But once the aftertaste hits, everything changes. It's tart and sour (a little too much lactic acid, I suspect) and too sickly on its own. I reckon it'd be better paired or melted into dishes such as cheese toasties, cauliflower cheese or gratin. On its own, you get that full force of flavour – and it's just a bit much. But texturally, it's creamy and milky, so a bonus mark there."
Faux Sho Cheddar Style Cashew Cheeze
Price: £8.50 for 170g (with wax)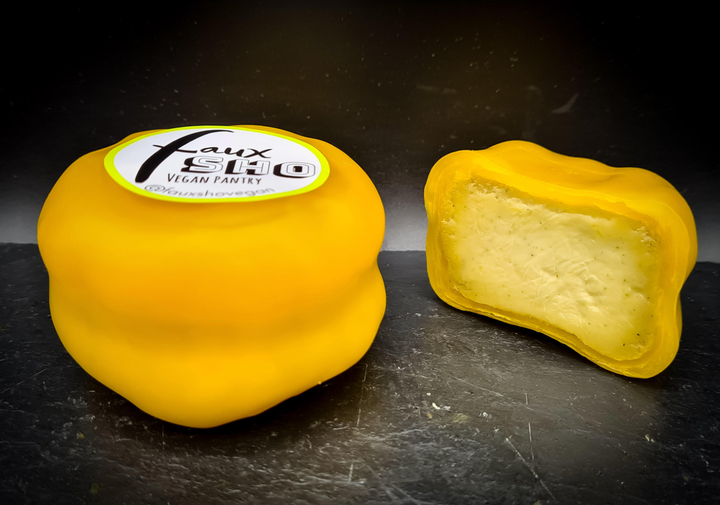 "This cheese (or 'cheeze') comes in a waxy outer layer, reminding me of the mature cheddar my mum always gets out for a big cheeseboard. In fact, it's matured over four weeks, and it definitely has that distinct cheddary smell and taste – pretty impressive. I get distracted by the texture, though. It's described as 'in between a soft and a hard cheeze', though my boyfriend describes it like play-doh, which puts me off. The taste is good, the texture not so much."
Follow Your Heart Mozzarella Shreds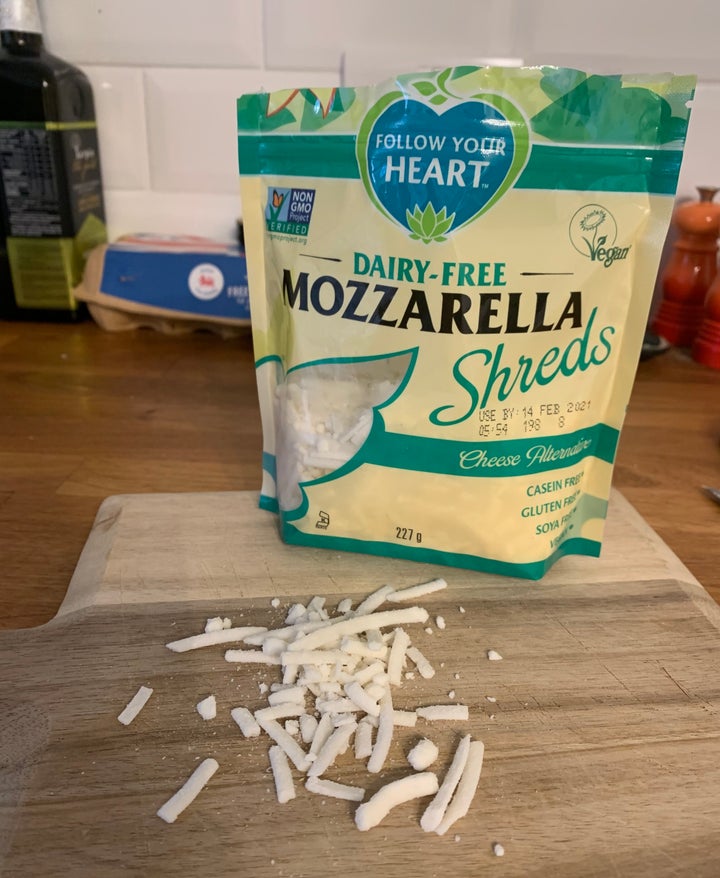 "A creamy melt-in-your-mouth 'cheese' that actually tastes like a mild cheese. A great improvement on the other vegan cheeses I've tried, this one is actually palatable. There's a dry powdery texture, which I think is the anti-caking agent stopping the cheese from sticking together, but that's what makes it the perfect cheese for vegan pizza. I reckon melted on top of other things it'll be a winner."
VioLife Epic Mature Cheddar Flavour Block
Price: £2.60 for 200g available at Sainsbury's and Waitrose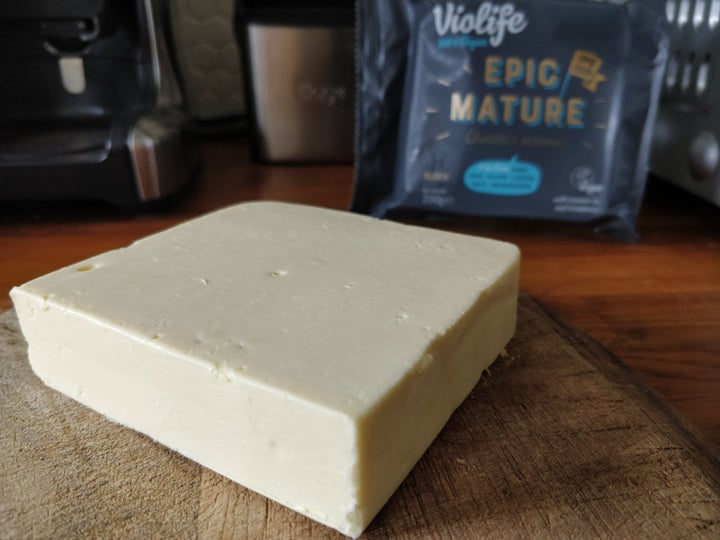 "When I unwrap this cheese, I'm taken aback by how it feels. It's different to your usual cheddar – a lot smoother, almost like a block of butter. No wonder when it's 24% coconut oil. Biting in, I notice a difference in texture, too – no crumble, more like the cheese slices you'd pop on a burger. I've been sceptical of vegan cheese since trying some of the early ones, which has the most horrific aftertaste. This does at least taste like cheddar. And while not particularly strong, it's great on crackers and would go nicely in a sandwich, too."
Applewood Vegan Block And Slices
Price: £2.20 for 200g block; £2.43 for 200g slices from Vegetarian Express
Reviewed by: Nancy Groves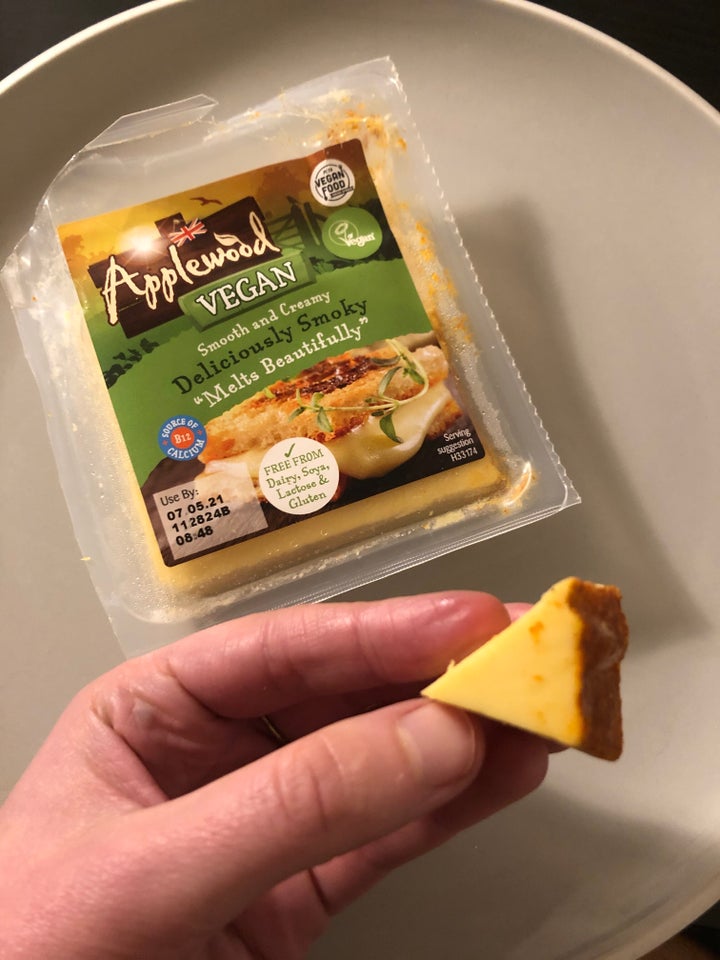 "As someone who'd order a cheeseboard for my last supper but always feels a bit queasy at the thought of foods that pretend to be other foods, I'm relieved to find Applewood's non-dairy dupe of its regular smokey cheese has the most comparable taste and consistency to real cheese I've tasted (that could be its mix of potato and maize starches, alongwith coconut oil). In fact, I'm so surprised it doesn't eek me out, I carve off an extra cube or three. Sadly, it doesn't grate so well over my pasta and when I try to melt the slices on toast under a grill, they crisp up rather than ooze. But decent nonetheless."
Norseland Vegan Mexicana Slices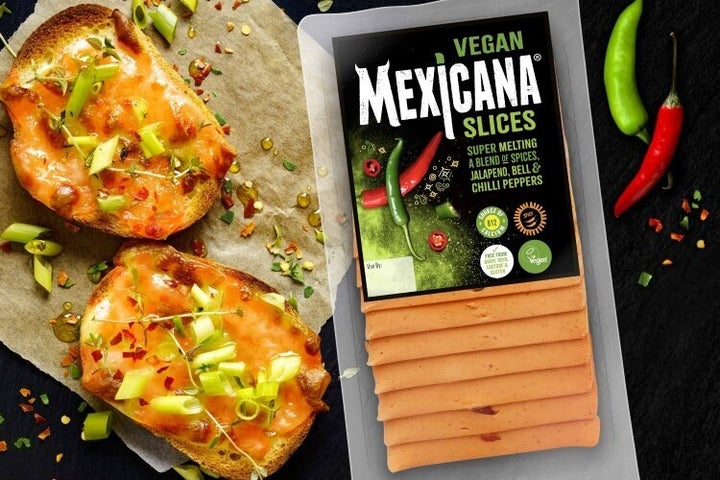 "This vegan cheese tastes reminiscent of the American-style cheese you expect to top a greasy burger at a funfair – and I haven't got a problem with that at all. The 'cheese' comes in a block or slice, is also coconut based, and contains a mix of real bell and jalapeño peppers. It's warmingly spicy, without being overbearing. I use it to top chilli tacos and it works a treat. Straight from the fridge, the texture is a little grainy. But all is forgiven once it goes under the grill – I never knew vegan cheese could melt so indulgently."
Nush Almond M*lk Ch*ese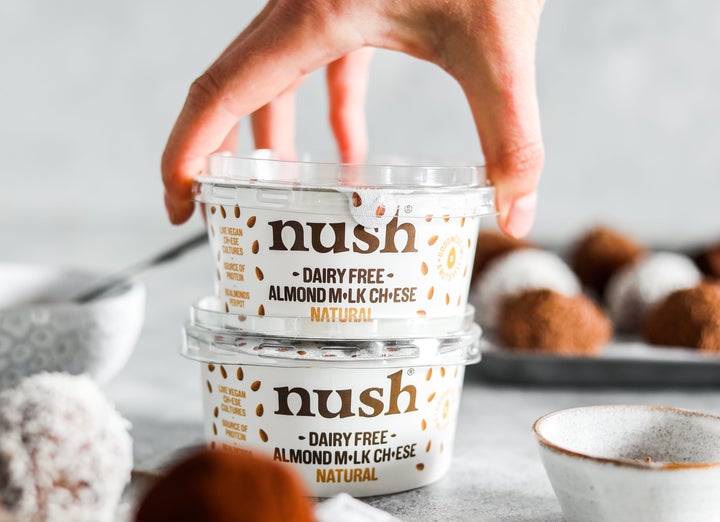 "The fact this 'cheese' is spreadable means you don't have to mentally wrestle with it having a different texture to normal cheese. And you can't fault it – I can't tell it's vegan at all. It's made from almond milk, is thick and creamy, and has a slight salted taste. I spread it on my bagels as I would my usual cream cheese and genuinely don't notice a difference. A great addition to your fridge if you want to cut down on dairy."
The Mighty Nooch Vegan 'Parm'
Price: £3 for roughly 75g
Reviewed by: Adam Bloodworth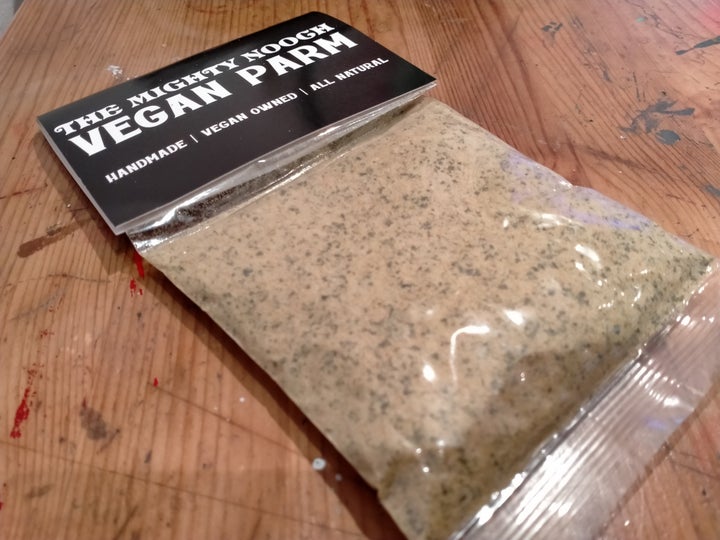 "Credit where credit's due to The Mighty Nooch, whose vegan take on Parmesan arrives wrapped up like a piece of jewellery. Thin tissue paper, millennial-pink branded stickers... it's a good start. And while it looks a little like peppery in the packet, the 'parm' itself is made from pumpkin seeds, yeast, salt and basil and has the chewy texture just right, with a lovely tangy sour intensity. The mouthfeel is gorgeous too and it'd go great on top of a nice pasta dish."
Honestly Tasty Shamembert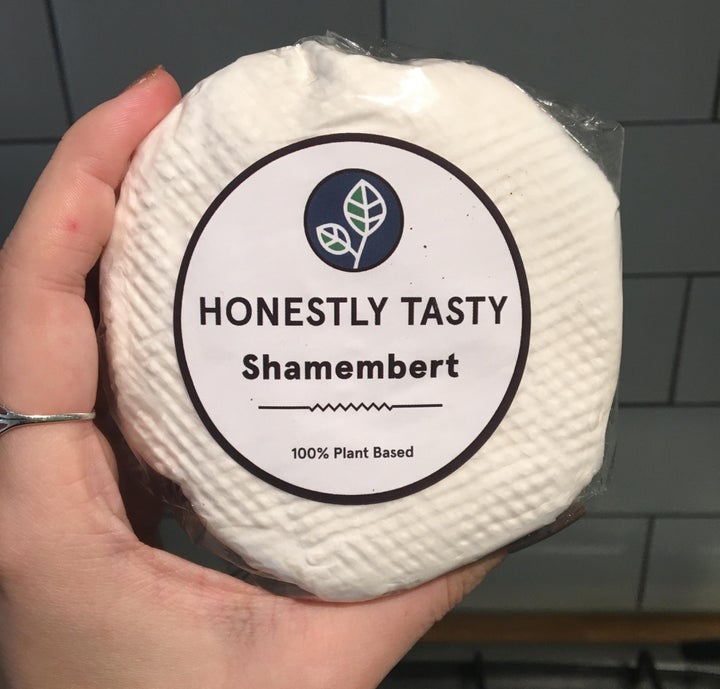 "I'd heard good reviews of this one. As a non-vegan cheese lover, I wasn't sure how it'd compare but it's a bestseller for Honestly Tasty and now I can see why. The texture and taste of the outer rind give you that delicious camembert hit and I love that the texture isn't so different, as that's what usually puts me off. With shea butter, rice bran oil and almonds in the mix, it's super spreadable, perhaps more than the usual, and has a slight truffle taste to it. I don't bake it in the oven, but I'm told you can – and I sure it would be delicious. It's expensive, but for a classy vegan cheeseboard, I'd really recommend it."
I Am Nut Okay Paparica Artisan Vegan Not-Cheese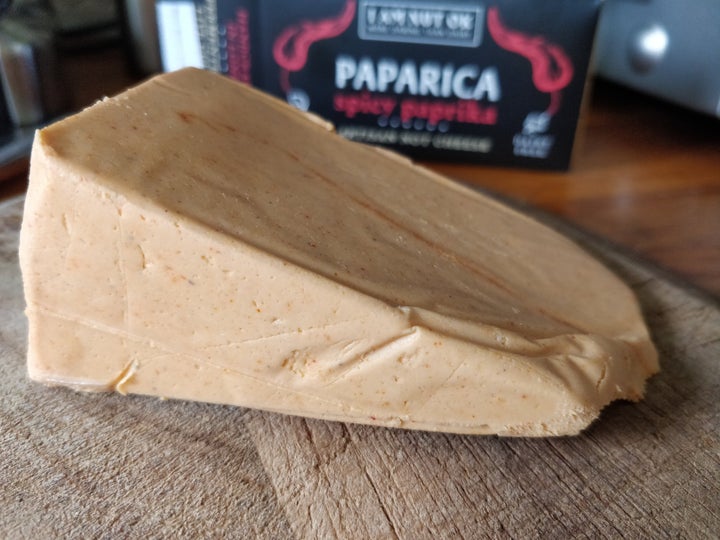 "This is certainly not your run of the mill vegan 'cheese'. Described as the 'grandfather of cheeses' and wrapped in a 'jacket' of smoked paprika, the main ingredient is cashew. It has a sweet but smoky flavour, with a texture veering towards paté, rather than hard or crumbly. But this means it goes really nicely on crackers. You get a lovely hit of spice on your tongue that seems to brew over time. It's pretty pricey at almost £7 for a small triangle of cheese, but I'd say it's definitely one to add to your (vegan) cheeseboard next time you're allowed mates over."
Bath Culture House Activated Charcoal Cashew Cheese
Price: £24 for 480g Vegan Cultured Cheese Selection Box (4 x 120g cheeses) from Melted Inside
Reviewed by: Adam Bloodworth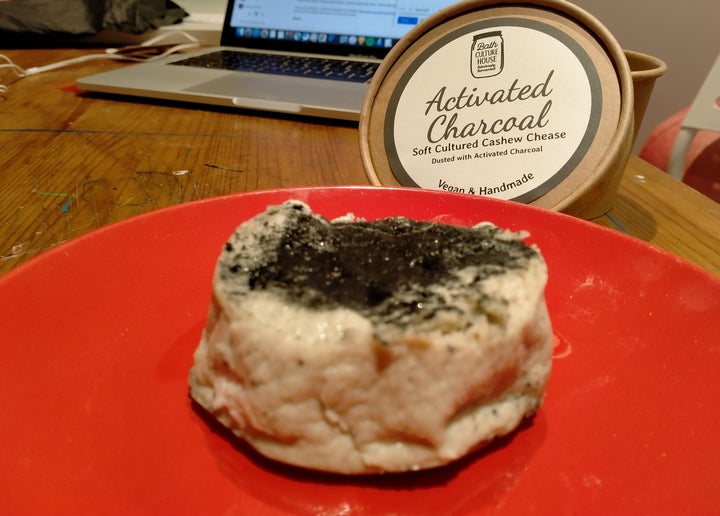 "Strong and unusual, this charcoal cheese comes beautifully presented in its own little cardboard box, almost like a miniature hat box, and is clearly aiming for the artisanal look and market. It's a soft, moreish cheese, with a tangy note at first, which gives way to the flavour of the creamy cashew, almost like a mushroom pate. The dusting of charcoal on top is great and I reckon this 'cheese' would pair really well with a light red wine. It's available from artisanal online retailers, meltedinside.com."
Nettle's Macadamia White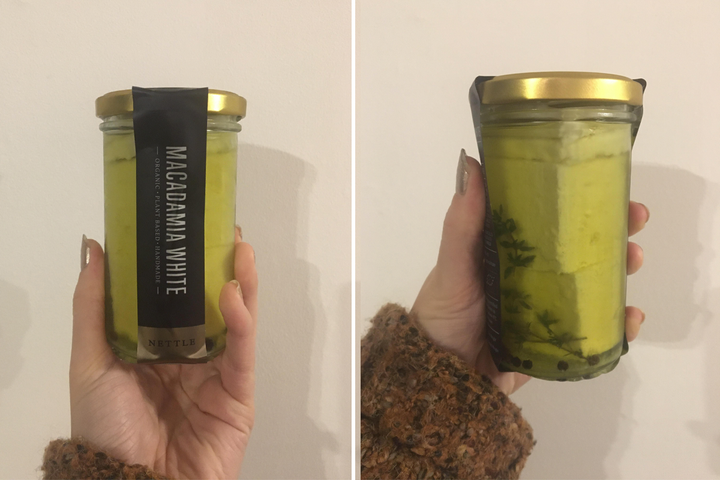 "This is the best vegan 'cheese' I have ever tried. Now that's a statement. It's made from a mix of cashew and macadamia nuts and is likened to a feta/goats cheese hybrid (both favourite cheeses of mine). It's also in a marinade of extra virgin olive oil, rapeseed, black peppercorns and thyme – and it's this part that makes it so incredibly delicious. The cheese itself is soft, rich and creamy and does have a feta-like texture – but the fact it's doused in the olive oil just makes it so more-ish. I have it for a snack, and come back for more. And more. I'd mark down it down for being pricey, but if you want to splash out, it's worth it."