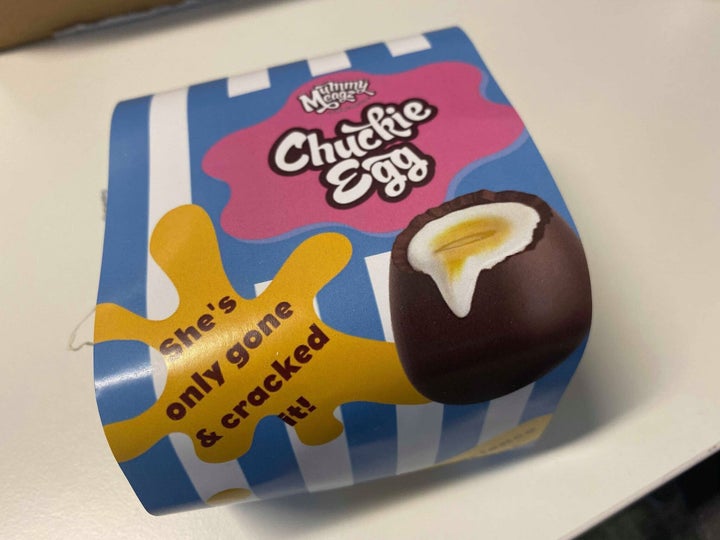 Vegans, rejoice – you can now buy creme eggs on the high street to satisfy your sweet tooth ahead of Easter.
Six years ago, Meagan Boyle was making small batches of these eggs to sell in her vegan coffee sop in Cottingham, East Yorkshire – but as their reputation grew, so did the demand, so she decided to partner with a retailer.
From 22 January, you'll be able to buy the eggs – named 'Chuckie Egg' – with a filling inside that resembles the famous Cadbury's treat.
The dark chocolate eggs, which contain soya, sugar, glucose, water, cocoa butter and vanilla flavouring, are completely vegan and contain no genetically modified ingredients or palm oil, with an RRP of 99p each.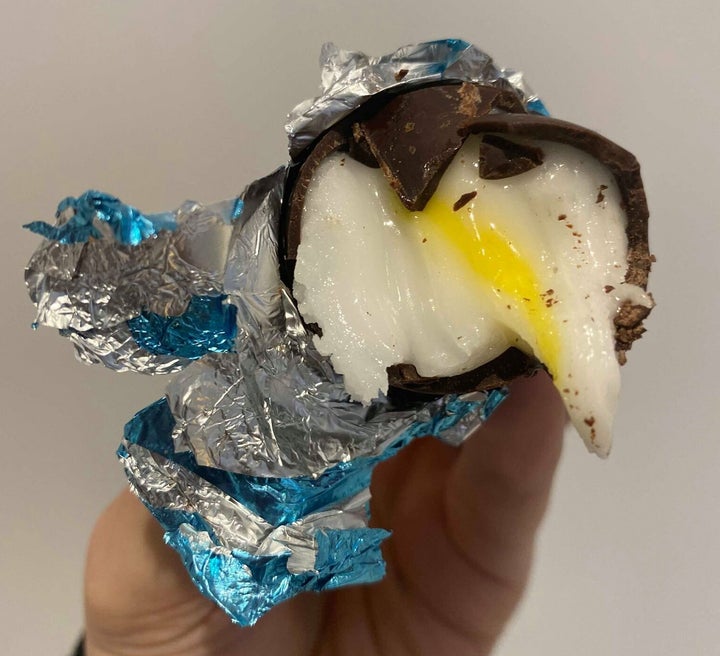 But how do they actually taste? Some of the HuffPost UK team had a try – here's what they had to say:
'I was sceptical... but I was wrong!'
"A Creme Egg devotee, I was sceptical at first of this smaller, flimsier-looking egg thing. But I was wrong! The dark chocolate is a great differentiating touch, and there's a ton of filling, which is always the best bit. A perfectly adequate replacement for everyone converting this Easter, and finally equal Creme Egg rights for our vegan siblings." Charlie Lindlar, commissioning Editor, HuffPost UK Personal
'Wouldn't have known it was vegan'
"Creme Eggs haven't been the same for me since they changed the recipe, so I was quite excited to try a new variation. What I wasn't expecting to find was dark chocolate when I unwrapped the foil. To be honest, I'm not sure how well it goes with the sweetness on the inside – however, I wouldn't have been able to tell you it was a vegan egg – the creme tastes like any non-Cadbury's version would, and the chocolate is good quality, too. I probably wouldn't have them again, but that's more to do with it being dark chocolate over milk!" Ash Percival, Entertainment Editor
'Not a huge dark chocolate fan, but this works'
"The egg is smaller than your average Cadbury's Creme Egg at Easter, but I'd say it's much richer. I'm not a massive dark chocolate fan, but this works well. The inside looks just like the original, but it's a bit sweeter than you'd expect – it's also a bit thicker and more gloopy. But the egg, as a whole, is satisfying and filling, I'd say. I'd echo my colleagues' comments and say you wouldn't know it was vegan. I would actually eat this again." Amy Packham, assistant life editor
Buy the vegan egg at Holland & Barrett.
We all work hard to earn our money – so it shouldn't feel like hard work to spend it well. At HuffPost Finds we'll help you find the best stuff that deserves your cash, from the ultimate lipstick to a durable iron to replace the one that broke (RIP). All our choices are completely independent but we may earn a small commission if you click a link and make a purchase.