While non-vegans may associate a plant-based diet with lettuce leaves and tofu, vegans know renouncing meat and animal by-products encourages you to get creative and there is no shortage of delicious meals to be created.
To add a bit of variety to your lunch box, Dutch plant-based writer Rita Serano has shared three delicious salads with HuffPost UK from her new cookbook, "Vegan in 7".
Not only are these salads free from meat and animal by-products, but they're also healthy, beautiful, colourful and easy to transport – these tupperware treats will be the envy of your lunch buddies.
Lentil and pomegranate salad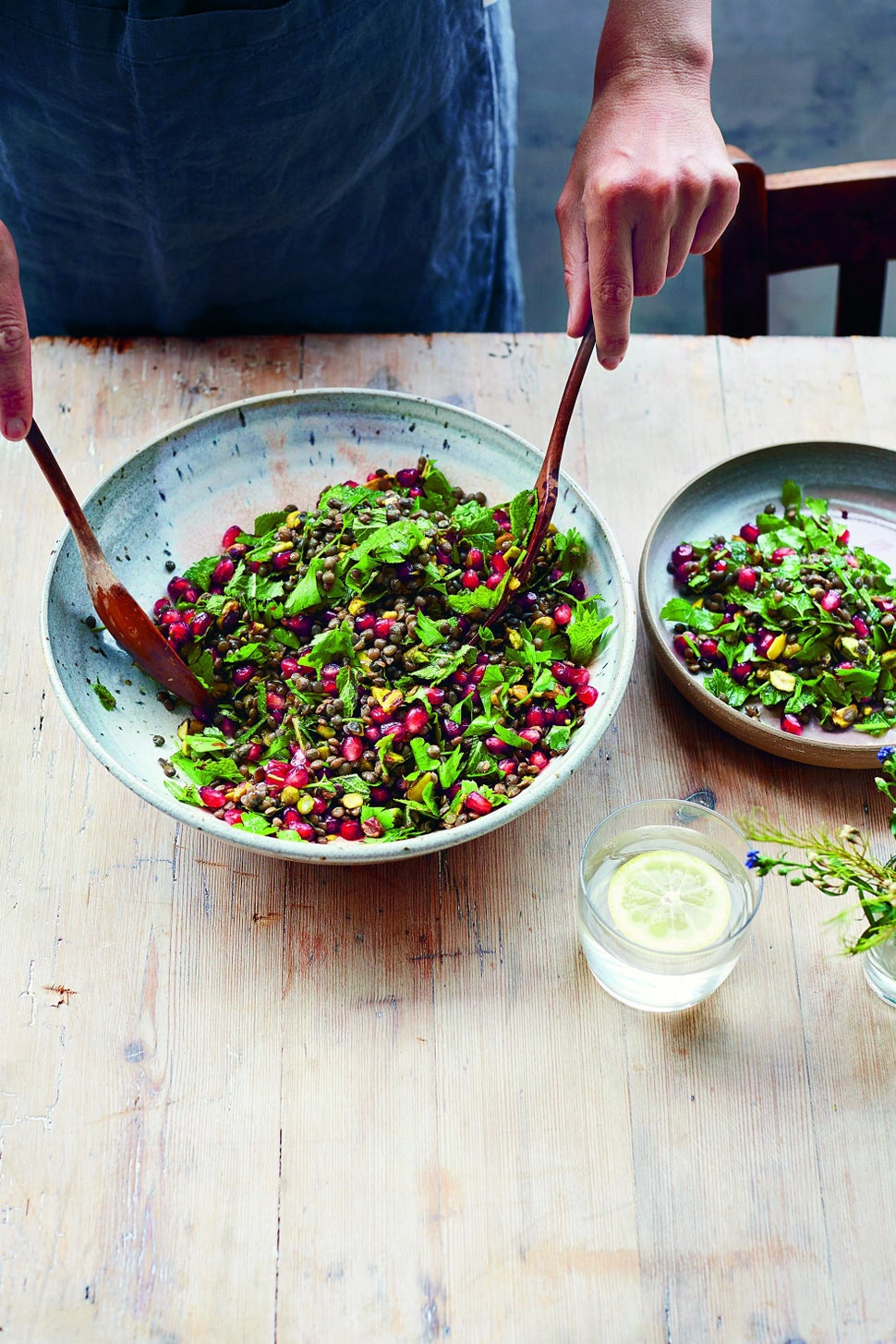 For this recipe you will need:
250g puy or other firm lentils (e.g beluga), rinsed
1 large bunch of parsley, chopped
1 large bunch of fresh mint, chopped
Seeds from 1 pomegranate
1 tablespoon chopped, preserved lemon peel
1 tablespoon lemon juice
1 garlic clove, chopped
Approx 320g almond feta (See Rita's book for her own recipe)
:: Cook the lentils in 750ml of water according to the packet instructions. Be careful not to overcook: the lentils should be tender but not broken or mushy.
:: Drain the lentils and place in a large bowl. Add the parsley, mint, pomegranate seeds, chopped preserved lemon peel and juice, garlic and three tablespoons of olive oil.
:: Season with a little salt and freshly ground pepper.
:: Scatter over the almond feta and serve warm.
Courgette noodle salad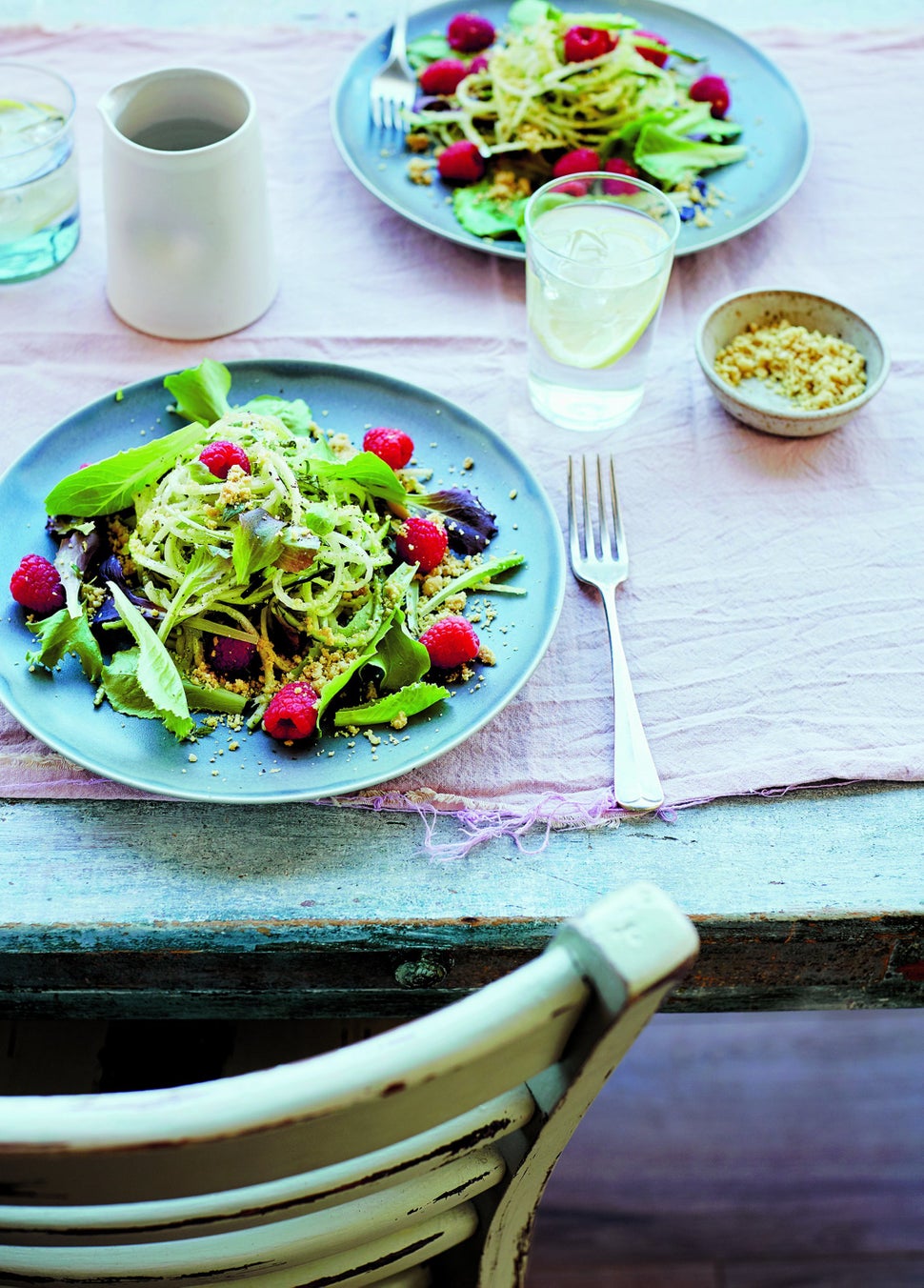 For the recipe you will need:
35g pine nuts
1/2 teaspoon garlic powder
10g nutritional yeast
2 medium courgettes, trimmed
90g raspberries
Leaves from 4-5 sprigs of thyme
150g mixed young salad leaves
Approx 1/2 teaspoon sea salt
(Serves two as a main, four as a starter.)
Start by making the pine nut 'parmesan'. In a food processor, combine the pine nuts, garlic powder (if using), and yeast with 1/2 teaspoon of sea salt and pulse until a grated Parmesan-like consistency is formed. Store in an airtight container.
Slice the courgettes into long, thin strips using a mandolin, spiraliser or a potato peeler.
To make the dressing, mash 30g of the raspberries together with 4 tablespoons of extra virgin olive oil. Add the thyme and a pinch of sea salt and freshly ground pepper.
Toss the salad leaves and the courgette noodles in the dressing, then serve sprinkled with the remaining raspberries and 4-5 tablespoons of the pine nut 'parmesan'.
NB: For a more budget-friendly 'parmesan', use equal parts cashews and sunflower seeds.
Tomato, tarragon, nectarine and horseradish salad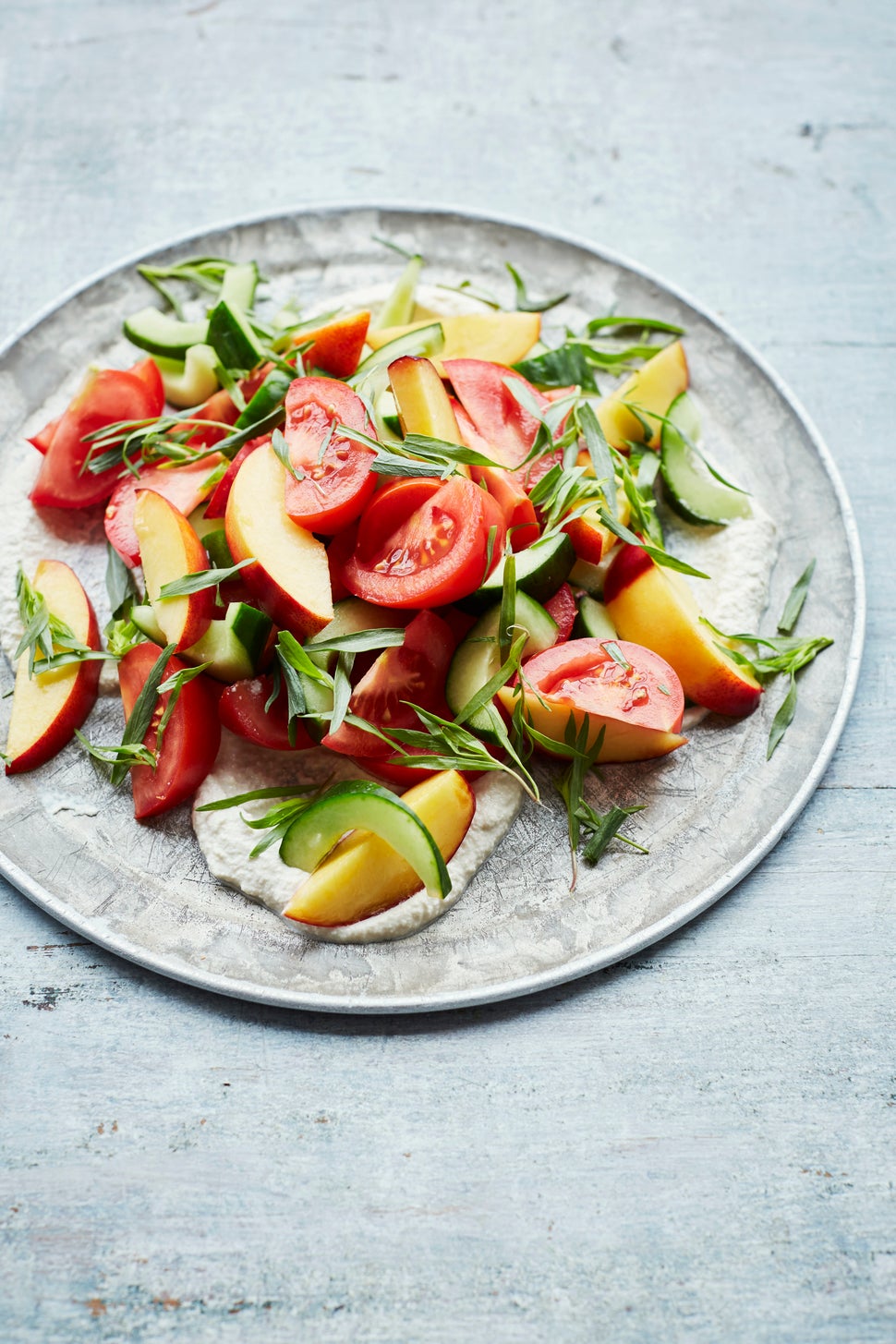 For the recipe you will need:
4 tomatoes, sliced into wedges
4 nectarines, sliced into wedges
1/2 cucumber, deseeded and sliced into wedges
2 teaspoons white balsamic vinegar
Approx 500ml savoury cashew cream/plant-based yoghurt
1 teaspoon grated horseradish
1 bunch of tarragon, leaves torn
:: In a large bowl, toss the tomatoes, nectarines and cucumber together with the balsamic vinegar and add a pinch of salt and pepper.
:: In a small bowl, stir together the cashew cream/natural yoghurt and horseradish with a pinch of salt and pepper.
:: Put some dollops of cream/yoghurt on a large plate (or individual ones, depending on how many you're serving) and arrange the salad nicely on top and scatter over the torn tarragon leaves.
Taken from "Vegan in 7" by Rita Serano. Published by Kyle Books.