Bank employees deemed to have performed poorly in their jobs have been filmed being spanked and having their heads shaved.
Footage shows eight employees of Changzhi Zhangze Rural Commercial Bank, in China's northern Shanxi province, being smacked on the backside with what appears to be a thick wooden slab.
Motivational trainer Jiang Yang wrote on his blog: "Spanking was a training model I have been exploring for many years."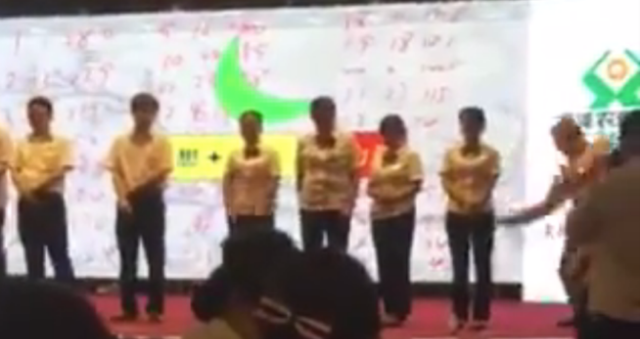 The bank hired Jiang to run a "performance breakthrough" course for its staff of more than 200.
After a day of training Jiang demanded explanations from the eight employees with the weakest scores.
One replied, "I'm not hard on myself." Another shouted, "I didn't make a breakthrough!" while a third blamed lack of teamwork.
"Get your butts ready", Jiang informed them, before striding up and down the row of offenders several times, whacking them loudly on their behinds with a plank.
The punishment, captured in a mobile telephone video circulated on Chinese social media, has been met with criticism.
"Since when does beating employees become a way of raising performance?" asked one Weibo user, Denny Tangmashi.
The training company declined requests by Reuters for comment, while telephone calls to the bank went unanswered and Jiang's mobile phone appeared to have been switched off.
In an online statement on Monday, the oversight body described the training as "improper," adding that it had suspended the bank's chairman and a deputy governor and told Jiang to make a public apology.
Some saw the punishment for the bankers and the trainer as inadequate, however.
"They need to be beaten with a stick!" wrote Weibo user Edison Li Jingyu.