Vladimir Putin has won a fourth term as Russia's president, adding six years in the Kremlin for the man who has led the world's largest country for all of the 21st century.
Putin addressed thousands of people who rallied outside the Kremlin on Sunday to thank them for their support and promised new achievements, the Press Association reported.
Speaking to a crowd who attended a pop concert marking his election victory, the 65-year-old hailed those who voted for him as a "big national team", adding that "we are bound for success".
He said that the nation needs unity to move forward and urged the audience to "think about the future of our great motherland".
He then led the enthusiastic crowd to chant "Russia!"
Results from more than half of precincts showed Putin winning over 75% of the vote, with Communist candidate Pavel Grudinin and ultra-nationalist Vladimir Zhirinovsky trailing far behind with about 13 and 6%, respectively.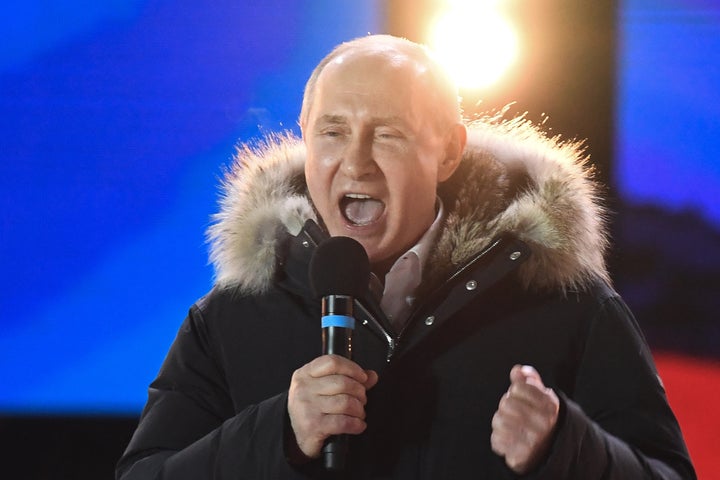 The vote was tainted by widespread reports of ballot-box stuffing and forced voting, but the complaints will likely do little to undermine Putin.
The Russian leader's popularity remains high despite his suppression of dissent and reproach from the West over Russia's increasingly aggressive stance in world affairs and alleged interference in the 2016 US election.
Putin's main challenge in the vote was to obtain a huge margin of victory in order to claim an indisputable mandate.
The Central Elections Commission said he had won about 73% of the vote, based on a count of 30% of the country's precincts.
Russian authorities had sought to ensure a large turnout to bolster the image that Putin's so-called "managed democracy" is robust and offers Russians true choices.
By 5pm Moscow time, authorities said turnout had hit nearly 52%.
Putin had faced seven minor candidates on the ballot.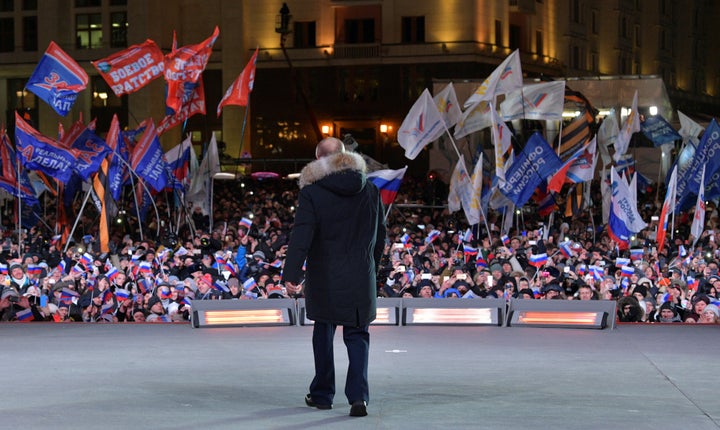 His most vehement foe, anti-corruption campaigner Alexei Navalny, was rejected as a presidential candidate because he was convicted of fraud in a case widely regarded as politically motivated.
Navalny and his supporters had called for an election boycott but the extent of its success could not immediately be gauged.
The election came amid escalating tensions between Russia and the West, with reports that Moscow was behind the nerve-agent poisoning this month of a former Russian double agent, Sergei Skripal, in Britain and that its internet trolls had mounted an extensive campaign to undermine the 2016 US presidential election.
Britain and Russia last week announced tit-for-tat diplomat expulsions over the spy case and the United States issued new sanctions.
Russian officials denounced both cases as efforts to interfere in the Russian election.
In London, anti-Putin protestors gathered outside the Russian embassy as voters queued to cast their ballot int he presidential election.
Among the protesters standing opposite the embassy in Notting Hill was 30-year-old Victoria who moved to the UK from Moscow.
"I believe that the current elections are fake. I feel like my vote has been taken away from me. And this is the only way I can be honest to myself," she told the Press Association.
Victoria said she feels Britain should take "more serious" measures against Russia, adding that she believes it is "highly likely" that the Kremlin was behind the Salisbury attack.
Commenting on a tweet posted by the UK Russian Embassy on Sunday – a picture of Poirot with the caption "In absence of evidence, we definitely need Poirot in Salisbury!" – Victoria said that joking about an incident in which people almost lost their lives was "very inappropriate".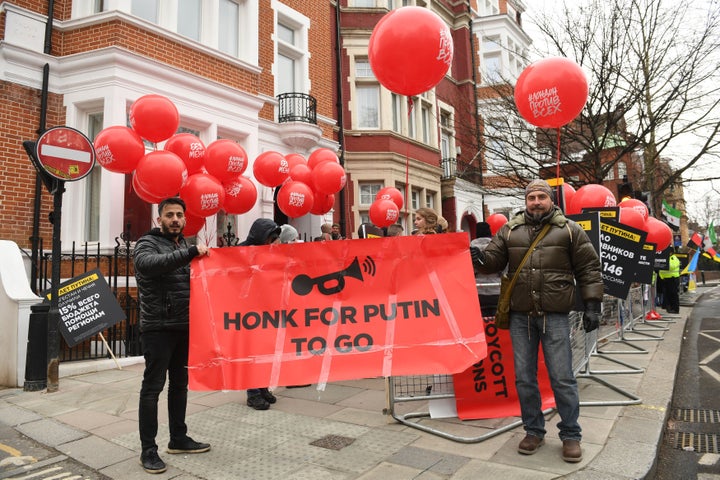 She described the state-backed RT TV channel as a "propaganda machine", and said Britain should limit RT's presence.
Meanwhile, exiled Russian businessman Yevgeny Chichvarkin said the current relationship between the UK and Russia is worse than relations during the Cold War.
The 43-year-old, who led anti-Putin chants, said he left Russia due to "serious pressure from Russian authorities".
When asked whether he was afraid about being so vocal just a few metres from the embassy, he said: "I feel that I have to."
Asked if he thinks he is being watched, he said: "Of course, a lot of people who work for FSB are around, of course."
But the entrepreneur added: "We need change. We, as the world, we need change."
Chichvarkin said the Kremlin's reaction to the Salisbury incident is "the normal reaction of criminals", and asked if he believes the Kremlin is behind the incident, he said: "Yes. For sure."
Editor's Note: This article was updated to protect the privacy of some of the contributors.