The Women's Sport Trust has called for the end of female models across the world of sport, following the landmark decision to ban "walk-on girls" in darts. On Saturday, the Professional Darts Corporation (PDC) confirmed women will no longer escort male players to the stage after talks with broadcasters.
A leading voice campaigning for gender equality in sport, The Women's Sport Trust, has now called on other sports to follow suit. In a statement given to HuffPost UK the body said it supports the PDC's decision, but would now like to "encourage other sports such as motor racing, boxing and cycling to follow their example".
Many on Twitter have also called on a banning of female models employed in this way across sport, although the darts ban isn't without its critics. Some have accused the PDC of "political correctness gone mad" and putting women out of work.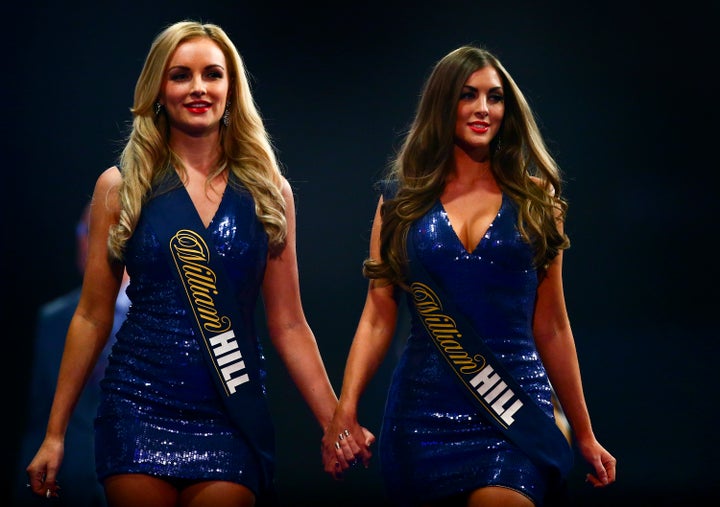 The Women's Sport Trust says its issue with the use of models in sport as "walk-on girls, grid girls and ring girls is the message it gives about how women are valued in society".
"Sporting viewers are expected to admire the successful, talented, strong men taking part in competition, with the role of women purely based on their physical appearance," the statement reads.
"Women are being positioned as an embellishment to a sport, rather than having the opportunity to enjoy the same level of funding and media exposure as men.
"Sport mirrors and magnifies society. If we depict women in sport in a way that reinforces a narrow stereotype, we add to the pressure young girls in particular feel to look and act a certain way. If we depict women in a central, powerful and sporting role, we create a positive, modern and accurate image to inspire others."
Others on Twitter have also pointed to Formula 1 and cycling to scrap their current use of female models, with many citing the Tour de France as a competition with unnecessary hostesses.
Following the PDC announcement, more than 27,000 people have signed an online petition to keep the "tradition" of women models in darts.
Since tweeting in support of the PDC's decision, The Women's Sport Trust says its own account has fallen victim to trolling.
"Unfortunately, whilst the decision to change the format of events was taken by the PDC, the public debate has primarily been characterised as walk-on girls versus feminists...Being part of this conversation has meant that Women's Sport Trust has experienced significant amounts of online abuse this weekend," the statement says.
"These individuals seem to be unaware that in the era of #MeToo and #TimesUp, being the biggest bully in the playground simply doesn't cut it anymore. If you have an argument to make, then make it - but aggressive abuse will not stop the debate."
In December 2017, F1 managing director of motorsports Ross Brawn told BBC Radio 5 live the use of "grid girls" in the sport was being reviewed. In light of the PDC's decision, HuffPost UK contacted F1 for an update on this review, but were told there is "no update".
A spokesperson from the British Boxing Board of Control also said they were unavailable to comment on the use of women models in boxing. HuffPost UK has also contacted Tour de France about the use of models and is awaiting response.