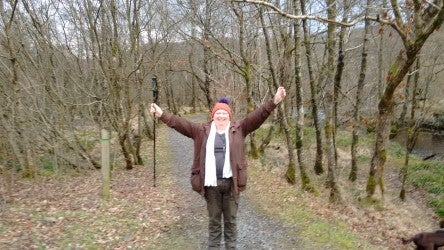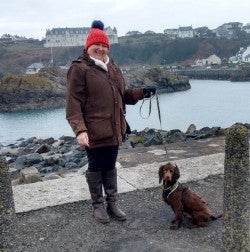 One day, enjoying a country walk in North Yorkshire with my husband Billy, I was sick at a pub lunch. I had been participating in a Slimming World programme and feeling better than ever, so booked a doctor's appointment for what I thought was food poisoning. But then I was referred for an endoscopy, where doctors identified a lump in my oesophagus. Within a week, I had an appointment with a surgeon.
I asked, "Is it a good lump or a bad lump?" and the doctor told me that there was no good lump in the oesophagus.
In February 2016, doctors gave me the full results: cancer, a large stage 3 tumour. Hearing the news was like the world had stopped. In a split-second, time stood still and I felt completely numb. Despite having support around me, the team at the Royal Victoria Infirmary in Newcastle being absolutely brilliant, and my husband a total rock, I still felt completely alone.
And then in July 2016 I went into surgery to remove 80% of my oesophagus. It was a very invasive procedure that moved up my stomach and changed the way I ate and slept. During the surgery, the lymph nodes in my abdomen and under my arm were also removed as PET scans showed there were traces of the disease there too.
Consultants compared my surgery to the equivalent of being in three head-on collisions. It was very scary but I was determined to get home as quickly as possible. My operation took 10.5 hours and doctors predicted a 15 day stay, but I was home in six. During my first round of chemotherapy, I even managed to celebrate my dad's 80th birthday with a surprise visit from my sister who lives in Australia. I didn't get bogged down in statistics or outcomes as I knew that there was always hope - thanks to research.
I'm an avid dog lover and I bought a puppy, called Scout, to help me get through my chemotherapy and stay active. He was a real companion for me during treatment. He helped me get up and out doing my 10,000 steps each day. Scout helped get me through the following nine weeks, which were horrific, and he was sometimes the only reason I got out of bed.
One of the lasting effects of my chemo is that I lost feeling in the ends of my toes and fingers (known as peripheral neuropathy). This means I am regularly seen being pulled along by Scout with the neighbours commenting about "him taking me for a walk again!". He darts around and knocks me right off my feet, but he's brilliant.
Recently, my sister-in-law has sadly been diagnosed with breast cancer. And while my chemo ended in December 2016, her diagnosis has led to a release of a lot of emotions of my own.
Medical professionals couldn't give me the all clear (oesophageal cancer has a high reoccurrence rate), but everyone has been pleased with my progress.
I've been back at work a year now, working four days a week. Nearly two years on from diagnosis, I have planned my first holiday abroad with my husband, something I didn't think would be possible for a long time. It's important for me to raise awareness of cancer, and I've spent time doing a lot of charity work to spread the word.
Everything affects you differently once you've had cancer. Any surgery, no matter what type, can be invasive but I was resolute to get up and get moving. Walking gave me another thing to focus on apart from cancer. It was something to do and be determined about completing. I found it very uplifting and it cleared my head.
Walking gave me time to focus on the new me and not the sick me. Time spent walking was time learning about that new person.