Protesters at the University of Warwick have demanded that non-academic workers who have lost income in the run up to Christmas due to student demonstrations are reimbursed.
Warwick for Free Education has been occupying a £5.3 million conference building on campus for the past 11 days to protest the "casualisation" of academic staff and increasing tuition fees.
The demonstrators are also calling for an apology for the events of December 2014, when students allege police "violently broke up a sit-in for free education with CS gas and tasers".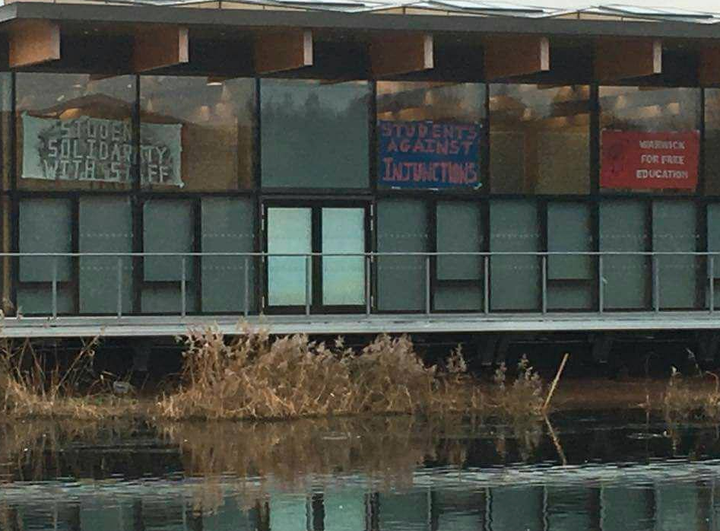 The university admitted that many employees who work in the Slate conference centre have missed out on shifts due to the protest, but blamed demonstrators for any loss of income.
A spokesperson said: "There will have been part time staff, and Unitemps staff (including students), who would have been expecting additional employment opportunities working in that building which sadly we were not able to offer in the end because of the occupation.
"We know that this will have been especially disappointing for staff, and for student Unitemps, who would have been hoping for additional income at this particular time of the year."
The protesters have called on the university to pay staff for missed shifts, saying workers' lost wages are symptomatic of the key issues they oppose.
"If the University offered robust and stable contracts to all its workers, then it would not be possible for staff to lose out on income because of factors beyond their control, as is currently the case with the occupation and the related cancellation of events in the Slate building," the WFFE group said.
"If seminars had to be cancelled due to a lecture room being occupied, or flooded, we think it would only be fair for the University to pay for the hours that affected seminar tutors were scheduled to work. The same should absolutely apply to Warwick Conferences' workers whose shifts have been disrupted."
The university confirmed to student newspaper the Boar that they would not be reimbursing staff for lost work.
However, some workers have hit back at the group, blaming them for their lack of shifts.
University staff member Amy Louise Taylor questioned the motivations of the student demonstrators.
Writing on Facebook, Taylor said: "Why ain't they protesting for people like me? Hey, if they were outside the offices with boards I'd be all for it but they ain't.

"That's not fighting for justice. That's breaking the back of the little people! The place has got good qualities for everyone but they are only fighting for themselves really."
Fellow employee Melinda Wake added: "This is effecting people's livelihoods. You know, the ones that work hard to provide for their families!
"This week some people have had no shifts... did anybody consider them?"
WFFE say they are attempting to enter negotiations with the university and have scheduled public events in the Slate building until the end of the week.