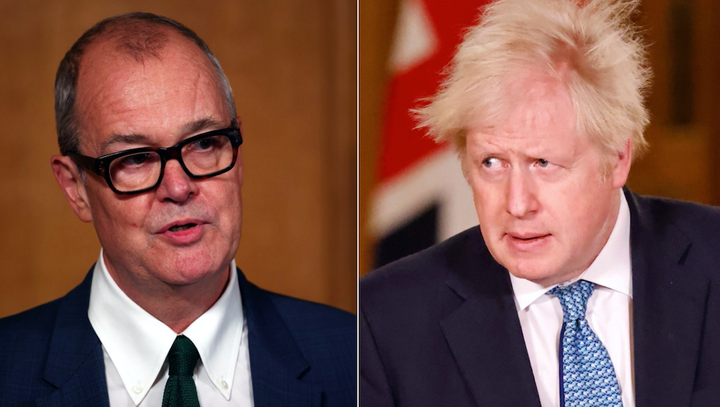 You're reading The Waugh Zone, our daily politics briefing. Sign up now to get it by email in the evening.
There were three "alas"s, two "brill"s and one mimed guffaw. The last Boris Johnson No.10 press conference before Christmas was a classic mix of the Wodehousian bluster, denial and optimism bias that has come to define many of his televised briefings on 2020.
Just as typically, it was left to the scientists in the room to tell us just how bad things really were. Sounding like a lab-coated Jeeves to Johnson's Bertie Wooster, Sir Patrick Vallance said what the PM apparently dared not: that the new Covid variant was so virulent that the whole of England now faces more draconian restrictions known as "Tier 4". It's a question of when, not if.
Vallance was keen to point out that of course decisions on future tiering were a matter for ministers not himself. But in a No.10 news conference with little other actual, you know, news in it, the chief scientific adviser's message was as clear as it could be: the variant numbers will grow across the country "and I think it's likely therefore that measures need to be increased in some places in due course, not reduced".
‌True to form, Johnson himself repeatedly sidestepped questions about when or even whether tougher restrictions would be extended beyond London and the south east. Having already torn up his claim that it would be "inhuman" to "cancel Christmas" in some parts of the country, he seems unwilling to risk any further public backlash by changing the advice yet again. Some may call that a sensible balance of risks, others may call it political cowardice.
It felt very much like the PM wants for now to stick with his most recent tiering decisions, at least for the next few days until after Boxing Day. The problem with "hanging on" is that this new Covid variant doesn't hang around. With a doubling rate of nearly every seven days, it doesn't recognise optimism or pessimism, it just recognises organisms (in particular a vulnerable species called homo sapiens).
And with hospitalisation rates now higher in some areas (the north east, east of England) than in the first wave of the pandemic, many argue there's no time to waste. That's why public health directors have been taking matters into their own hands in greater Manchester and the midlands, warning anyone who travels from Tier 4 to self-isolate for 10 days as if they were arriving from a foreign country.
Speaking of which, Johnson's tone on potential Brexit trade disruption probably sounded as jarringly upbeat to his critics as it did on Covid. The spectacle of more than 40 countries all over the world closing their borders to the UK (thanks to our new coronavirus variant) was not the metaphor for post-Brexit global Britain any government would want. But that didn't stop him trying to turn the Dover lorry tailbacks into an asset.
‌The PM's two utterances of 'brill!" came when transport secretary Grant Shapps said that the government's handling of the Covid Kent chaos (try saying that when you're drunk) had shown "we are ready" for any delays to freight come January. And when Robert Peston asked "You must know by now whether we're going to get a free trade deal, will we?", Johnson grinned knowingly at Shapps as if the whole thing was a jolly jape on those pesky Brussels types.
Tricky questions about the reliability of lateral flow tests were similarly brushed aside, though there was a clear hint that mass testing in schools may not be ready for the New Year. That was perhaps more proof of Johnson's lastminute-itis, a habit that could be described as prevaricate-then-panic. The impracticability of Gavin Williamson's shockingly late guidance to headteachers seems to be a dawning realisation even for No.10.
Many of the PM's supporters point out that the very creation of Tier 4 shows he does indeed act quickly, when the science demands. He also said on Monday that "the commonsensical thing to do is follow the path of the epidemic and keep things under constant review." Yet some believe he should be doing more to direct that path, rather than follow it.
Johnson was notably tetchy when the Mirror's Pippa Crerar pointed out his repeated over-promising and under-delivery this year risked undermining public trust and confidence in his health messages. He's of course right that it's a fine achievement for the UK to already have half a million people vaccinated (though as I've written before, it was Matt Hancock who pushed the vaccine route in the face of No.10 scepticism).
But the PM's answer underlined his constant desire to sell certainty as much as optimism. Thanks to the vaccine "we can certainly look forward to a very, very different world for this country from Easter onwards", he said. Anyone who remembers last summer's promises that this will be all but over by Christmas could be forgiven for remaining unconvinced. If the NHS gets overwhelmed in January, the vaccination programme itself could be delayed.
Amid a surge in deaths and hospitalisations over the past few weeks, Johnson's press conference claim that "the virus is being steadily defeated" seemed premature at best, crass at worst. I've mentioned in the past that he jokes about the "blessed sponge of amnesia" helps to "wipe the slate of memory". For those struggling in the here and now, his attempt to forget the scarily surging Covid charts in favour of a sunlit Easter upland may be an act of faith too far.
This may not have been the final No.10 press conference of the year. It may well be that a triumphant Johnson chairs a briefing on December 30, after parliament urgently ratifies a new Brexit trade deal. He will undoubtedly want to usher in 2021 on a high. But 2020 has taught us that if "getting Brexit done" is hardly straightforward, getting Covid done is much, much harder.
When the "lessons learned" public inquiry finally arrives, Johnson may talk about asymptomatic Covid transmission, about care homes, about testing. But he is unlikely to talk about the main takeaways many think overarches it all: his own failure to plan and his habit of leaving things to fester (Cummings, exams, contact tracing, free school meals) until events force him into change.
The Johnsonian combination of Bertie Wooster and Dr Pangloss hasn't worked very well in the past 12 months. The real issue is not whether the public will forget, but whether the PM will want to actively remember, and learn from his own mistakes.