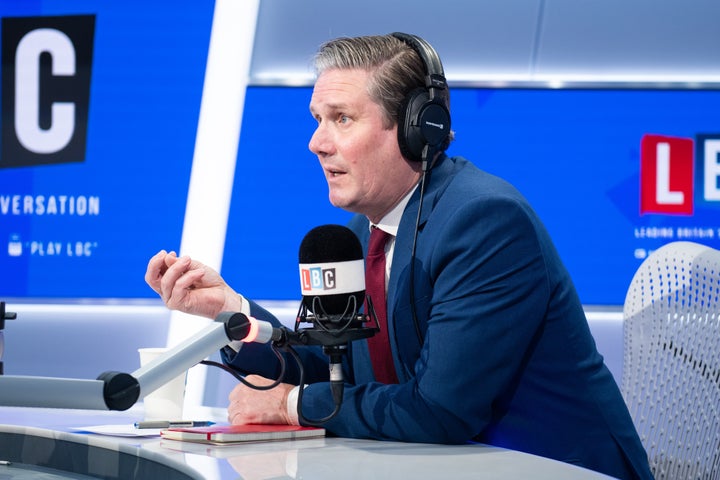 Thanks for being a Waugh Zone subscriber. Know someone who'd like it? Share the sign-up link with them.
Knight rider
There are only two politicians in my working life who have pulled off the trick of being known by their first name among the general public: Boris Johnson and Ken Livingstone. It may have something to do with 'Boris' and 'Ken' being short names easy to fit into tabloid headlines, their approachable street appeal and their relentless talent for using their celebrity to get on any media available. Both were deeply divisive, yet in their pomp both won voters beyond their own party.
Johnson and Livingstone had something else in common: hosting radio shows for years on LBC. Today, we saw the latest incarnation of the format as Keir Starmer held his inaugural 'Call Keir' on the London-based radio station that has a growing national audience online. It's unlikely that Starmer will gain the first-name status of the former London Mayors, but anything that builds his profile beyond Labour members and Westminster is obviously politically crucial.
In fact, despite the show's title, almost none of the callers called the Labour leader 'Keir'. Instead, they almost all called him "Sir Keir". Was that down to the general public's good manners, deference to titles or sheer suggestibility (prompted by the real 'host', Nick Ferrari's, constant use of the term)? Maybe a bit of each.
What we do know is that Starmer prefers to drop the 'Sir'. In Hansard he is referred to as "Keir Starmer". He's said he's "really proud" of his knighthood (awarded for services to law and criminal justice after he stepped down as Director of Public Prosecutions in 2014), but doesn't "particularly like titles". When DPP, traditionally addressed as 'Director' by staff, he told colleagues "call me Keir". It's a rider, or caveat, he uses whenever he meets someone tempted to use the title.‌
And it was his background in law and order that came to the fore when asked about the Black Lives Matter protests in Bristol and London. Starmer said it was "completely wrong to pull a statue down like that" (winning him a news headline). But he also managed to express his loathing for Edward Colston for trading in 100,000 slaves, adding the detail that they were branded on their chests with the name of the company that he ran. That was a sharp contrast to No.10's refusal to say whether the PM abhorred the memorialisation of Colston.
On the policing of the statue's toppling, he praised the local police superintendent for resisting actions that could have made the situation worse. There was a key line about his experience of "in the control rooms with senior police officers" and not second guessing their 'real time' decisions. Again it came across as supportive of the police, while sharing protestors' motivations.
Populists on the right and left ride waves of anger like surfers, but Starmer evidently won't play that game. He condemned his colleague Barry Gardiner for attending a protest without social distancing, saying he was "wrong to do it". "If you're a member of parliament, you lead by example," he said (knowing that under Jeremy Corbyn the leadership example may well have been to join the protest).
At the same time, Starmer managed to articulate eloquently just how he felt when he saw the George Floyd footage. His reference to the emotional impact of "someone almost talking through their own death" was one thing, but even more powerful was his attack on the "chilling" "nonchalance" of the expression on the face of the police officer who killed him.‌
Starmer's critics (on both Left and Right) want to use the events of the last few days to shoehorn him into a "culture war" narrative. Tory MPs in Red Wall seats believe that desecration of war memorials like the flags on the cenotaph, plus attacks on Churchill's statue, stir strong feelings in working class voters. But in drawing a clear line between protest and criminal activity Starmer sounded like he wouldn't let others define his position for him.
Most of all, Starmer wants to use things like his LBC appearance to get across that he would be more competent than Johnson, as well as more compassionate. Sounding measured and reasonable without losing any passion against injustice is one of the most difficult things to achieve in politics, but the Labour leader knows it's his only route to power.
‌A snap YouGov poll appeared to support his balancing act on the Bristol statue controversy. Whilst 53% of Britons support the removal of the Edward Colston statue, only 13% approve of the way in which it was done and 33% oppose the removal in any capacity. Starmer's reasonable tone (plus his moving account of his mother's debilitating health condition) may help him win round the key radio talk show segment of the electorate.
The one awkward moment (other than him saying he was not trying to put up 'rival' systems on coronavirus, while doing exactly that on a superfast testing-and-quarantine system) came on the topic of Europe.
Starmer tried to say the Leave/Remain divide was over, and the argument was now about what kind of Brexit happened. Yet he ducked the key question of whether he would prefer to extend trade talks rather than see no deal. That's a question that he can't duck for much longer, even though he rightly said the 80-strong Tory majority was what would drive the decision.
And it's climbing that mountain of seats that is his real focus. There are tentative signs that Labour is starting to narrow its gap with the Tories, just as Starmer is catching up in the personal ratings with Johnson. This weekend, Opinium and Deltapoll put the gap at just three, and Survation claimed a huge cut in the Tory lead from 11 points to just two.
‌To get ahead in the polls, he's going to need to show how Labour has changed, and not just its leader. He's also going to have to appeal not just to news-hungry LBC or TalkRadio listeners or SkyNews viewers (who are a tough enough crowd). He's going to have to grab the attention of Magic FM and Smooth radio fans who spend a minute out of every day focused on politics. Sir, or no Sir.
Quote Of The Day
"I mean, that's the law of the jungle, isn't it?"
Peter Mandelson condemns 'mob rule' that led to the toppling of the Colston statue
Monday Cheat Sheet
Health secretary Matt Hancock said that Covid-19 in the UK was 'in retreat' after new figures showed the lowest daily rise in the number of deaths (up 55 to 40,597)) since before lockdown on 23 March. The number of new UK cases on Monday (1,205) was also the lowest since then.
A national Covid-19 social care support taskforce will be led by David Pearson, a former chief of the Association of Directors of Adult Social Services. All staff and residents at 6,000 care homes for adults with disabilities in England will receive coronavirus tests.
Home secretary Priti Patel told MPs she had been called 'Paki' as a child, after Labour MPs accused her government of failing to understand structural racism within the UK.
Several Tory MPs trom the Blue Collar Conservatism group joined others in cleaning graffiti from the statue of Winston Churchill in Parliament Square.
The music venue Colston Hall in Bristol confirmed it would have a new name by this autumn, but had decided to immediately ditch the sign on its building.
What I'm Reading