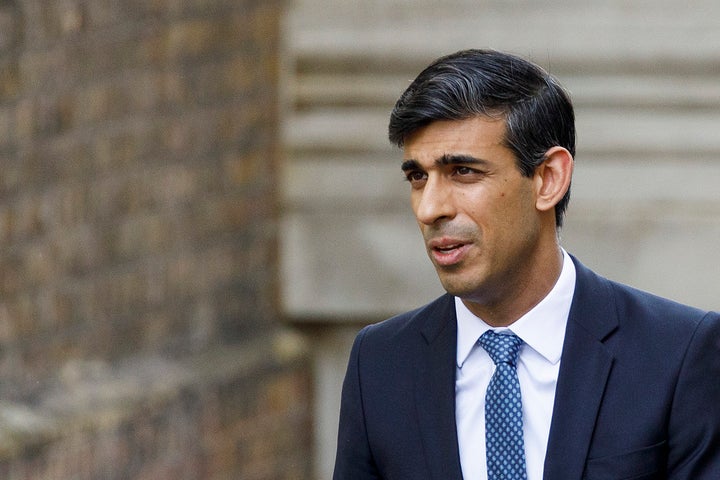 Coronavirus has changed everything. Make sense of it all with the Waugh Zone, our evening politics briefing. Sign up now.
Chancellor Rishi Sunak has been warned by the Children's Commissioner for England that his decision not to fund free school meals this summer appears "uncaring and lacking in compassion".
Anne Longfield urged the government to step in and contrasted its wider £132bn package of support for workers and business with the relatively small cost of continuing a voucher scheme that helps poorer parents feed their children.
The Department for Education is already under growing pressure from charities, teaching unions and MPs to extend the programme, which gives families £15 a week per child in supermarkets, to cover the long summer break.
No.10 sparked a backlash last week when it announced that the scheme covering free school meals for 1.3 million children would not apply over the six-week holiday even though it had been previously extended to cover Easter and the May half-term.
The Children's Commissioner has a statutory watchdog role in promoting and protecting the rights of children in England.
In a strongly worded letter to the chancellor, seen by HuffPost UK, Longfield points out that many families are facing mass unemployment in the Covid-19 crisis and that extra support is crucial for those in most need.
New figures suggest that Covid-19 has already seen 300,000 children descend into poverty, during a Parliament that was already predicted to see the highest rates of child poverty on record, she said.
"At a time when more families are facing pressures than ever before, and so many other sources of support are behind closed doors, the decision not to continue free school meals over the summer holidays appears uncaring and lacking in compassion," Longfield said.
"It reflects very poorly on the importance the government places on children that within £132bn of spending you cannot find a few million pounds to keep children fed."
Longfield added the government's decision "is likely to compound the level of instability some children are experiencing at home and place more pressure on social care in the midst of their response to Covid-19".
"A government committed to families, to fairness and to intelligent, preventative spending would not be denying children free school meals over the summer holidays," she said.
Some MPs believe that education secretary Gavin Williamson is open to the idea of a summer extension but needs the Treasury to expand its pledge to do "whatever it takes" to help those struggling in the coronavirus pandemic.
Estimates for the cost of extending the voucher scheme to cover the summer holidays have been put at over £100m. Ministers have offered instead a £9m programme of limited summer activity clubs with some meals provided in some areas.
Last week the DfE said: "As schools open more widely, and their kitchens reopen, we expect schools to make food parcels available for collection or delivery for any children that are eligible for free school meals who are not yet able to return to school.
"Where this is not possible, schools can continue to offer vouchers to eligible pupils. The national voucher scheme will not run during the summer holidays."
The Treasury has been approached for comment.
The row came as 51 MPs - including three Conservatives - signed a cross party letter to education secretary Gavin Williamson asking him to think again on summer provision.
Former ministers Stephen Crabb and Dan Poulter, and backbencher William Wragg, signed a letter from Labour's Emma Lewell-Buck which urged Williamson "to guarantee that these children will not needlessly go hungry over the summer".
Anne Longfield's full letter follows:
Dear Chancellor,

I am writing about the Treasury's decision not to fund free school meals over the summer holidays. As Chancellor, you have announced measures in response to Covid-19 which are, by your own admission, exceptionally generous. However, it seems this generosity does not extend to children.

This week we learnt that Covid-19 has already seen 300,000 children descend into poverty, during a Parliament that was already predicted to see the highest rates of child poverty on record. In the same week, the Government announced that children will not get free school meals over the summer holidays. Even before Covid-19 there were nearly 2 million children in families in England classed as 'food insecure'. The summer holidays are a particularly difficult period for these families, but Covid-19 has exacerbated a range of issue they are facing, not just financial but in terms of the networks of support they can access either formally or informally.

A free school meal is the last line of defence against poverty and hunger for children. When everything else fails, when there are problems accessing universal credit, or families are verging on the edge of crisis, a school meal is the most basic level of subsistence we provide to our children.

At a time when more families are facing pressures than ever before, and so many other sources of support are behind closed doors, the decision not to continue free school meals over the summer holidays appears uncaring and lacking in compassion.

It is particularly unfortunate that the announcement of your decision coincides with figures from the Office of Budget Responsibility showing that the overall package of support you have announced extends to £132bn.

It reflects very poorly on the importance the Government places on children that within £132bn of spending you cannot find a few million pounds to keep children fed.

I also believe that your decision is exceptionally short-sighted. Financial pressures are one of many issues families are facing at the moment. Poor finances are often the trigger for families to move from coping to crisis. Thus, your decision is likely to compound the level of instability some children are experiencing at home and place more pressure on social care in the midst of their response to Covid-19.

It is well established that poverty is one of the main drivers for children ending up in care, which is incredibly expensive for the Government. A Government committed to families, to fairness and to intelligent, preventative spending would not be denying children free school meals over the summer holidays.

I hope you will reconsider.

Yours sincerely,

Anne Longfield OBE Children's Commissioner for England