Right in the heart of Birmingham's creative district in Digbeth, round the corner from the old Birds Custard factory and past street-art covered walls, sits the city's first plastic-free supermarket. On a hot Thursday in July, customers are queuing for ice lollies made on site from fresh, tangy oranges.
Inside, dozens of polished glass jars adorn the walls, full to the brim with some items you'd expect to see in a supermarket – grains, oats, pastas and rices – and lots you might be more likely to find in an artisan craft shop.
Cotswold bees honey, thick with a bright floral scent, sits in a metal vat, alongside an agave syrup alternative for strict vegans with a sweet tooth. Pure coco chocolate nibs and chocolate-coated almonds are displayed alongside cashews and walnuts.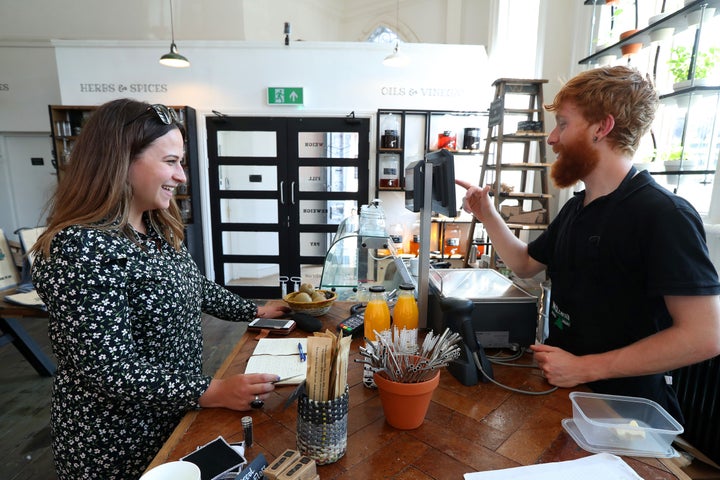 There's no packaging and no plastic bags. So you either bring your own, buy some jars from the store, or pick up one of the donated containers - which include egg boxes and ice cream tubs - for free by the till.
Tom Pell, who founded The Clean Kilo supermarket with his partner, Jeanette, is a busy man. He apologises as he arrives late for our interview, explaining that he's just been setting up a display at the Mostly Jazz, Folk and Soul Festival. But then the past eight months have been something of a whirlwind for the former chemist PHD student turned shopkeeper.
In December, Pell started a crowdfunding campaign for cash to open the supermarket – it raised £20,000. The store opened in January and now, Pell reckons, around 100 people will walk through the doors on a busy Saturday.
While shoppers are starting to ditch plastic waste, right now there's just not enough being done to help facilitate that lifestyle, he argues.
Pell's moment of "awakening" happened when he was living in Melbourne as a chemistry researcher. He became interested in Greenpeace after learning of a dolphin that choked to death on a plastic bag, and how shipping containers spill thousands of nurdles - small plastic pellets that are melted down to create plastic products – into the ocean.
"My partner and I wanted to find ways to cut down on plastic waste ourselves," he says. "I thought I'd like to make plastic-free shopping more accessible, though I never actually thought I'd be able to."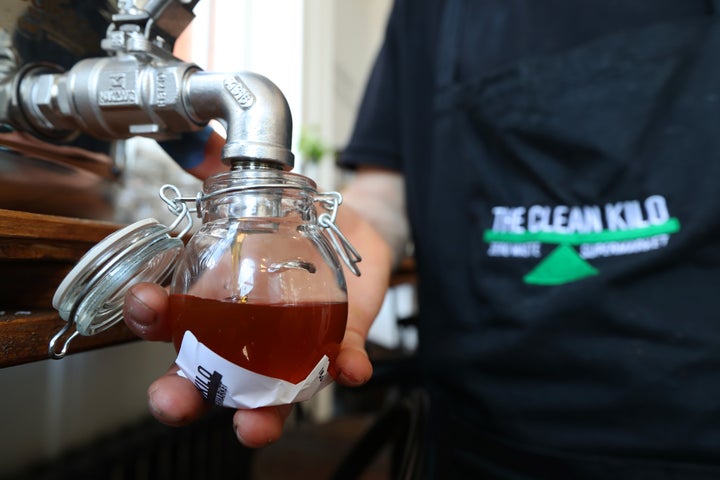 So how accessible is the Clean Kilo shopping experience? HuffPost UK picked up a basket and got stuck in.
For a start, it's a pretty pleasant way to shop. Houseplants adorn the windows and a very laidback playlist - put together by Jack, one of the five enthusiastic staff members, help create the impression that the Clean Kilo is a very trendy cross between a city farm shop and a health food store.
Local cheeses and ice creams, chilli infused rapeseed oil, organic balsamic vinegars and slabs of pure cocoa butter can all be bought by gram or millilitre. We filled up some jars with honey, vinegar and fresh orange juice.
At the middle of the shop is a self-scanning till. The idea is for shoppers to weigh the container they've brought along and then take a sticker printed with a barcode. When the container is full, you weigh it again and it gives you a price.
If you think those stickers sound like yet more waste, you can instead speak to the shop staff, who can assist you by noting down the price.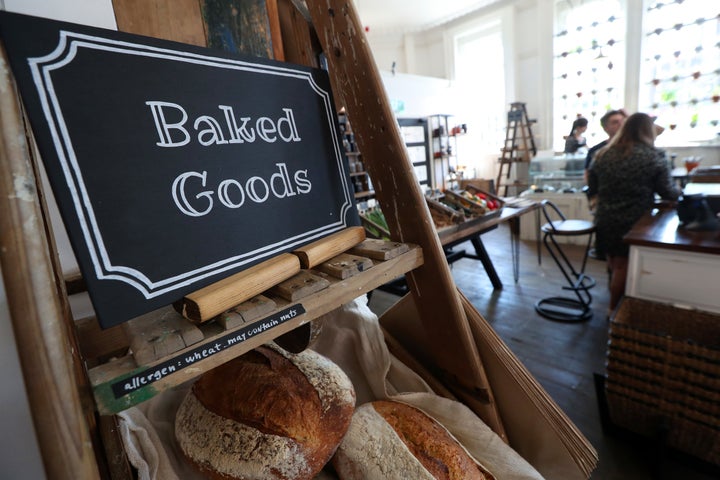 It's not possible to do a whole weekly shop in store. The products seem high quality – and some have a price tag to match, like the orange juice, which costs around £3.60 for a bottle.
Prices are charged by the gram, so it does depend what container you're using. Our medium size jar of Wildflower raw honey set us back £3.61, while a small jar of chilli-infused oil was 83p, and a small bottle of organic Modena balsamic vinegar was £1.10.
In terms of cupboard staples, 500g of white basmati rice costs £1.80, which is 80 pence more than the own brand version at Tesco, while 500g of white fusilli pasta would cost 90p - 38p less than the equivalent size of sold by the brand Napolina. Brown rice costs 25p per 100g.
As well as reducing the amount of plastic consumers encounter, the company is also making sure its supply chain is as sustainable as possible. "A lot of our produce comes from three main suppliers, explains Pell. "To cut down on plastic packaging, for example with our rapeseed oil from Staffordshire, we send 25 litre jerry cans to them, which they fill. That's straight from their machine into our containers, no single use plastic at all."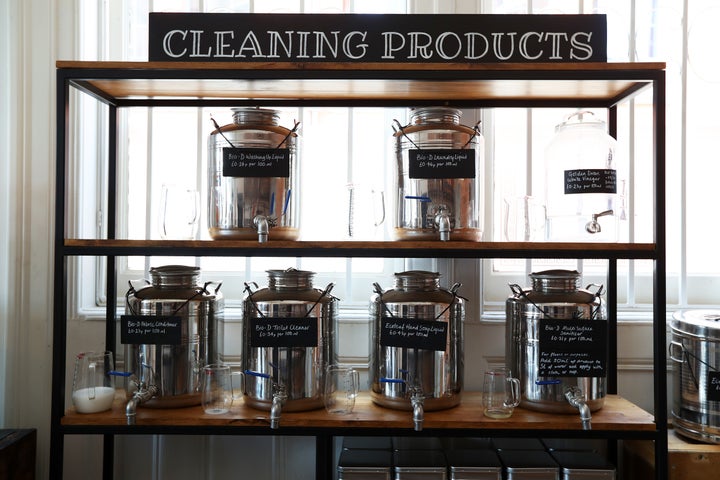 Making an appearance in the shop soon is honey made in the building directly opposite by a man who has a beehive on the roof and makes beeswax and honey with reusable packaging.
The shop even sells packaging-free clothes detergent and fabric conditioner.
It's clear some customers love the concept. On its Facebook page today it had already racked up several comments from fans, one saying: "I can't wait until I'm next in Birmingham so I can visit - saving my jars ready!"
For now the team is focusing on getting the store right, but Pell would like to open a second in future.
"I think a lot of people have been looking for places like this to do their shopping," he says. "I think we want to build up our products here and work out what customers really want and then maybe open another later on - but I think it's key to get this one right first, rather than just jump into it and try to get loads of money."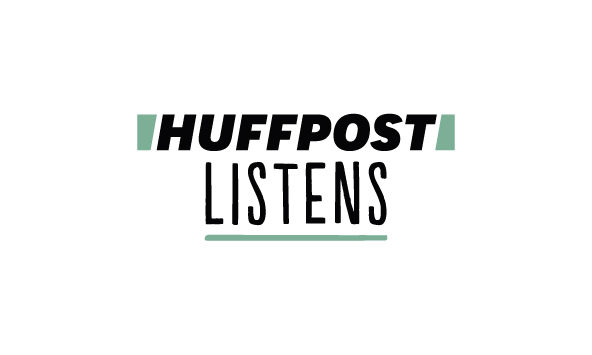 HuffPostListens – Birmingham

HuffPost wants to get out of the media bubble and tell the real story of the UK. For one week in July we relocated our newsroom to the heart of Birmingham and invited people to tell us what they care about - we listened, followed their tips, and went out and reported on what we heard. We're also hiring more reporters out of London, starting in Birmingham. We don't think the media has listened to people enough, so that's what we're doing. Listening to the stories of Birmingham, opening up our newsroom to its people and telling the real story of Britain from the heart of one of its biggest and best cities. You decide the news. We'll tell your story. Birmingham, be heard. #HuffPostListens

Read more about the project here