Police in the West Midlands are facing criticism for "targeting" homeless people who are outdoors during the nationwide lockdown.
A "community message" posted on a neighbourhood website by the local force boasted that its so-called Covid Breach Patrols in an area of Birmingham were telling "beggars" to leave the area.
It said: "Beggars/rough sleepers are having a detrimental impact in the local area, potentially causing a nuisance to the local community and businesses alike."
Coronavirus legislation means police officers are entitled to move people on and ask why they are away from home to prevent breaches of Covid-19 laws.
But campaigners said it was "ridiculous" to target "people in vulnerable situations", especially in the harsh winter.
As infection rates soar over the coldest months, charities fear homeless people are at greater risk than during the first lockdown in the spring.
Back then, councils were told to get "Everyone In" and off the streets within days. The scheme enabled local authorities to place 90% of rough sleepers in emergency accommodation such as hotels and empty flats.
A study by the University College London found Everyone In prevented as many as 266 deaths and saved tens of thousands of some of the most vulnerable people across England from catching coronavirus.
But the programme is not being repeated, and some groups have cast doubt over whether the £10m pledged to fund the current plans will be enough to get all rough sleepers into safe housing.
The West Midlands Police message, apparently authored by a community support officer and referring to patrols in Bournville, Cotteridge and Stirchley, added: "These individuals are presenting themselves in a position to beg for money and some use the proceeds from begging to buy drugs nearby, resulting in drug dealers frequenting the location."
It added "some regularly refuse" support and that their "sole purpose for rough sleeping and/or begging is to fund a drug or alcohol habit/addiction".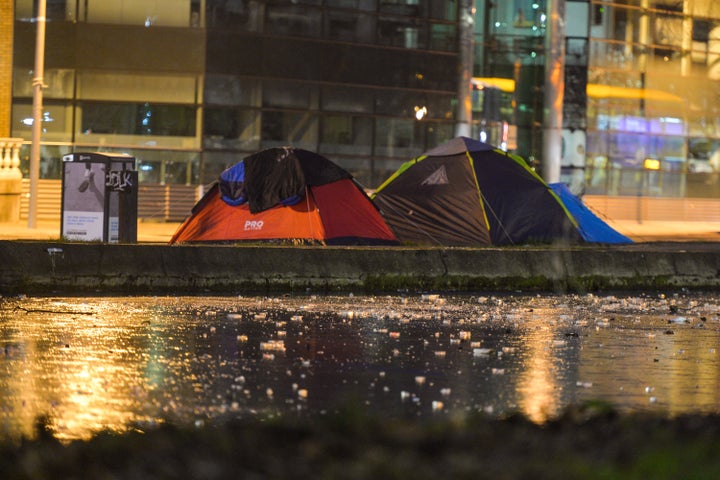 The message, which has been circulated on local Facebook groups, claimed "a lot of these individuals" have a permanent address, suggesting they were not genuine rough sleepers.
The message said "each time" officers "encounter a beggar or rough sleeper" they are offered referrals – presumably to local authorities and homelessness charities – before being told to leave.
Jo Shemmans, co-ordinator of West Midlands Labour Homelessness Campaign, told HuffPost UK: "We completely support the lockdown and Covid measures, but it does seem ridiculous for people in vulnerable situations to be targeted at such a time when others are flouting the rules.
"There are a variety of reasons why someone might be begging, not just due to rough sleeping or homelessness, such as those who are waiting for Universal Credit.
"We're not suggesting the police don't keep the community safe in terms of Covid, but that they use common sense, especially in this harsh weather. Criminalisation is never the answer to homelessness."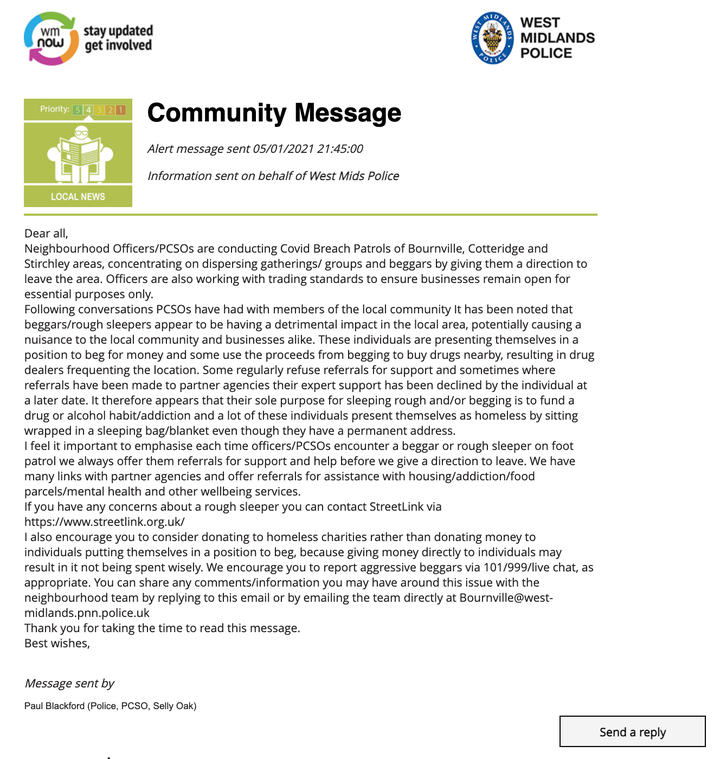 West Midlands Police has previously come under fire for "criminalising" homeless people; a Freedom of Information request by the charity Crisis found that almost 1,000 arrests were made under vagrancy laws between 2014 and 2018.
Jon Sparkes, chief executive of Crisis, labelled the law "cruel and outdated". "All it does is further dehumanise people who desperately need support," he added.
West Midlands Police have declined to comment.
Campaigners elsewhere in the country have raised concerns about how homeless people have been treated by the police since the start of the pandemic.
Andrew Mcleay, a manager at the Ealing Soup Kitchen in west London, told HuffPost UK some of his clients were being "regularly harassed" by police and believed this had increased during lockdown.
He said: "A lot of them don't have safe spaces to go, and they feel as if they can't bed down so they're doing stuff like hiding in parks and hiding in places where they know police can't catch them to move them along. It's horrendous.
"Every week, there's more requests for sleeping bags, and coming back for more because police are confiscating them."
He added: "I can't think of a time when it was worse for homeless people. Even in the Middle Ages they could hide inside somewhere and someone would take pity on them. But we're based in a church – no one's allowed inside. They can't go to the toilet anywhere publicly. You can't give them a hug and tell them everything is going to be OK.
"The anxiety is through the roof and it's led to our clients being more aggressive than they normally would be. There were services there, and now they're not, and they truly are more than any other time in history completely alone."
Mcleay said a friendly relationship between homeless people and police has chilled. He said: "They arrive and leave pretty much 10 minutes later because they're worried someone's going to get them. That didn't happen before because they felt safer – they even don't feel safe in soup kitchens now."
When contacted by HuffPost UK, the Ministry of Housing, Communities and Local Government (MHCLG) said Covid-19 restrictions on leaving home do not apply to people who are homeless but rules on gatherings do.