Tiny plastics known as 'microfibres' may very well be floating around in your food. They are released when you wash your clothes, flow into rivers and oceans and can end up in seafood.
Almost half (44%) of people do not know this happens, according to a new poll by green charity Hubbub. Previous studies have found these plastic fibres in foods including mussels, table salt, honey and even beer, the charity said.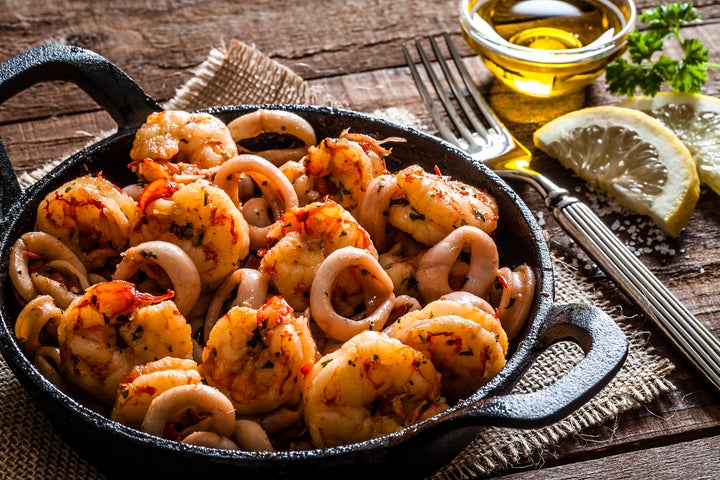 What is a microfibre?
Synthetic fabrics such as nylon, polyester or acrylic are made up of plastics. When these clothes are washed, plastic microfibres are released from clothing and can end up in rivers and oceans. This means they can inadvertently turn up in the seafood we eat.
Awareness of microfibres and where they end up is much lower than for "microbeads", another type of tiny pieces of plastic found in products such as sun cream and cleaning liquids. Yet more than a third (35%) of tiny pieces of plastic or "microplastics" which go into the oceans come from washing textiles.
Is it dangerous?
There are concerns that plastic microfibres can absorb toxic chemicals and could have an effect on health, although the long-term health impacts of the fibres has yet to be fully established.
Hubbub's survey found 69% of those quizzed were concerned about the impact microfibres were having on ocean life, and 56% were worried about the fact they or their family might be eating them.
The solution
The poll of 2,000 people was released on World Environment Day (5 June) alongside a new campaign called #whatsinmywash, which gives tips to consumers to reduce the impact of their wash on the environment.
The charity is also calling for industry to tackle the problem, from looking at better filter systems in water treatment plants and washing machines to producing clothes which are less likely to shed the tiny fibres.
Tips to help reduce the impact of microfibres from clothes washing include:

1. Buy higher quality clothes which are more durable and you can get more wears from;

2. Wash clothes only when they need to be washed, and air them instead in between;

3. Wash clothes at lower temperatures (30C), which means they will wear less fast and reduce the release of microfibres;

4. Use a full load and wash on a shorter, gentler cycle to reduce friction on clothes and therefore the shedding of microfibres;

5. Avoid the tumble dryer, as it wears out clothes and increases the likelihood microfibres will be released in the next wash;

6. Do not empty liquid from a condenser tumble dryer down the sink as it may contain plastic microfibres.