Unfortunately for the nation's chocoholics, this habit also feeds into our plastic consumption. The majority of the most popular chocolate bars are wrapped using polypropylene, a plastic commonly used in our food packaging which is made from fossil fuels. It is the same material often found in teabags.
According to the British Plastics Federation, plastics are used in the manufacturing of chocolate bars due to the need to "ensure high standards of hygiene". Also, its "flexibility" means that it can be used to make packaging that easily preserves chocolatey treats.
Friends of the Earth's waste campaigner Julian Kirby told HuffPost UK: "Plastic is everywhere, including in chocolate wrappers. They end up being landfilled, incinerated or polluting our environment."
Kirby added that the responsibility lies with chocolate manufacturers to tackle the problem. "[They] must do more to tackle plastic pollution by funding proper collection infrastructure and redesigning wrappers to cut their impact."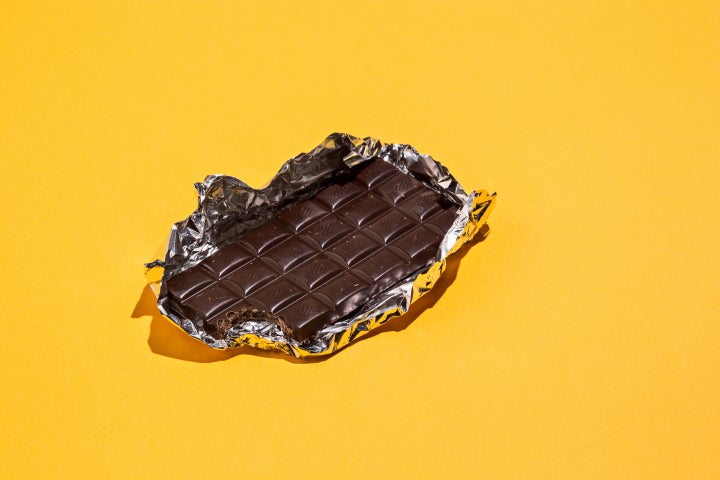 Ones to avoid
The wrappers of Mars, Cadbury's and Nestlé's chocolate bars all contain polypropylene plastics and cannot currently be recycled in your local council's household recycling scheme.
Mars (parent company of Snickers, Galaxy, M&Ms and many more) has, however, committed to working towards 100% reusable, recyclable or compostable packaging by 2025 or earlier. Meanwhile, Nestlé (responsible for chocolate bars such as Toffee Crisp, Aero and Kit Kat) has announced plans to make 100% of its packaging recyclable or re-usable by 2025. But Louise Edge, senior oceans campaigner at Greenpeace UK, said the company's commitment "lacks ambition" and that it needs to do more to "move the needle towards the elimination of problem plastic".
Cadbury did not confirm immediate plans to stop using plastic in their packaging when asked by HuffPost UK.
Eco-friendly alternatives
Luckily, polypropylene plastic isn't the only material that can be used to make chocolate bar wrappers. A number of smaller-scale chocolate brands provide either recyclable or compostable packaging, so that once you've had your treat you can dispose of what's left sustainably.
All of ethical chocolate brand Divine's chocolate bar wrappers are both FSC certified, meaning that they are made from sustainably-sourced paper, and are also recyclable. It is also the only Fairtrade chocolate brand that is 45% owned by cocoa farmers, giving them a real say as to how the company is run.
Both the paper and inner foil of Seed & Bean chocolate bars are certified for both home and industrial composting, so no matter where you chose to compost, it will break down naturally.
Interestingly, a distant member of the Cadbury family, James Cadbury, has set up a new chocolate brand called Love Cocoa, which will be replacing their plastic foil packaging with a biodegradable film made from wood pulp that is just as durable but will be compostable.
"It's a shame that it is normally less-funded, smaller companies that need to show the way but we are happy to step up," he told HuffPost UK.