Imagine - it's the end of June, and you're finally sunning yourself on a beach, relaxing into the holiday you've saved for all year. And then … Brexit happens.
If Theresa May's latest request succeeds, that's the situation you could find yourself in. On Wednesday, the Prime Minister told Parliament that she has written to Brussels asking for Article 50 to be extended until June 30 at the latest, in order to give her more time to break the deadlock in parliament.
So what steps should you take if your holiday coincides with the end of June? The Association of British Travel Agents says that its advice remains largely unchanged. "There is nothing to suggest that people will not be able to continue with their travel plans when we leave the EU, whatever the leave date may be," a spokesperson told HuffPost UK.
But that advice still includes, for instance, ensuring you have six months left on your passport on the date of your arrival in an EU country. This is what else you might want to consider.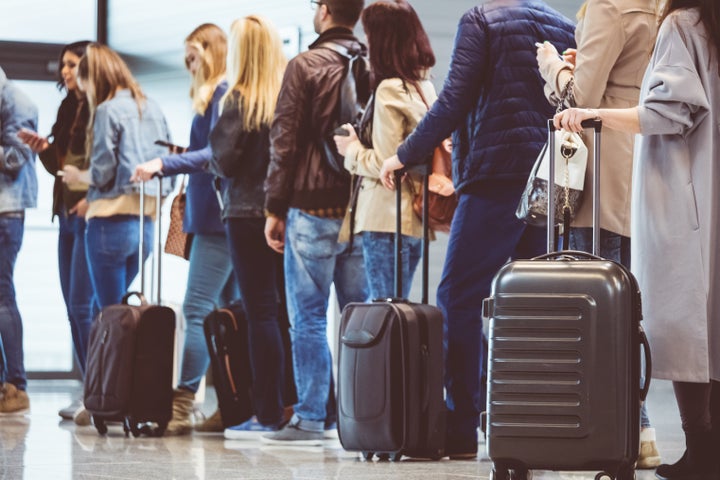 Flights
The European Commission has confirmed flights will continue as usual between the UK and Europe, even with no deal. In theory, this should stand up regardless of the leave date.
Back in December 2018, Tim Alderslade, chief executive of Airlines UK, the industry association that represents 13 UK carriers, said: "Combined with the excellent progress Government has made in concluding bilateral agreements with third countries – including the United States and Canada – passengers should have every confidence in booking holidays and trips for travel on 30 March and beyond." 'And beyond', being the key phrase.
Delays
A recent investigation by consumer group Which? found that airports in Europe could face chaos and delays as a result of additional passport controls after Brexit in the event of a no deal.
The European Tourism Association (ETOA) has also estimated that additional checks required in a no-deal Brexit could add an extra 90 seconds for each UK passport holder - meaning it could take a single passport lane in an EU airport an extra 17,010 seconds, or nearly 5 hours, to process 189 passengers on a single Ryanair flight, if all arrivals had UK passports. So in theory, you might need to factor in more time at the airport.
Travel insurance
It is as yet unclear whether the European Health Insurance Card (EHIC), which covers treatment that is medically necessary until your planned return home, will be replaced in a no-deal scenario.
So you may wish to make sure your travel insurance covers health as well as your bags and transport. The Association of British Insurers has confirmed that purchased travel insurance will continue to work in the normal way. "Customers should have their travel insurance documents or their insurer's emergency medical assistance contact number with them as they have the medical expertise, contacts and facilities to help you if you fall ill or are injured abroad," the ABI told HuffPost UK.
However, a spokesperson also warned holidaymakers to carefully check the wording of their insurance policy, because many won't cover for issues outside of their control, such as Brexit. "We're entering uncharted territory," the spokesperson told HuffPost UK.
Driving abroad
The ABI is advising drivers to contact their insurer a month before travel to arrange what is known as a "Green Card" and take it with them if they wish to drive their vehicle in the EU after Brexit. This card will be required under EU regulations as proof of insurance if there is no-deal. If you are hiring a car abroad, however, you shouldn't need a Green Card, according to Money Saving Expert. In this case, the insurance from the rental company should cover you.
Passports
The Association of British Travel Agents has previously recommended that if you travel to Europe after Brexit, you should have six months left on your passport on the date of your arrival in an EU country.
The European Commission also confirmed that UK citizens will have to pay €7 in the future for a travel permit as part of the European Travel Information and Authorisation Scheme (ETIAS) if there is no deal - which, essentially, is a form of light visa. The scheme is expected to be introduced in early 2021.
Money
Since the referendum the value of the pound has fluctuated as a result of uncertainty. While there can be no guarantees, to avoid the possible impact of any potential dip in value after June 30, it might be best to order some currency ahead of time.
This piece has been amended to clarify that the introduction of the ETIAS scheme is expected to be in 2021.