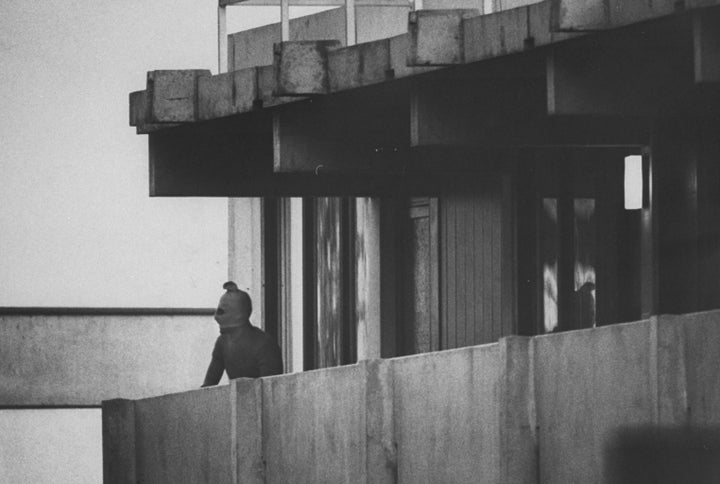 Jeremy Corbyn has been accused of laying a wreath at a memorial to some of the terrorists involved in the Munich massacre.
The Labour leader denied honouring anyone linked to Black September terrorists at an event in 2014 after an image of him holding a wreath at a Palestinian cemetery in Tunisia emerged in the Daily Mail on Saturday.
Corbyn admitted on Monday he was "present" when the wreath was laid, but claimed he was "not involved".
Then on Tuesday he said he had "witnessed many other people laying many wreaths" but his had been for the victims of the 1985 bombing of the Palestine Liberation Organisation headquarters in the Tunisian capital
The allegations have seen the Labour leader clash with the Israeli PM Benjamin Netanyahu. Home Secretary Sajid Javid, meanwhile, has suggested Corbyn should stand down and Corbyn, who was a backbencher at the time could face a parliamentary investigation for not declaring the trip.
Here's everything you need to know about the story behind the row.
What Was The Munich massacre?
The event known as the Munich massacre was an attack perpetrated by the Palestinian terror group, Black September, during the 1972 Olympic Games in Munich, West Germany.
Eleven Israeli athletes and a West German policeman were killed.
What Was Black September?
The Black September group was a terrorist faction of the Palestinian Liberation Organisation.
UK Government describes the PLO now as the representative body for the Palestinian people", but initially after its creation in 1964, it did not recognise the state of Israel.
The Black September group derived its name from the 1970 conflict of the same name, in which King Hussein of Jordan declared military rule in response to anti-Israel Arab guerrillas attempted to seize his kingdom.
The conflict resulted in the deaths and expulsion of thousands of Palestinian fighters from Jordan.
As well as the Munich massacre, the Black September group was behind the assassination of the Jordanian prime minister, Wasfi Al-Tal, who was gunned down outside a Cairo hotel in 1971 when he was attending an Arab League event in the Egyptian capital.
What Exactly Happened In The Attack?
On Monday September 4, Israeli athletes at the Munich Olympics returned to an apartment block in the city after watching a theatre performance of Fiddler On The Roof and went to sleep.
At about 4.30am, eight Black September operatives wearing tracksuits, carrying duffel bags loaded with assault rifles, Tokarev pistols and grenades, climbed over a two-metre fence and into the Olympic Village.
The terrorists used stolen keys to get inside two flats. Wrestling coach Moshe Weinberg and weightlifter Yossef Romano tried to fend off the terrorists but were shot and killed.
The gunmen then took nine athletes hostage and demanded the release of 234 Palestinians and non-Arabs jailed in Israel, along with two founders of the founders of the West German far-left terror group the Red Army Faction being held in West Germany. They also wanted safe passage to the Middle East.
A gunman pushed Weinberg's body out of the front door to demonstrate their resolve.
After one failed rescue attempt by West German forces and having believed they had reached agreement, the terrorists led their bound and blindfolded hostages from the apartments to helicopters.
Once at an airbase, a gunfight with police ensued and the hostages were killed by the terrorists using a grenade and gunfire.
A policeman was also killed in the stand-off. Three gunmen were taken into custody and five died at the scene.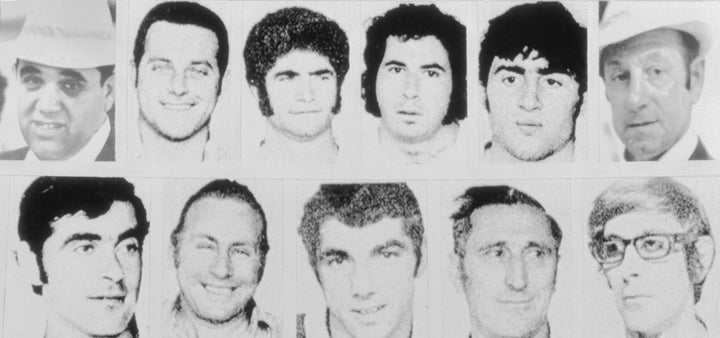 Who Was killed?
Moshe Weinberg, wrestling coach

Yossef Romano, weightlifter

Ze'ev Friedman, weightlifter

David Berger, weightlifter (survived grenade but died of smoke inhalation)

Yakov Springer, weightlifting judge

Eliezer Halfin, wrestler

Yossef Gutfreund, wrestling referee

Kehat Shorr, shooting coach

Mark Slavin, wrestler

Andre Spitzer, fencing coach

Amitzur Shapira, track coach
West German police officer Anton Fliegerbauer
Five Black September terrorists
Luttif Afif ("Issa")

Yusuf Nazzal ("Tony")

Afif Ahmed Hamid ("Paolo")

Khalid Jawad ("Salah")

Ahmed Chic Thaa ("Abu Halla")
Why Is There A Row With Jeremy Corbyn About It?
The Labour leader is said to have laid a wreath at a plaque in Tunisia honouring Black September members during a trip he made as a backbench MP in 2014.
Corbyn was in Tunis that year for a conference, which was also attended by Lord Sheikh, a Conservative peer, and Lord Phillips of Sudbury, a Liberal Democrat.
A photo was published by the Daily Mail, however, which shows the Labour leader with his hand on a wreath while at the Palestinian cemetery.
A memorial nearby mentions Salah Khalaf, who was accused by the United States and Israel of having founded Black September and masterminding the Munich attack, and other senior PLO associates, including Khalaf's key aide Fakhri al-Omari and Hayel Abdel-Hamid, ex-chief of security.
What was the reaction?
Widows of the Munich victims have demanded an apology for what they described as an "act of maliciousness, cruelty and stupidity".
Home Secretary Sajid Javid suggested Jeremy Corbyn should quit, tweeting: "If this was the leader of any other major political party, he or she would be gone by now."
Israeli PM Benjamin Netanyahu has also intervened:
What Does Netanyahu Say About It?
Corbyn denies he was in the country to honour anyone connected to Black September but rather to pay tribute to civilians killed in an Israeli bombing of the PLO's headquarters in 1985 - something the UN Security Council condemned.
"He and other parliamentarians went to the Palestinian cemetery in Tunisia to remember the victims of the 1985 Israeli bombing of the PLO headquarters, many of whom were civilians," the party said.
Corbyn was further pressed on the matter on Monday, however, and told Sky News that while he was "present" at the wreath-laying, he did not think he "was involved".
He also hit back at Netanyahu's criticism and said the claims he was honouring terrorists were "false:".
Why Does It Matter?
Any leader of a UK political party laying a wreath at the grave of a terrorist would be considered a scandal, but that this was an attack targeting people from the majority-Jewish state of Israel has particularly significance for Jeremy Corbyn.
His party has been dogged by allegations of anti-semitism since he took the helm, with a string of members expelled or suspended for displaying Jew hatred.
It also comes after Labour has refused to adopt the full International Holocaust Remembrance Alliance's (IHRA's) definition of anti-semitism. The IHRA points rejected include accusing Jewish citizens of being more loyal to Israel than their own nations, claiming that the existence of the state of Israel is a racist endeavour and comparing Israeli actions with those of the Nazis.
Opponents, and the Board of Deputies of British Jews, have called on Labour to change tack and have accused Corbyn of failing to tackle anti-semitism.
Corbyn also faces heavy criticism from a growing number within his own party, including deputy leader Tom Watson, a string of MPs, the GMB union leader Tim Roache and Dave Prentis, head of the Unison trade union.