Whether you're buying a burger, a train ticket or your weekly shop, using self-service touch screens has become second-nature to most of us.
But as coronavirus spreads around the world, and cases continue to rise in the UK, should we be worried about tapping these shared screens?
Dr Jenna Macciochi, an immunologist based at the University of Sussex, says it's most common for coronavirus, or COVID-19, to be transmitted via coughs or sneezes, but that it is possible public touch screens could fuel contamination.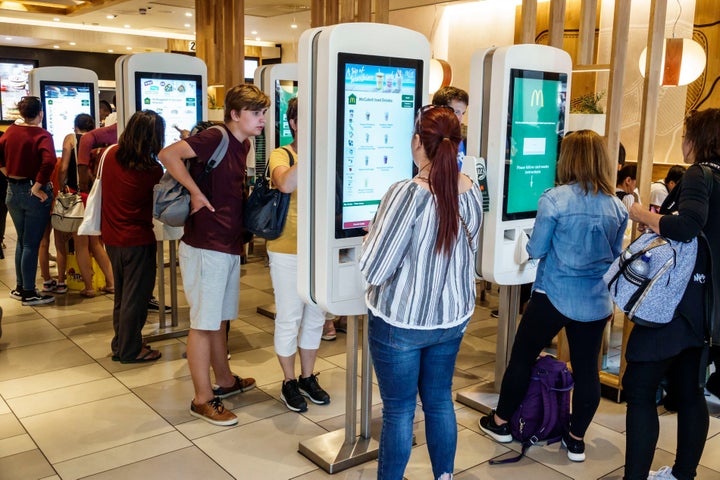 "COVID-19 is thought to be transmitted via person-to-person when people are in close contact (around 1.8m) and predominantly via coughing and sneezing, releasing aerosolised droplets that land on people or are inhaled by people. But not through smaller droplets that can stay in the air for a long time," she tells HuffPost UK.
"But transmission can also occur from touch via contaminated hands and surfaces. Although this is not thought to be the major way it's transmitted."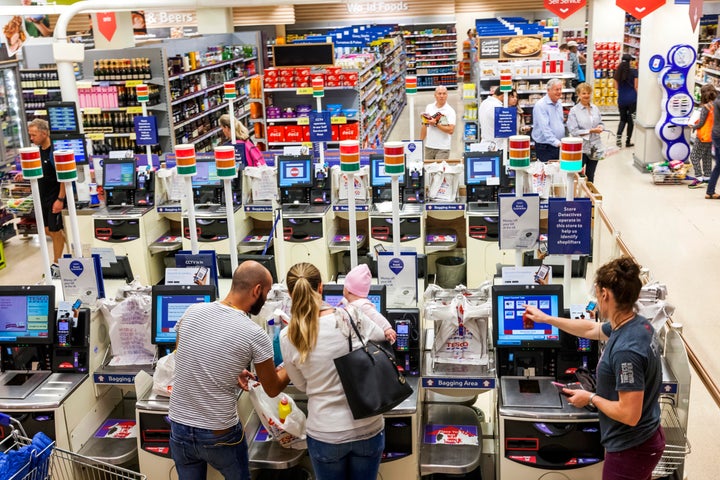 Some earlier strains of coronaviruses are known to live on surfaces for days, Dr Macciochi adds, but not much is known about how long the new coronavirus (COVID-19) can live on surfaces. So it's best to exercise caution.
"When touching public screens I would recommend to wash hands immediately and try not to touch your face, including eyes," says Dr Macciochi.
"Fortunately, alcohol 60%+ sanitiser, hydrogen-peroxide or bleach-based cleaners are effective at killing coronaviruses that do survive on surfaces. So use these where possible and always with frequent hand washing."
It's important to use shop-bought hand gels and cleaners using these ingredients so that you know the concentration of harsh chemicals, rather than attempting to make your own at home.
How easily a virus spreads from person to person can vary, Dr Macciochi adds.
"Some viruses are highly contagious, like measles, while other viruses do not spread as easily. Another factor is whether the spread is sustained," she says. "The virus that causes COVID-19 seems to be spreading easily and sustainably."
So, what are retailers doing about touch screens?
HuffPost UK contacted some of the biggest businesses in the UK that use touch screens – including the three biggest supermarkets (Tesco, Asda and Sainsbury's), McDonalds, the Rail Delivery Group, and the biggest cinema chain (Cineworld) – to ask how they plan to limit the risk for customers.
None of the organisations specified plans to stop using touch screens. On the whole, the message was business as usual, while echoing Public Health England's hand washing advice.
Speaking on behalf of members, which include Sainsbury's and Asda, Andrew Opie from the British Retail Consortium said: "Retailers will continue to adhere to high standards of hygiene in store. Alongside this, we are urging everyone to follow Public Health England's advice: wash hands frequently with hot water and soap for 20 seconds or use alcohol hand gel, and be aware of safe coughing etiquette."
HuffPost is awaiting comment from Tesco, which is not a member of the British Retail Consortium.
A McDonald's spokesperson said the chain is "closely monitoring any potential impact of coronavirus", adding that staff are committed to "the highest standards of hygiene and cleanliness, with a number of detailed procedures in place in our restaurants to prevent germs from spreading".
"These measures include sanitising surfaces such as door handles, self-order screens and tablets frequently throughout the day," they added. "We are also regularly updating and communicating with our people to ensure they are aware of the current situation in the UK, and reminding them of these procedures."
A spokesperson for the Rail Delivery Group, which represents train operators and Network Rail, said the rail industry "is monitoring the latest Public Health England guidelines closely and working together on preparations which include planning for a range of different scenarios."
"At the same time, we are ensuring that rail staff are kept aware of the latest advice to maintain good hand hygiene and keep surfaces clean, particularly in customer facing locations," they added.
HuffPost is awaiting comment from Cineworld and will update this article if we receive a response.