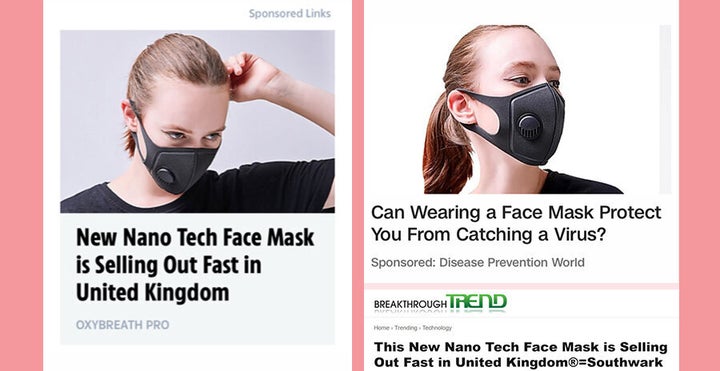 The UK's advertising watchdog is clamping down on alarmist adverts for face masks amid the coronavirus outbreak.
One of them, seen via the Taboola advertising feed on The Scottish Sun's website in February, showed an image of a woman wearing a face mask. The text read: "New Nano Tech Face Mask is Selling Out Fast in United Kingdom" – it linked to a page on a separate website, resembling a news article.
The advertorial about the Oxybreath Pro face mask referenced that the World Health Organisation (WHO) had declared coronavirus (Covid-19) a global health emergency. "The death toll is 493 and rising," the advertorial read. "It would be an understatement to say that there is a growing sense of panic.
"One of the best ways to protect yourself is to get a high quality face mask that can protect you from: viruses, bacteria, and other air pollutants. A quick internet search shows face masks are already selling out fast." The text was followed by a screenshot of headlines from digital news sites about face masks selling out.
The Advertising Standards Authority (ASA) challenged whether the ads were misleading, irresponsible and scaremongering. A key concern was that people would think the mask could protect them from coronavirus, it said. Novads OU, the company responsible for the advertorial, didn't respond to the ASA.
Another advert for the same face mask appeared on the Outbrain feed, seen on CNN last month.
ASA said the first ad used alarmist language, referring to the spread of the virus as being "barely controllable", alongside the death toll. Both landing pages made repeated references to a high demand for the masks and the likelihood of stock selling out quickly. As such, ASA said it was likely to "exploit people's fears" regarding the coronavirus outbreak.
"We noted that Public Health England did not recommend the use of face masks as a means of protection from coronavirus," ASA said in a statement.
"We understood there was very little evidence of widespread benefit from their use outside of clinical settings, and that prolonged use of masks was likely to reduce compliance with good universal hygiene behaviours that were recommended to help stop the spread of infectious diseases (including coronavirus), such as frequent hand washing and avoiding touching the eyes, nose and mouth with unwashed hands."
Do face masks protect against coronavirus?

Face masks may help to a degree in some situations, but just because you're wearing one, it doesn't mean you're in the clear.

The most in-demand masks are N95 respirators, often worn by workers in construction and healthcare. While they might be effective at preventing contact with contaminated liquid, they won't hold back all small particles in the air from coughs or sneezes, and so aren't effective protection from Covid-19.

Healthcare professionals are trained specifically in how to wear masks, but if a member of the general public wears one incorrectly, they risk trapping particles they're trying to keep outside of the mask, inside the mask.

Therefore, wearing one could actually increase your risk of contracting the virus, infection prevention specialist Eli Perencevich told Forbes: "[It's] tricky because it can create a false sense of security. If you don't wash your hands before you take off the mask and after you take off your mask, you could increase your risk."
Given that PHE has not recommended face masks, the ASA said the ads were "misleading, irresponsible and likely to cause fear without justifiable reason". It ruled the ads should not appear in their current form again.
ASA also challenged an Amazon product listing for face masks from Easy Shopping 4 Home Ltd, seen in February. The product listing labelled the mask a "Coronavirus Anti Corona Virus Vented Face Mask".
Again, Easy Shopping 4 Home Ltd didn't respond to ASA. The watchdog said the product listing was misleading, irresponsible and likely to cause fear, and is banned from appearing again.
There are concerns that if members of the public stockpile face masks, medical professionals won't be able to access them as needed. At the start of February, WHO warned that the world faced "severe disruption" in the market for personal protective equipment – including face masks. This situation is exacerbated by widespread, inappropriate use of this equipment outside of patient care, it said.
Online pharmacy UK Meds told HuffPost UK that since the first confirmed case of Covid-19 in the UK, masks have become the fastest selling item on its website. In the past month, sales for the product have increased by 8,000%.