Gone are the days of walking into a hair salon, care-free, for a quick chop. Your future haircut will look pretty different thanks to the coronavirus pandemic.
Hair salons and barbers have been given the go ahead to open from July 4, providing they are "Covid secure". We asked salon owners to walk us through their plans to keep customers and staff safe.
Online consultations
Where once you may have had an in-person consultation followed by your haircut or colour, some salons are considering virtual consultations to limit the amount of time you spend inside. Appointments will be made online or over the phone, not in person.
Pay before you go
To reduce the number of people waiting in the salon after their cut, salons are planning to ask for payments the day before the appointment – either online, via an app or over the phone. Some may take payment on the day, but it will probably be taken at the station by your hair stylist.
Waiting outside
You might be asked to wait outside until your hairdresser is ready. Elena Lavagni, owner of Neville Hair & Beauty salon in London, says they'll be limiting the number of people in the salon to adhere to social distancing guidelines. Customers will also be encouraged to go alone, as there will be nowhere for friends, family members or pets to sit while you have your trim.
Some salons, like Amie Barron's in Muswell Hill, are considering opening outdoor areas to see vulnerable clients who may be nervous sitting indoors.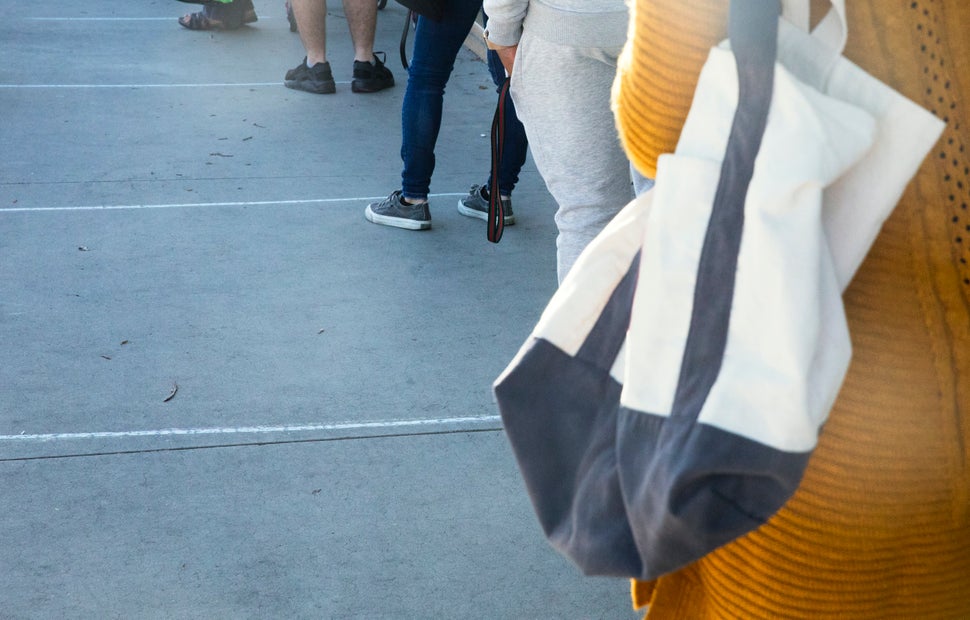 Spaced apart
There will be bigger gaps between styling stations, with chairs being taken away. Some salons have also installed screens between the chairs, and others have rejigged their salon layout completely.
Masks for all
It's likely staff will be kitted out in PPE. Myles Lewis, owner of Myles & Co salon in Essex, says all his staff will wear a face mask, visor, gloves and a boiler suit. Hand sanitiser stations will be placed at the entry and the exit points of the salon, he adds, and tools will be cleaned and sanitised in between each client.
Hair stylist and salon owner Joanne Fox has also ordered PPE for her salon although she's conscious of trying to remain environmentally friendly too, so plans to wash some items. However, Ricky Walter, owner of SALON64, plans to make everything disposable. "We are using eco-friendly bio-degradable towels and gowns that decompose at the same speed as a banana skin."
You may be asked to wear PPE, too. The salon may provide it, or you could be asked to bring your own. Lesley Blair, chair of the British Association of Beauty Therapy and Cosmetology, says it's "imperative" the industry's needs do not impact PPE supplies for frontline workers.
Wash your own hair
Some salons have opted to put screens in between sinks and styling stations, but others will require customers to wash their hair themselves before arriving.
Anil Salhan, of Blacc + Blond salon, is asking clients to arrive as close to their appointment time as possible and with freshly-washed hair. "It's going to be weird having to be so regimental," he says. "However, the health and safety of our staff and clients is our main priority."
Temperature checks
You shouldn't visit a salon if you have any symptoms such as a continuous cough, fever or loss of sense of smell. However, some salons will also be checking people's temperature at the door.
"In order to maintain a safe environment, each client entering the salon will have their temperature taken using a thermometer," says Lavagni. "Any client who has a temperature above 37.8°C will be sent home immediately and not allowed to return to the salon until they have no no evidence of Covid-19 symptoms."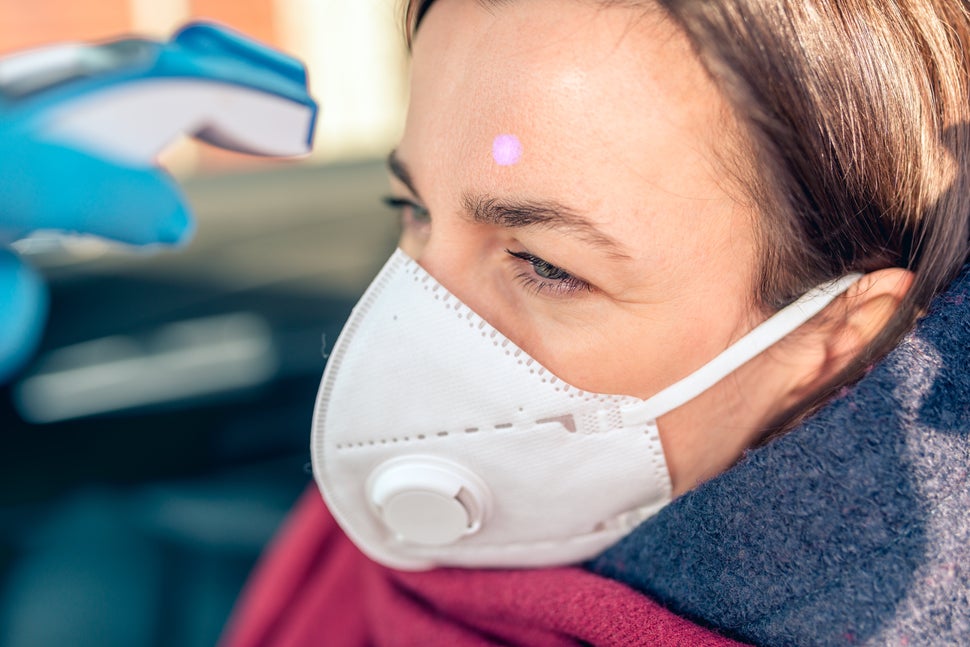 Delays in appointments
There will be fewer appointments each day to account for social distancing, but also break time between clients, as spaces will need to be thoroughly cleaned before the next customer arrives. This might take up to 30 minutes.
Barron says appointments will take longer, too. "We're expecting clients will either have attempted to maintain their hair themselves which is likely to need correcting," she says. They're expecting a 20-30% reduction in the number of clients each stylist is able to see each day.
Deborah Johnson, co-owner of Simply Gorgeous Afro Hair Salon, which she runs with her mum, says they used to be able to see six to eight clients a day, as they offer styles such as braids and weaves which require more time. When she reopens, she'll have to reduce appointments to allow for only two stylists and two clients to be in the salon together at any given time.
No more friendly chats
While you might've once enjoyed chatting to a hair stylist about your up-coming holiday or your busy day at work, the post-lockdown salon will be much quieter. The National Hair and Beauty Federation (NHBF) has asked hairdressers to keep casual conversation to a minimum.
NHBF advice reads: "Avoid face-to-face discussions with clients. Discussions about cut, colour and treatments should be made via the mirror while standing behind the client and kept to a minimum.
"You can lower the risk of infection if you stand or sit side-to-side rather than facing people. Consider offering online consultations to reduce the appointment time."
Longer opening hours
Because of the reduced capacity, salons are considering longer opening hours. "Only half our sections will be in use to ensure we are able to maintain the 2-metre distance between clients," says Barron. "We have split our team into two teams who will be working alternating shifts and we'll try and accommodate as many clients as possible by opening longer hours, Monday to Saturday."
Similarly, salon owner Paul Edmonds says both his salons in Knightsbridge and Battersea will be open seven days a week, for longer hours.
No hairdryers
It's likely some salons will cut down on the use of hairdryers so they don't blow air around. Johnson says there will be limited use of them in her salon where possible, but on styles where this can't be avoided, a screen will be put up.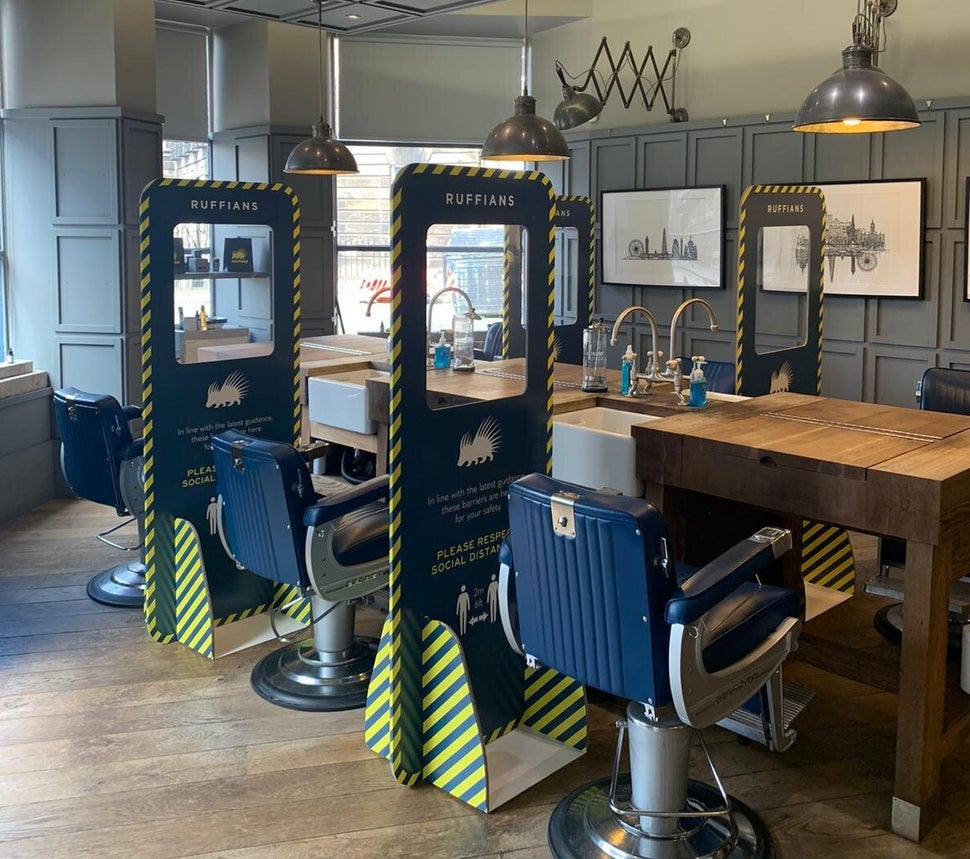 No more complimentary beverages
Enjoy having a free glass of Prosecco or a cuppa while you have your hair cut? This may no longer be allowed. Some salons are prepared to allow customers to bring their own refreshments, or may offer beverages in disposable cups.
No more magazines
Salon owners plan to remove magazines and newspapers – they pose a health risk as the virus can be transferred by touching infected surfaces. Could you bring your own, perhaps? "We're asking clients to bring as few personal items with them as possible and to keep them on their person," says Johnson.
A different kind of colour treatment
Keith Conniford, CEO of the Hair and Barber Council suggests customers may need to switch to colour treatments that don't need such a regular visit to the salon – such as highlight or lowlights, rather than root regrowth work. Or, moving to semi permanent colours that don't take as long to apply.
A change in price
The jury's out on this one but salon owners are likely to raise costs to account for having fewer customers in the salon and forking out for cleaning materials. Some have suggested that the government could help foot the bill.
Caroline Sanderson, owner of Ego Hair Design in Inverness, points out some salons were struggling to make profits prior to Covid-19, so they "will really struggle" going forward. "Salons don't want to charge for higher expenses like PPE but it will be necessary in most cases and we really hope local communities get behind their salons and understand it's a necessity," she says.
Some salon owners are optimistic. Joe Hemmings, from Bloggs Salons in Bristol, says they've added cheaper services because people might be tight for money right now.