The long-awaited Night Tube service is finally coming to London this weekend following almost a year of delays and strike action over workers' pay and conditions.
Here's everything you need to know about the new 24-hour service.
When does it launch?
The Night Tube launches on Friday, August 19.
What days?
A 24-hour service will be offered over the weekends with tubes running on Saturday and Sunday from 12.30am to 5.30am.
Which lines will be running?
Overnight service will be implemented on the Central line and Victoria line from Friday, August 19.
The Night Tube is due to be rolled out for the Jubilee, Piccadilly and Northern lines in the autumn.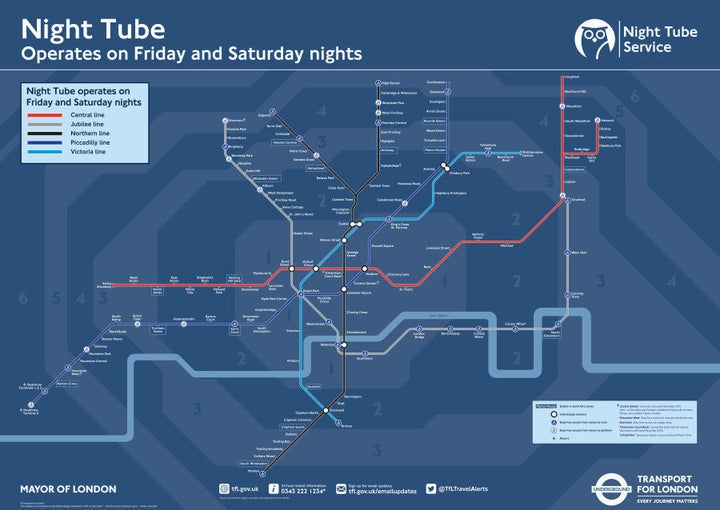 How regularly will trains be running?
Central line - trains will run approximately every 10 minutes between White City and Leytonstone and approximately every 20 minutes between Ealing Broadway to White City and Leytonstone to Loughton/ Hainault.
There will not be any service between North Acton and West Ruislip, Loughton and Epping and Woodford and Hainault.
Victoria line - trains to run on average every 10 minutes.
Jubille line - trains to run on average every 10 minutes.
Northern line - trains to run on average every 8 minutes between Morden and Camden Town and approximately every 15 minutes from Camden Town to High Barnet / Edgware.
There will be no service on the Mill Hill East and Bank branches.
Piccadilly line - trains will run on average every 10 minutes between Cockfosters and Heathrow Terminal 5.
There will be no service on the Terminal 4 loop, or between Acton Town and Uxbridge.
TfL said there are also plans to extend the night time service to parts of the Metropolitan, Circle, District, and Hammersmith and City lines once the "modernisation programmes" are complete.
Services could also operate on parts of the London Overground in 2017 and the Docklands Light Railway by 2021.
How much will the fare be?
Passengers will be charged a standard off-peak fare for travelling on the Night Tube.
Day Travelcards are valid on the day of issue (using the date printed on the card) for journeys starting before 4.30am the following day.
For example, if you buy a Day Travelcard at 11am on Friday, you can use it until 4.29am on Saturday.
Daily capping on Oyster cards and contactless payment cards also applies.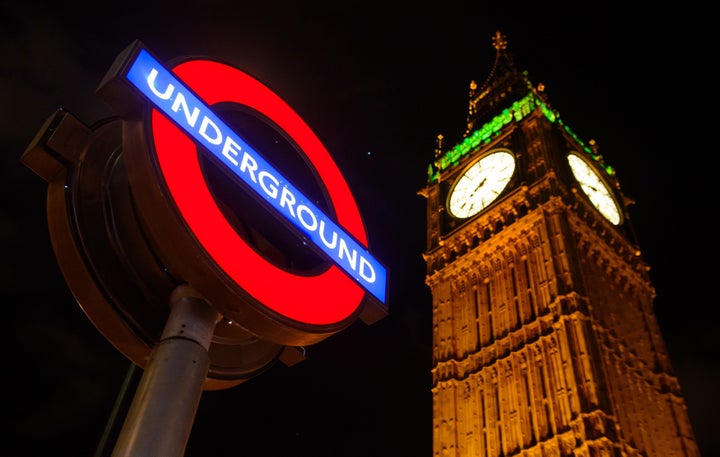 Will there be extra night buses?
The following bus routes will run 24 hours a day at the weekend from Friday, August 19: 34, 123, 145, 158, 296, E1, W3 and W7.
These buses will run twice an hour through the night and the W7 will run three times an hour.
Will there be any taxi ranks at stations?
The following stations on the Central and Victoria lines will have taxi ranks.
Chancery Lane
Ealing Broadway
Fairlop
Leytonstone
Liverpool Street
Mile End
Newbury Park
Queensway
Shepherd's Bush
St Paul's
Stratford
Wanstead
Euston
Finsbury Park
King's Cross/St Pancras
Tottenham Hale
Vauxhall
Victoria
Walthamstow Central
Warren Street
How will the Night Tube affect London?
Night-time journeys are expected to be cut by an average of 20 minutes, with some journeys being slashed by more than hour.
The new service is expected to benefit London's night-time economy, supporting almost 2,000 permanent jobs and boosting the economy by £360m.
TfL reports that late night Tube use has increased at double the rate of day-time trips, with night bus usage rising by 173% since 2000.
Currently more than half a million people use the Tube after 10pm on Fridays and Saturdays.