Google has listed hate preacher Anjem Choudary at the top of its search results for 'British Muslim spokesperson', it has emerged.
Former anti-terror police chief Sir Mark Rowley pointed out the issue on BBC Radio 4's Today programme on Friday and a Google search by HuffPost UK later confirmed Choudary remained top of the search engine's listings.
The cleric was released from prison earlier today after receiving a five-and-a-half-year sentence in 2016, for leading an extremist network linked to violent jihadists – including one of the killers of soldier Lee Rigby.
Of Choudary's incarceration, Sir Rowley, who retired earlier this year, said: "It was a significant arrest and it was good to put him in prison.
"But I think we have to be careful not to overstate his significance.
"At the end of the day, he is a pathetic groomer of others."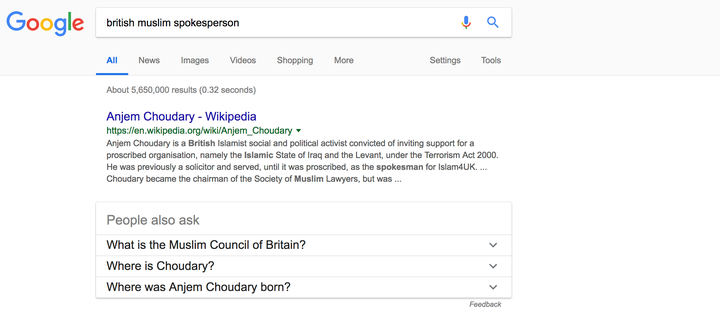 The Google results add to ongoing concern Choudary receives unwarranted attention from the media and is wrongfully dubbed a 'spokesperson' when he is not widely considered as such, with many arguing his divisive rhetoric is not an accurate reflection of Islam.
This concern has long been held by campaigners, with criticism both online and offline spanning years.
Dr H.A Hellyer, senior non-resident fellow at the Atlantic Council and the Royal United Studies Institute in London, told HuffPost UK the Google ranking was "abysmally misleading".
"It plays directly into the worst possible ways of misrepresenting extremists," he added.
"The search engine's power is tremendous, and this is reckless in the extreme – as well as just plain wrong. Choudary has been out of the public eye for a while now – and pretty much every British Muslim didn't miss him."
Sabah Ahmedi, a 24-year-old British Imam at the Ahmadiyya Muslim Community in Morden, slammed the idea that Choudary should be regarded as a representative of Islam.
"Anjem Choudary is no credible spokesperson for the teachings of Islam. He totally misrepresents the peaceful teachings of Islam," he told HuffPost.
"It was always shocking to see how one like Anjem Choudary freely preached hatred on main stream media for a very long time before being imprisoned. The media continually gave him wide-scale opportunity to spew hatred and a completely false understanding of Islam.
"This created unwarranted fear of Muslims and Islam and many non-Muslims, who hold a negative view of Islam, have since expressed that their understanding of Islam came from people like Anjem Choudary, after having seen them on TV talking about Islam."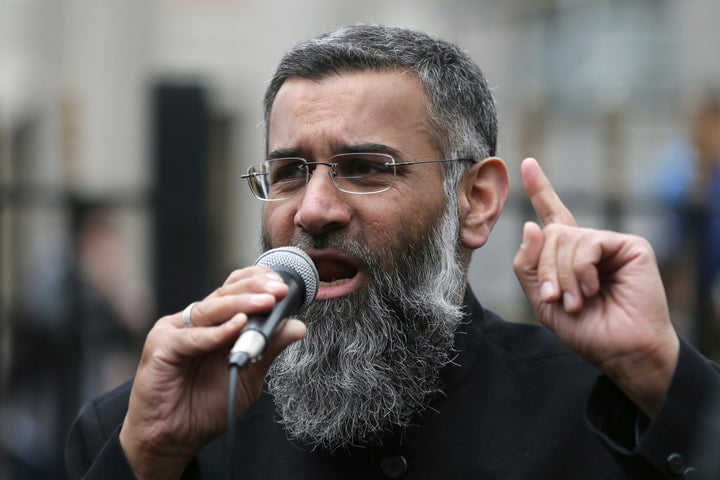 Ahmedi added: "The authorities, media, and society at large should take this opportunity to once again reflect upon the role it has played in this and continues to play. Sadly the media has given far-right extremists opportunity in the recent past to broadcast their hateful views.
"It must be realised that the more we spread hatred and hateful views within society, the further hatred will spread, and the more we spread peace and talk about kindness and cohesion, the more society will be adorned with these values. We all have a major responsibility in suffocating extremist thought by denying them publicity."
On Twitter back in 2011, Tim Easton wrote: "Rent a quote Anjem Choudary is spouting complete bollocks yet the media still portray him as some kind of spokesperson."
Faysal_FreeGaza posted: "And when did Anjem become Islam's spokesperson?"
In 2015, Paddy_stani wrote: "Anjem Choudary is as much a spokesperson for ordinary Muslims as the leader of the KKK is for Christians .. Which is not at all!"
And earlier this year William Baldet, Consultant for the Office for Security and Cooperation in Europe, tweeted: "Important point by @NewDayStarts on #newsnight, if the media present ppl like Anjem Choudhury as a spokesperson for Muslims then this will inevitably fuel anti-Muslim bigotry."
Choudary was due for automatic release after reaching the halfway point of a five-and-a-half-year sentence, when time spent on remand is taken into account.
Once a leading figure in the now-banned group al-Muhajiroun (ALM), the former solicitor had previously stayed on the right side of the law for years.
For the rest of the sentence period, he will be subject to a strict supervision regime.
Police and MI5 are expected to be among a host of agencies involved in monitoring him in the community.
Following his release, Choudary was photographed arriving at an address in north London.
It is thought he will initially be placed in a probation hostel and will have to comply with more than 20 licence conditions.
There are a number of standard requirements, including maintaining good behaviour, receiving visits from and keeping in contact with his supervising probation officer, and not travelling outside the UK without prior permission.
In addition, Choudary will be subject to a bespoke package of further measures while on licence.
These are expected to include electronic tagging; a night-time curfew; requirements to stay within a set area and only attend pre-approved mosques; a ban on contacting individuals who he knows or believes to have been charged with or convicted of extremist-related offences without prior approval; and restrictions relating to internet use and mobile device ownership.
Any breach of licence conditions can result in immediate return to custody.
HuffPost UK has contacted Google for comment.
Related