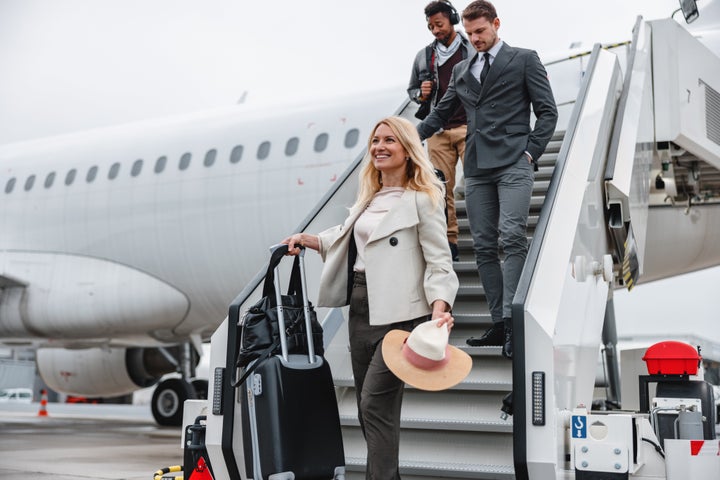 We could be forced to face the consequences of our harmful international tourism sooner than you think, according to a holiday company.
A new report from the carbon neutral travel company, Intrepid Travel, suggests that we will all receive personal carbon allowances to be able to travel in the near future.
Here's what that means, and why experts think this drastic action could kick in within 13 years.
What might happen?
Intrepid Travel warned that the pressure climate change is putting on many popular holiday destinations could lead to travel restrictions, in a bid to discourage flying.
In its report, produced with foresight agency The Future Laboratory, Intrepid Travel predicted that the possible "extinction" of some tourist hot spots could lead to the introduction of 'personal carbon allowances".
It claimed: "These allowances will manifest as passports that force people to ration their carbon in line with the global carbon budget, which is 750 billion tonnes until 2050.
"By 2040, we can expect to see limitations imposed on the amount of travel that is permitted each year."
The company added that travellers will be "forced to forgo the horizon-expanding experiences so readily embraced by today's tourists".
According to The Independent, Darrell Wade, co-founder and chairman of the company, said: "The direct, catastrophic impact of climate change has for too long been viewed as something distant in the future. But this is no longer an impending event; it's happening now."
It's worth noting that September 2023 was the world's hottest September on record by an "extraordinary" margin, according to new data from the Copernicus Climate Change Service.
Wade continued: "Tourism must evolve and become regenerative, as the current model is unsustainable."
He said that the future "needs to be different from business as usual", adding: "There is limited time left, and immediate collective action and innovation is needed to decarbonise travel together and truly achieve the immense potential for sustainable development within our industry."
Are changes already happening?
Some data seems to suggest so.
In September, a survey from Advantage Travel Partnership of 2,000 UK adults found that 70% of people aged between 18 and 24 said they were "somewhat or very likely" to change the time of year they travel because of the changing weather patterns.
And 62% of respondents in the younger age range said they would change their holiday destination due to climates becoming warmer in certain countries.
Meanwhile, some hotspots are already facing the consequences of global warming.
And, there is still strong resistance to change.
Only last month, the UK's prime minister Rishi Sunak rowed back on his government's green pledges – and vowed not to introduce new taxes to discourage flying, even though that is not a policy currently in place among any major political party.
Why is flying so bad for the environment?
It's common knowledge now that travelling by carbon-spewing plane is incredibly harmful to the planet and accelerates global warming.
Of course, it's not the only part of our lifestyles which are exacerbating the current climate crisis.
Overfishing, industrialisation, and power generation (to name just a few) also contribute, but planes are especially bad because they emit gases directly into higher levels of the atmosphere.
According to the UK Civil Aviation Authority (CAA), gases can have different effects when emitted at high altitude compared to those released at ground level.
Planes not only release CO2 but nitrogen oxides, vapour trails and cloud formations, too, and these emissions effects contribute twice as much to global warming as CO2.