A prolific robber dubbed the 'Wimbledon Prowler' is being hunted by police on suspicion of committing some 200 burglaries in southwest London.
Wearing a trademark black 'fisherman's' hat and black gloves, he is believed to have targeted properties within the affluent Wimbledon Village since 2006.
Despite extensive enquiries and continued media appeals he has not yet been identified or caught.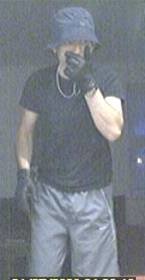 In the last two weeks, three separate houses have been targeted in Wimbledon Village with the last offence occurring on Friday, 11 March.
CCTV footage has since been released of the burglar in action as he throws a large wooden object out of the window, before tip-toeing across the garden to collect it.
The suspect is believed to enter properties via unlocked doors and windows. The meticulous removal or destruction of security equipment of the properties is also part of the burglar's tactic prior to committing the burglary.
Once inside an address he will use his jacket and pockets to 'bag' smaller items including cash and jewellery.
On at least six occasions, the burglar has been disturbed by occupants who have been within their homes whilst the burglary has taken place. He has then immediately fled.
The prowler has previously targeted celebrities homes, including tennis star Boris Becker and footballer Nicolas Anelka.
In 2014 Becker's wife Lilly revealed that the suspect had attempted two burglaries in their home, forcing them to put more security measures in place.
Frenchman Anelka came face-to-face with the intruder, but found himself outrun in the chase.
Detective Inspector Dan O'Sullivan, from Merton CID, said: "We are renewing appeals and asking for the public's help in identifying this man so that we can bring him to justice and bring his crime spree to an immediate halt.
"Someone must recognise this man and his distinctive clothing. He clearly spends a significant amount of time away from home in the early hours, something which cannot go unnoticed by his family and friends. Do you know anyone who fits this profile?
"I would urge anyone who recognises this individual to contact us. All calls will be treated in confidence."
Anyone with information is asked to contact Merton Police on 020 8649 3155 or call Crimestoppers anonymously on 0800 555 111.