Scarlett Stephens-Smith owns two of everything. From her extensive book collection to identical house plants and twin sofas, her home will have you seeing double.
For the past six months, the 29-year-old from Hertfordshire, has been converting her childhood doll's house into an exact replica of her home.
Each detail is meticulously studied and copied – from the external pebble dash and brickwork to the miniature TV remote and novelty watering can. People on TikTok can't get enough of it. She's gained more than 800,000 followers and 13 million likes.
"I still can't believe how far it's gone and that people love to watch it," she says. "It's been so fun sharing it with everyone, people say it's as therapeutic to watch as it is for me to make everything, which I love!"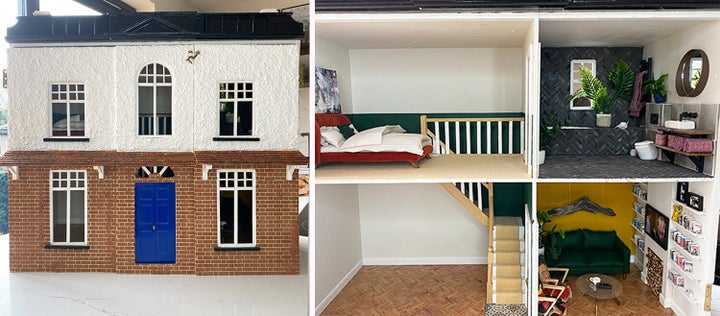 Before the doll's house came the actual house, which Stephens-Smith bought with her boyfriend, Ben, in 2017. The pair spent a year completely gutting and renovating the property before they could even move in. It took every evening after work and every hour of the weekend to finish.
Not content with casting her newfound decorating skills aside, last year Stephens-Smith turned her attention to another (albeit smaller) project.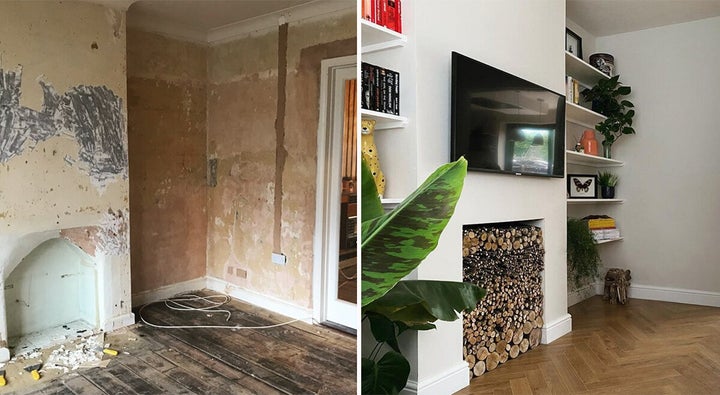 Her parents had a clear out and told her she had to collect her old childhood doll's house, or they'd throw it away. She reluctantly rescued it.
"I don't have loads of storage here so really didn't want to take it," she says. "But I did, and as I was begrudgingly putting it into the loft, one of my friends said: 'Why don't you renovate it and turn it into a replica of your house?' And it was quite literally as simple as that. I'm never one to turn down a project."
Using craft supplies she's had since childhood, plus leftover odds and ends from the full-sized house renovation, Stephens-Smith has created a miniature with uncanny likeness.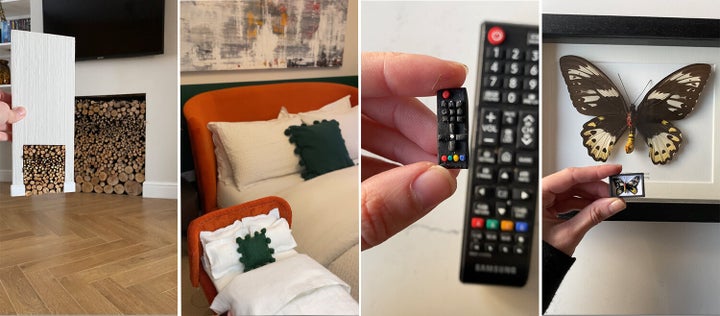 Recreating the bathroom has been the toughest challenge to date, she says. The plumbing and decorating was painful in real life, and just as troublesome in miniature.
"In the real bathroom, we'd never tiled before but for some crazed reason thought we'd attempt to do a really complicated tile pattern (herringbone) and mitre every edge around the bath, window and floor so it looked like a seamless flow – it was ridiculous," she says.
"On the doll's house, I found a herringbone stencil and brick compound to recreate the look of the real tiles, but trying to work that into a small space was unbelievably fiddly and hard. At least with a stencil you can scrape it off and start again, unlike our real bathroom."
The books also presented another challenge – all 70 of them. "I photographed every single book cover, spine and back that was on my shelf, then uploaded them to PowerPoint and cropped, scaled, edited them one-by-painful-one," says Stephens-Smith. "I think the whole process took me three weeks in the end. They do look cute though!"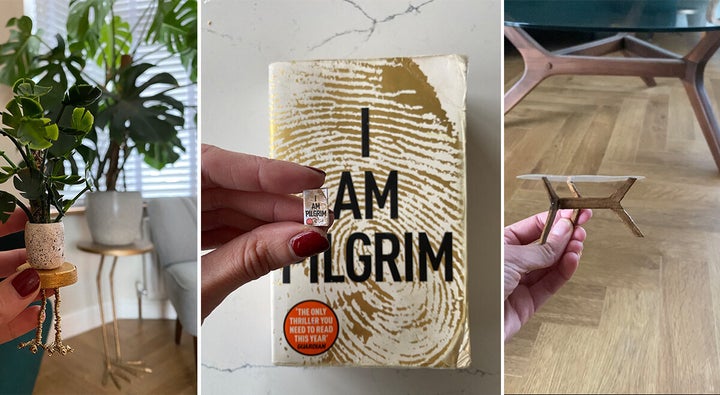 Her favourite element of the doll's house though, is the mini Frida Kahlo chairs. The big versions belonged to Ben's great uncle and she restored and reupholstered them when they first moved in. "I still had the same fabric left to make them in mini," says Stephens-Smith. "Because the fabric pattern is so busy they're like an optical illusion seeing them in big and small."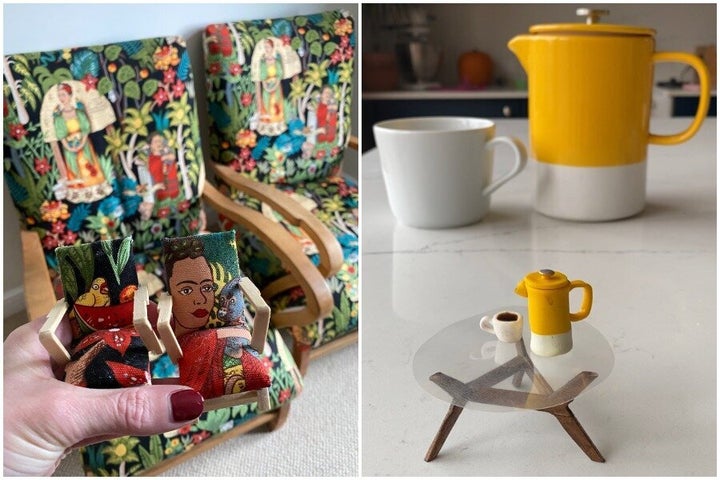 Another favourite is the miniature French Press, which is fully functional. "I poured myself a tincy tiny coffee in a tincy tiny cup and...drank it," she laughs.
There are still two rooms in the doll's house to complete, so Stephens-Smith isn't quitting her hobby any time soon. For the grand finale, she plans to create a tiny version of the doll's house to sit in the doll's house. Her fans will be pleased. "Back in July, I thought this would just be a quick and cheap project," she says. "I've since been doing it almost every day for seven months and I'm not even half way through. I just love making things. I always have."
You're reading Covid-Free Zone, a section designed to offer a little respite during the pandemic. For more fun and escapism, browse the articles here.