Sexism is bad for women's mental health. And it's ruining the peace of mind and optimism of young women in particular.
A number of recent reports showing rapid rises in self-harm, anxiety and depression have shown that our young women are unwell and struggling. Data published today by Young Women's Trust makes a clear link for the first time between mental ill-health and the daily experience of being attacked because of your sex.
Women aged 16-30 reported experiencing more discrimination based on their sex than those in older age brackets. And, they were five times more likely to experience depression than those who hadn't, according a survey of 2,995 women between the ages of 16 and 93 by Young Women's Trust and University College London.
Young women were more likely to experience sexism at school and at work, on transport and on the street, the findings showed, and 82 percent of those who had experienced sexism said they had been subjected to street harassment. Those who experienced sexism were still affected by mental ill-health four years later – demonstrating the lasting damage being done.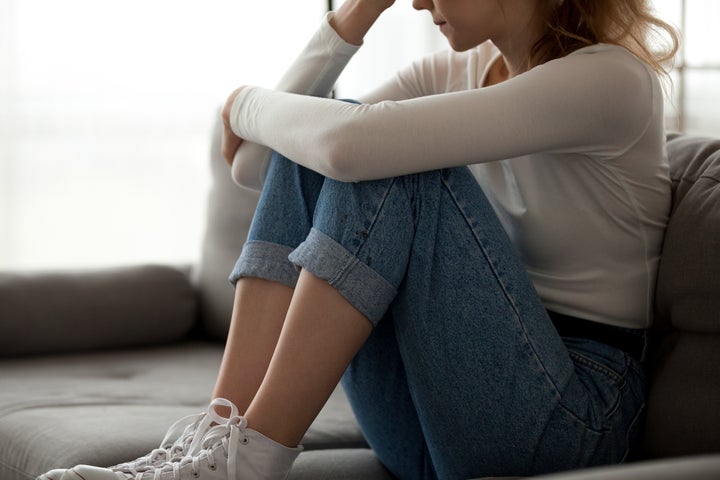 At Young Women's Trust we also know that young women are being paid less for the same work as their male peers – if they can access it, despite sexist career advice and expectations that they will shoulder the majority of unpaid care responsibilities. They are more likely to be struggling to get by and to be in debt. Poverty, a lack of power, and daily threats – yet til now our society still insists that the problem is female fecklessness.
"Sexism is the root of women's psychological distress on an epic scale."
Think of Shakespeare's Ophelia or Bronte's madwoman in the attic – women for whom "madness" was the only permissible way to express the tension and truth of being trapped in a man's world. Millions of ordinary women bruised and abused by sexism have been scolded, drugged up, locked up and dismissed. Reading the data that our report yields is upsetting – but it's also a moment of progress that we can identify women's mental illness as a reaction to oppression and create a response that acknowledges their true experience as a first step to healing and freedom.
No longer do we have to swallow the lie that women are simply not good enough or resilient enough to achieve equal status with men. Let's have no more talk about our lack of confidence, thin skins or unruly hormones. From today let's be clear: sexism is the root of women's psychological distress on an epic scale – and young women are in the front line. It's essential that society and government now recognise this, take it seriously and act.
"We need to end sexism. Without that, we're simply asking for money to build bunkers while the war around us continues."
The first step is to invest in mental health services that can support and heal. Current services are overstretched and underfunded, meaning that many women are unable to access support until they reach crisis. When women are detained they report inappropriate staffing, including male staff delivering close observation. There have also been sexual assaults on mental health wards and breaches of single sex accommodation rules.
An investigation by Agenda in January 2019 found that of 35 Mental Health Trusts that responded to a freedom of information request, only one had a women's mental health strategy and fewer than half of those who responded had a policy on asking about experiences of violence and abuse.
We need single-sex provision – spaces in which women who have been attacked or threatened because of their sex can recover and recuperate. We also need mainstream provision that better recognises sexism, abuse and violence, and can ask women about their experiences and signpost them to additional support.
And we need to end sexism. Without that, we're simply asking for money to build bunkers while the war around us continues.
Young Women's Trust is part of a coalition of 29 charities who have launched a Manifesto for Women and Girls this election. In it we are calling for an end to violence against women and girls – via a bill that will fully ratify the Istanbul Convention and provide a comprehensive framework of equal protection and support for all survivors.
We also want fully-funded, high quality sex education to tackle endemic sexual harassment and violence in schools and society. We want the introduction of a legal duty on employers to prevent harassment happening in their workplaces. We want women's equal representation in politics and equal pay at work. And we want equal investment in the social infrastructure that women are pushed into providing for free, to support economic advancement of men.
Our YWT Advisory Panel of young women said that they felt young women experience more sexism because they're seen as an easier target. We know too that young women might now have greater awareness of sexism and be more likely to report it. And that is the light at the end of this tunnel. Other Young Women's Trust research – conducted with Dr Ruth Hackett at University College London - has shown that more young women identify sexism as a major problem in the UK; more young women identify as feminists; and more young women demand better from our politicians. Young women are our future. They are breaking down the barriers of our past. We should all be allies to them.
Sophie Walker is CEO of Young Women's Trust.