Working from home has become the new norm. So, if you were told you'd be doing it for the foreseeable future, would you rather be: a) working on an ironing board makeshift standing desk in your tiny flat? Or b) checking emails from a sun lounger with a fresh coconut in hand in the Caribbean?
More people are choosing to lead digitally nomadic lives – that is, working remotely from anywhere in the world, relying on WiFi in coffee shops, co-working spaces, or hotels to do their jobs wherever they want.
For some, working remotely has lead them to take 'work staycations' – choosing holiday rentals nearby to get a change of scenery. But others are wondering what's stopping them from working in a different country altogether.
The number of digital nomads will reach one billion by the year 2035, predicts research from the Nomad List, the biggest global community for international travellers. Have you thought of escaping the doom and gloom for sun and sea?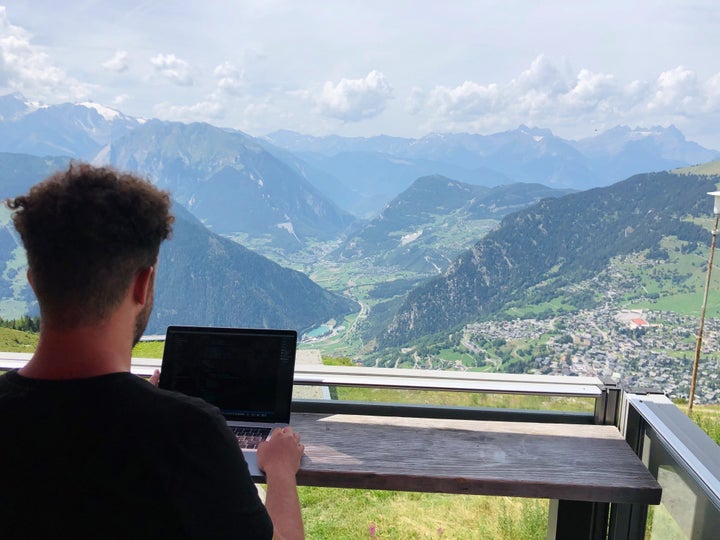 David Brandon, 31, chief technology officer of workforce management company RotaCloud, is from York, but currently working in Verbier in Switzerland. "It started as a short holiday, but it's turned into a six-week stay," he tells HuffPost UK. "We've been set up to work flexibly for a long time now, so all I need is my laptop to do my job."
Brandon says the change of environment is refreshing. "Being able to sit outside and have the mountains as the backdrop to my working day is hugely inspiring," he says. "It hasn't really changed how I work. The time difference is something that needs to be accounted for, but it has been a positive more than anything!"
The technology officer says he'd recommend it to anyone. "I've found very few downsides to working from abroad," he adds. "I can see it could get lonely depending on who you're with, but that's when your work culture kicks in. If you have a supportive workplace and brilliant colleagues, working from abroad is really no different to working from your living room."
"Working from abroad is really no different to working from your living room."
Lee Palmer, 25, an IT assistant, from Bristol, has also turned his tropical Zoom background into a real-life situation. He upped and left for Australia before everything went into lockdown. "I'd been thinking about it for a while and I'm so lucky to be able to work abroad and travel," he tells HuffPost UK.
"I didn't go to university like everyone else. I went straight into work when I was 18 and saved a lot of money for years, so I could have something to fall back on before making the big move."
It's not always easy, but the benefits are worth it, says Tara Johnson, 36, from Birmingham. She left the UK without sacrificing her freelance copywriting career – and, since moving two years ago, she's roamed all over Europe, working in new places and meeting new faces as she goes along.
"I love doing what I do," she says. "The only thing is, all the freedom can sometimes be paralysing. If you can go anywhere, where do you go? If you can live any type of life, which one do you choose?"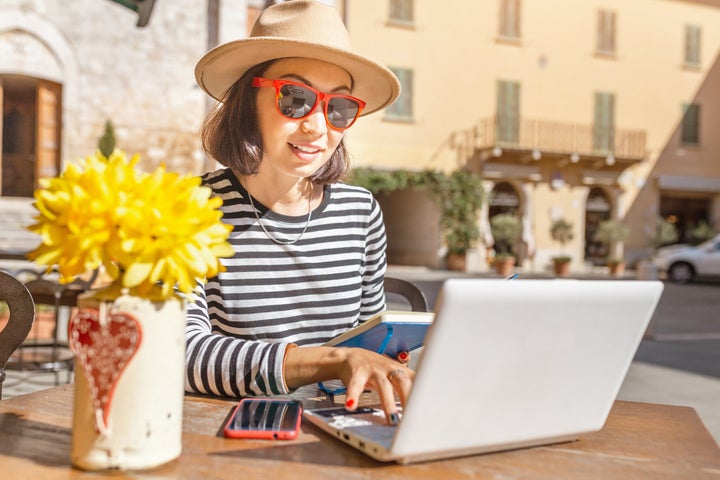 Knowing how to make it work successfully in a foreign country isn't a walk in the park. Carol Stewart, a career and business coach, says it's great technology has opened up the world, "but it's still important to do your research beforehand".
There are plenty of things to consider before booking that one-way flight. "It depends on the nature of your business – if you're self-employed or working for an employer," says Stewart. "It's important to know the particular laws of the country on what their income tax is like, any work travel visas required, and what health insurance coverage you might need."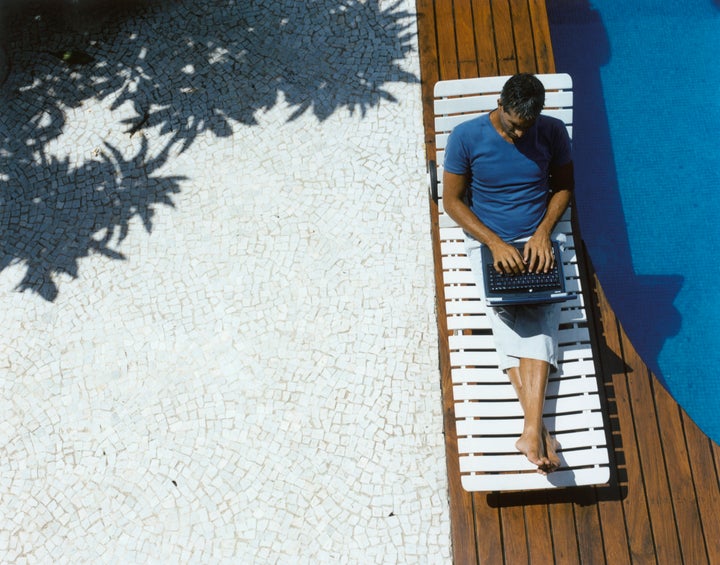 While the digital nomad life might have its ups and downs, there've been more incentives like Barbados Welcome Stamp cropping up to entice remote workers to work in beautiful destinations. The Caribbean island is offering those who are successful a new visa for remote workers and a free stay up to 12 months.
"Our year-round warm climate, beautiful countryside, world-class beaches, and countless activities, this is an ideal backdrop for the more sustainable work-life balance many are craving for themselves and their families," Barbados tourism executive, Petra Roach, said. Sounds idyllic, right? Other countries with floating 'digital nomad' visa schemes include Georgia, Estonia, and Bermuda.
And remember, working from abroad doesn't have to mean you need to relocate completely. If you're able to work from home, you could book a trip away and work from your holiday home in the weekdays, while exploring the new location during the evenings and on the weekend.