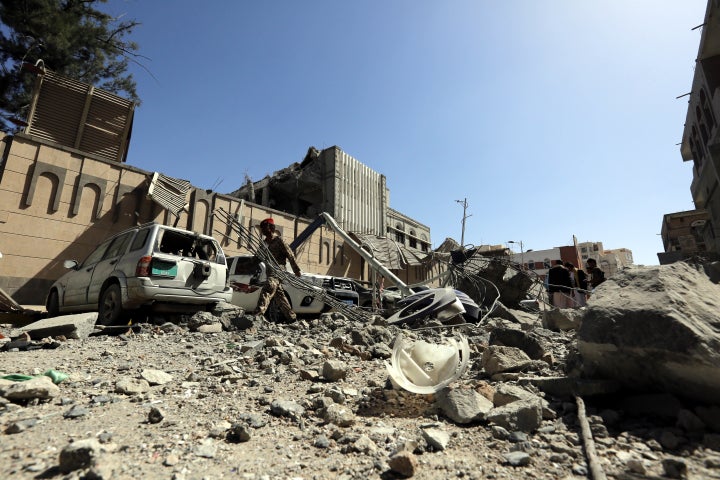 Whitehall is looking again at a plan for Yemen. We have good reason to do so. It's both a moral and practical problem. Thousands of Yemenis have been killed, not only by rebel Houthi forces occupying Yemen's capital, Sana'a, but also by the Saudi-led coalition fighting them. We sell Saudi Arabia some of the bombs it uses.
The much-quoted United Nations figure of 10,000 dead hides a grimmer reality. The Yemen Data Project has recorded nearly 17,000 air raids by the Saudi-led coalition since military intervention began in March 2015. It calculates closer to 25,000 Yemenis have died since early 2017 alone. This doesn't take into account deaths from cholera and starvation, knock-on effects of the war and the Saudi naval blockade. The UN describes Yemen's as the world's worst man-made humanitarian crisis.
It's not surprising therefore that the conflict has stoked festering sectarianism and Islamist extremism. Yemen's al-Qa'ida franchise has a track record of terror plots to kill those in Britain and elsewhere in the West. We have an interest in helping to solve this conflict.
Whilst much of the fighting is in Yemen's west, there is good reason to believe that the east - and the province of al-Mahra in particular - holds some of the answers to Yemen's problems. Why?
First, smuggling routes emanating in al-Mahra supply weapons to coalition adversaries and also feed the lucrative drug route into Saudi Arabia.
Second, a peaceful al-Mahra provides a buffer to prevent Yemen's war reaching the critical UK ally, Oman, and potentially prevents regional partners coming to blows.
The UAE and their proxies in Yemen's east and south have cracked down hard on al-Qa'ida in the Arabian Peninsula (AQAP), but they are not universally welcome. Many locals suspect the UAE of harboring a long-term commercial agenda and worry that their self-governance is under threat. Allegations of torture, forced disappearance and even assassination have also been aired.
Others question the wisdom and motives of UAE recruiting and training militias that lie outside the scope of the formal Yemeni military. Some are believed to support the idea of a breakaway South Yemen state. Meanwhile, fellow Yemenis in the Saudi-backed military hold firm to a united Yemen. Currently, both share a mutual enemy in the Iran-backed Houthi rebels. But these fault-lines within the coalition could escalate into new conflict. UAE and Saudi proxies have already come to blows on several occasions. In January, southern separatists, with initial support from UAE-backed forces, detained Yemen's Prime Minister in Aden and for a few tense days demanded that President Hadi sack his cabinet.
Saudi forces moved into al-Mahra in December to tackle the smuggling. But their approach lacks sensitivity to tribal dynamics and they have brought with them plans for a new Salafi institution to which locals - who practise a more liberal Islam - are vehemently opposed.
Oman stands out as a voice of conciliation. It is watching with justifiable alarm as its al-Mahra neighbours are militarized and the fragile tribal balance stressed. Al-Mahra is Oman's back yard and provides the key buffer zone preventing conflict spilling into Oman. The Omanis have strong historical ties to al-Mahra and are regarded with deep affection. They should be listened to.
What can the UK do? The Foreign and Commonwealth Office, due to its strong regional relationships, can magnify Oman's voice. The UK military, with its flexible approach and deep regional ties, has a valuable role working with Oman to assist Yemen's eastern tribes in their security. Despite the UK reneging on its protection treaty in 1967, there is still a sense among the tribes that Britain recognised their traditions of self-governance. This legacy of respect can be used for mutual self-interest. Above all, Britain's experience of full spectrum operations – combining military support with developmental and educational projects – can make a difference.
Thus far, three main methods of tackling extremism have been tried.
First, drone assassination: this is risky - ethics aside - because it depends on perfect intelligence and execution. False information, fed to the US by feuding rivals or for venal gain, sometimes results in the wrong targets being killed or 'collateral damage' - in the form of dead women and children - generating hatred of the West and cycles of revenge.
Second, there's patronage; buying people off is a favoured method in the region. However, the money rarely filters down but results in self-appointed sheikhs enriching themselves whilst the population scrapes by.
Third, there is community development. This has been tried with some success – but primarily by our enemies. AQAP recognises that violence isn't enough to generate support. After all, Yemeni households are awash with arms and can't be terrorized into submission. That's why AQAP created a comprehensive development programme when it ran a de facto state in eastern Yemen for an entire year until 2016. Some 56% of posts from AQAP's governance Twitter feed advertised community projects. Despite AQAP's appalling ideology, it won grudging toleration because it worked at grass roots level to fill the vacuum left by the dysfunctional Yemeni state.
Locals do want help, but they don't want it from AQAP. That's why concerned groups in al-Mahra have started to take matters into their own hands with their own community initiatives. These include colourful events such as an annual, inter-tribal camel race and a cultural festival to celebrate Mahri language, dress and customs. A 'great coastal clean-up' brought together women and children as well as men - a big deal in Yemen - to pluck litter from 560km of beaches. Seventeen mosques helped spread the word. A new education and stabilisation programme 'Ana wa-Nahnu' (Me and Us) helps young people think about responsible citizenship.
These groups don't have slick social media sites but their work is genuine, unlike those groups experienced at playing the tick-box game with Western donors.
The key to stabilisation in this urgent eastern hotspot is to build on these locally generated activities. If successful , they can be scaled up and rolled out to other regions of this war-torn country. This way we can help provide an alternative to smuggling, militia membership or Islamist extremism.
There is much to do in Yemen, but if the UK wants to help end this pernicious and destructive conflict, it must engage positively to assist the US, UAE and Saudi. It must support Oman's voice, and it should lend a military and developmental helping hand to the tribes. The answer here is neither bribes nor bombs, but something more subtle. The UK must redevelop a new full spectrum plan to help our former tribal partners in eastern Yemen.
Bob Seely is Conservative MP for the Isle of Wight, a member of the Commons Foreign Affairs Committee
Dr Elisabeth Kendall is Senior Research Fellow in Arabic & Islamic Studies at Pembroke College, University of Oxford