Takeaway coffee, tea and hot chocolate has offered a sip of liquid normality during lockdown. As one of the last remaining permitted "treats", it's been an easy pick-me-up (and heat-me-up) as we embark on chilly walks. It's also helped us support our favourite cafés and coffee shops during a tough time.
But hot drinks are under threat. Scotland has tightened the rules on takeaway food and drink. Customers are no longer able to enter venues to pick up items. Instead, only businesses offering an outdoor or hatch service can operate.
According to The Spectator's deputy political editor Katy Balls, "one draft advert being considered for publication reads along the lines of 'grabbing a coffee can kill'".
It comes as two women from Derbyshire were fined for "picnicking" after driving five miles to go on a walk with takeaway coffee. Their fines have been retracted, but it begs the question: is getting a takeaway coffee really that bad?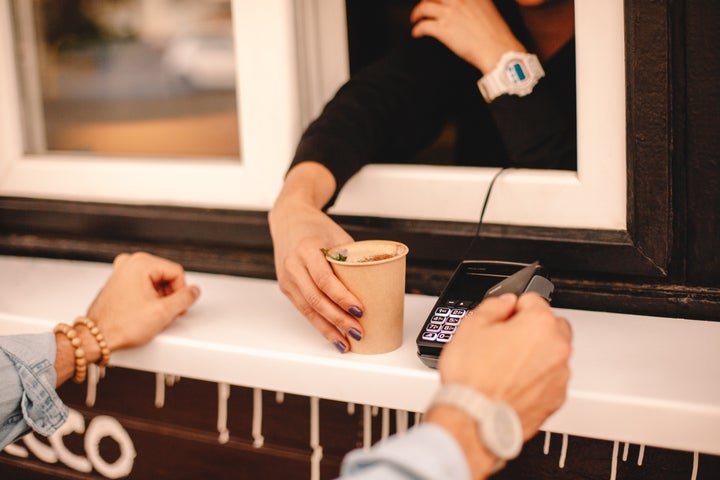 There's a lack of available research to determine the exact risk of getting a takeaway drink, but a risk will certainly exist to some extent. It will also vary depending on if you're going inside a shop to get your drink, or if you're getting it from a hatch or table outside.
"This virus mostly transmits via aerosols, so touching the coffee cup may not pose much of a risk," says Dr Julian Tang, a consultant virologist and expert in respiratory sciences at the University of Leicester.
The bigger risk is if someone else in the queue – or the vendor – unknowingly has Covid-19 and is breathing it out. "If everyone is wearing masks, this will be safer in the queue and from any exposure from the vendor – and the masks stop you from touching your mouth and nose if worn properly," he adds.
"Think of it this way, if you don't get a takeaway coffee then there's no exposure risk. If you choose to queue for a takeaway coffee there will be a risk from the queue and possibly from the face-to-face contact with the vendor – all much less if outside and everyone is wearing masks properly."
But it isn't as simple as ditching your coffee. Right now, we're craving slices of normality that boost our mental health. And Kate Nicholls, chief executive of the trade association UKHospitality, says there's local businesses to think about.
Takeaway coffee (and food) is a "crucial revenue stream" for businesses that have already been hit hard by the pandemic, she says.
"Not only does it provide a lifeline for businesses, it arguably takes some of the strain away from supermarkets if customers are picking up their lunch at the same time," she tells HuffPost UK.
"If the sale of takeaway teas and coffees is banned, it will strangle a valuable, crucial lifeline for businesses and make survival that much harder. If the expectation is for hospitality to help drive the country's economic recovery after the crisis has passed, we need businesses to survive."
Cafés and coffee shops have ploughed huge amounts of time and money into introducing Covid-secure measures, Nicholls adds. It'll be a wasted effort if they're forced to close, or if people simply stop using them.
"Because of the rigorous measures in place, hospitality businesses are arguably some of the safest public spaces to visit," she says. "In lots of cases, staff procedures, training and cleaning regimes have been overhauled to make sure that customers and staff are as safe as possible."
Ultimately, there's no clear right or wrong answer regarding takeaway coffee while services are legally permitted. It really comes down to your individual Covid-risk and the set-up of the business.
To limit the health risks, opt for a vendor with an outdoor hatch where possible instead of entering the store, wear a mask if you're interacting with the vendor and be sure to respect staff (and your fellow customers) by maintaining social distancing in the queue. If a queue is blocking the path on the high street already, don't make it longer.
If takeaway services are banned, cafés and coffee shops will be in dire need of government support, adds Nicholls. "They are certainly going to need a substantial package of support in order to survive," she says. "We need the VAT cut and business rates holiday to be extended as soon as possible."