Weekend walks have become the saviour of millions, providing exercise and much-needed respite from our homes during the third national lockdown. But should we be wearing face masks while we're on them?
With Covid-19 still rampant, photos in recent weeks have revealed busy parks, paths and markets as Brits head outdoors en masse.
Scotland goes one step further, saying: "Whilst it is not compulsory to wear a face covering outdoors it is recommended in crowded situations where physical distancing is not always possible, such as at the school gate or at the entrance to a building. In such circumstances you are expected to wear a face covering."
In England, though, there are no such government recommendations, although some businesses have taken the decision to introduce outdoor masks themselves. In January, London's Borough Market became the first place in the UK to legally enforce outdoor masks, after trustee's took matters into their own hands.
Other European countries have made masks outdoors mandatory, including Italy, Spain and parts of France. Will we follow suit?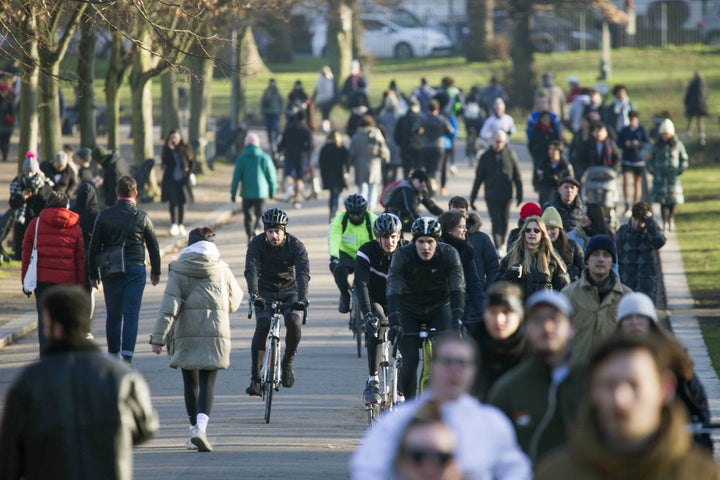 The Scientific Advisory Group on Emergencies (Sage) has suggested it may be time to make masks mandatory in some outdoor spaces, in light of the new Covid variant.
"Consideration should be given to using face coverings in a wider range of settings where people could be asymptomatic and may be in close proximity (less than 2m)," a paper released by Sage says. "This may include outdoor spaces where it is difficult to maintain distance and people may be close together for extended periods."
The paper continues that this may be particularly effective in "semi-enclosed spaces", such as covered seating areas, transport shelters or street market stalls.
It comes after England's chief medical officer Professor Chris Whitty was asked whether he thought people should start wearing masks outdoors.
He told Radio 4's Today programme that the new variant "undoubtedly" makes every situation more dangerous and that "the probability of transmission with every interaction has now gone up". However, he emphasised that it remains the case that the risk indoors is greater than outdoors.
When asked whether people should consider wearing masks outdoors, he replied: "The much more important thing is that people should not be leaving their home unless they absolutely have to and where they do they should try to keep their distance from people."
The World Health Organisation (WHO) says when outside, you should wear a mask if you cannot maintain physical distance from others. "Some examples are busy markets, crowded streets and bus stops," it adds.
But the WHO does not advise wearing masks when exercising – for example, if you go for a run. "Even when you're in an area of Covid-19 transmission, masks should not be worn during vigorous physical activity because of the risk of reducing your breathing capacity," it says.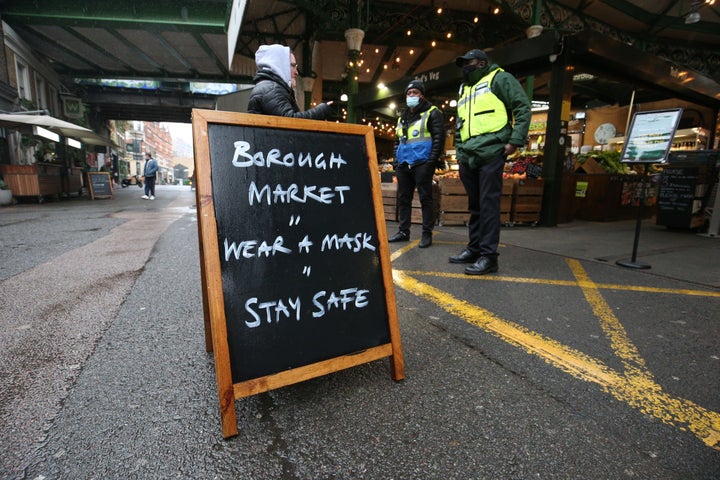 Professor Keith Neal, from the department of Epidemiology of Infectious Diseases at University of Nottingham, emphasises that circumstances are key when discussing whether outdoor masks will make a difference.
"Walking or running past someone is such a fleeting contact that the possibility of infection is incredibly low and approaches zero," he says.
"Standing in queues, such as for supermarkets, for prolonged periods with less than two metres distance puts people at a substantially higher risk of spreading or catching the virus than simply passing on the pavement. In these circumstances, wearing masks is prudent but more distancing is required."
Professor Paul Hunter, a professor in medicine at the University of East Anglia, agrees that "masks do have value, but they are no replacement for proper social distancing".
"Masks are also ineffective if they get wet and need to be replaced as per WHO technical guidance," he adds. "The problem is that if you wear a mask outside and it is raining, your mask gets wet very quickly. If it is cold your mask gets wet from your breath moisture. This may not matter if you are outdoors, but if you are then moving indoors with a wet face mask this is likely to be bad news."
For this reason, Professor Hunter is "strongly against" wearing masks outdoors, unless you have to be in a crowd. "The examples that Chris Whitty gives of huddling around a market stall and being in a large queue are probably the only such situations when this may be justifiable," he says.
"But it is much better to avoid those situations and go shopping at your outdoor market when it is not busy if you can."