People are increasingly wondering what 'staying local' means when it comes to exercising during the third lockdown – with different governments in the UK providing different answers.
While people should be staying home as much as possible due to high Covid-19 transmission rates, they may leave their homes to exercise, according to UK government guidance.
The lockdown rules in England state that people can leave their home to exercise with their household, support bubble, or one other person, "this should be limited to once per day, and you should not travel outside your local area".
Exercise includes, but is not limited to, running, cycling, walking, and swimming.
However in Derbyshire, two women were issued fines of £200 each after they drove five miles for a walk around a nearby reservoir. The penalties have since been withdrawn and police issued an apology, the BBC reported.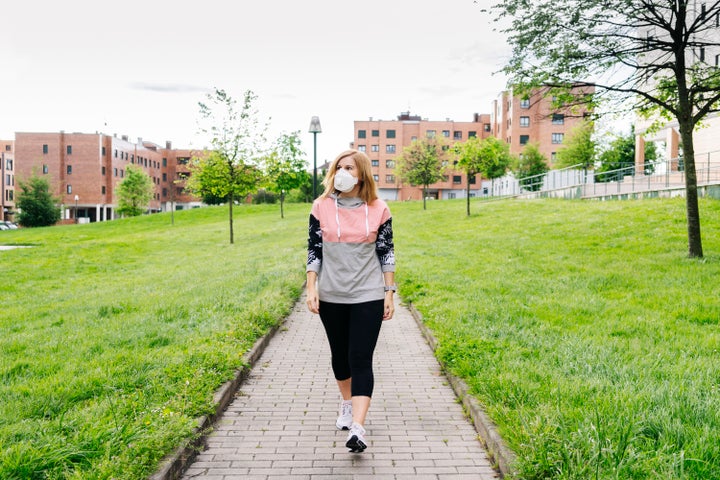 On Radio 4′s Today programme on January 12, Met Police commissioner Cressida Dick was asked what "exercising locally" meant. "It's important to point out this is an unprecedented crisis, it's difficult for everybody," she said. "We've had countless changes in the last year in terms of the restrictions.
"It can be complex, for the public – and indeed, for our officers – to know exactly what the regulations are now. The guidance around 'local', it is a relative term. It means stay local – it's a common-sense approach. Driving 100 miles to a beauty spot would not be in spirit of the guidance."
Dick was pressed on whether it was okay to go outside of your local authority area. "I would say people need to try to stay local. A reasonable interpretation, for me, is that if you can – and I appreciate some people can't – go for exercise from your front door and come back to your front door. That's my view of local.
"Some people will need to get in a car to get over three dual carriageways to get where you're going to walk the dog. It is complicated and everyone needs to try to do their best."
In Wales, the government's advice states exercise should be undertaken locally – from home or as close as possible to the home. "In general this should not involve people driving to a location away from home for this purpose," reads the guidance. "No journeys of any significant distance should be taken, for example, just in order to exercise in the countryside or at beauty spots."
It acknowledges that people with specific health or mobility issues may need to travel from their home in order to be able to exercise. For example, some wheelchair users may not be able to start to exercise immediately outside their homes for practical access reasons, and may need to drive to a suitable flat location, such as a park, for this purpose.
"In these circumstances the journey should be to the nearest convenient accessible location and no long journeys should be undertaken unless absolutely necessary," reads the guidance.
Scotland advises that people should travel no further than they need to reach a safe, non-crowded place to exercise in a socially distanced way. The Scottish government says exercise can be taken "up to 5 miles from the boundary of your local authority area".
In Northern Ireland, people are specifically told they should not travel more than 10 miles from their homes in order to take exercise.