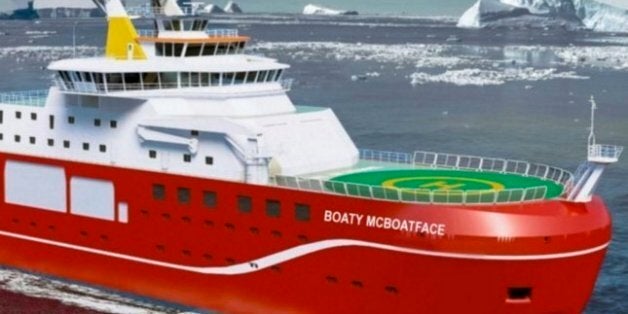 In the midst of harsh benefit cuts, the rise in families relying on food banks and David Cameron's involvement in suspect off shore bank accounts - the dream of Boaty McBoatface came alive.
On Monday, Tory minister Jo Johnson put a damper on our wonderful British humor - suggesting the winning title of the £200 million vessel would not be "suitable".
But what the science minister failed to realise is that there is nothing more suitable than a royal ship parading our oceans with a wonderfully silly name.
The Orpington MP appeared to ignore the wishes of the public who overwhelmingly gave their backing to the name in a poll that closed at the weekend.
It received more than 120,000 votes, some 90,000 clear of the second favourite, Poppy-Mai. Other suggested names behind Boaty McBoatface included Henry Worsley, It's Bloody Cold Here and David Attenborough.
The winning name was originally suggested by a former local BBC radio presenter, James Hand, who has since apologised.
Within days almost 30,000 people had voted for Hand's suggestion.
The sheer number of people behind the grand naming of the research ship proves that Brits couldn't wait to hit back at the establishment.
By taking that humor away from a public that is using a record number using foodbanks, its also taking away the hope that everyone has an equal voice.
Foodbank use in the UK rose 2% last year to a new high, according to the latest figures from The Trussell Trust.
In addition, there has been a series of scathing attacks on David Cameron's government over harsh cuts to benefits.
Iain Duncan Smith was so appalled at cuts to Personal Independence Payments (PIPs), he resigned and scathingly declared that the Tory Party look like they are hitting the poorest "because they don't vote for us".
The former DWP minister lambasted the treasury's "unfair" cuts for dividing society not uniting it - and that's exactly what is happening with Boaty McBoatface.
Taking the public's wishes seriously - even if they aren't serious - is vital for when more damning matters arise.
When it gets tough Brits are known for having a stiff-upper lip and laughing it off.
But now the public have been stopped from having that little bit of light.
Sure, Boaty McBoatface may not seem like the most pressing matter in the Cabinet Office this year, but the danger in curbing British humor can't be ignored.
If the winning results of the public poll held by the Natural Environment Research Council (NERC) were never going to be chosen, then what was the point in the first place?
The government's science minister said Britain would become the embarrassment of its naval allies with a ship named Boaty McBoatface.
But the real embarrassment is Britain being unable to stand by its joke.