As I turn 32 this Mother's Day I have come to the realise the impact and power of my mother in my life and how her actions influence and inspire me on a daily basis. It is not the words she has spoken but what she did and how she lives her life that I remember and draw strength from. And it reminds me of the importance of the role of a mother and the great responsibility it comes with as I raise my own son.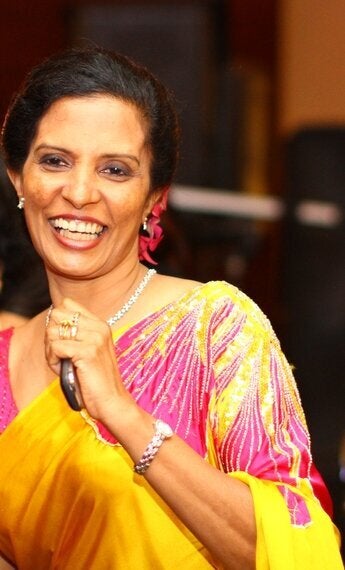 One of my favorite pictures of "Ammi" - my mother dancing at our wedding in 2011
1. Welcome strangers to our home
There was a couple affected by war who she didn't know very well and whose language she didn't speak but when she found out that they needed a venue for their wedding she opened our home and organised the event so that they would have nice memories and pictures.
2. Pay attention to the struggles of others
She drove my brother and his friends to a Chemistry tuition class on Tuesdays after school and every Monday night she froze face towels and took them along with lunch so that the boys could wipe the sweat off their faces and feel refreshed for the class.
3. Love is an action that requires sacrifice and getting uncomfortable
When my grandmother was ill, she travelled daily just to bathe her and cook. She also cared for her mother in law who suffered from Alzheimers and lived with us in the last years of her life.
4. Extend your dining table to include those you may not know.
If any of our friends needed a place to stay after school or spend the night after late night rehearsals we knew our home was open with no exceptions. For a few years seven boys did extra lessons at our home twice a week and there was always a steady supply of homemade lunch and snacks.
5. Being creative is harder but always worth it
She disliked buying clothes off a shelf and let me to pick fabrics, and design my own clothes so I engage with, learn from and appreciate the creative process.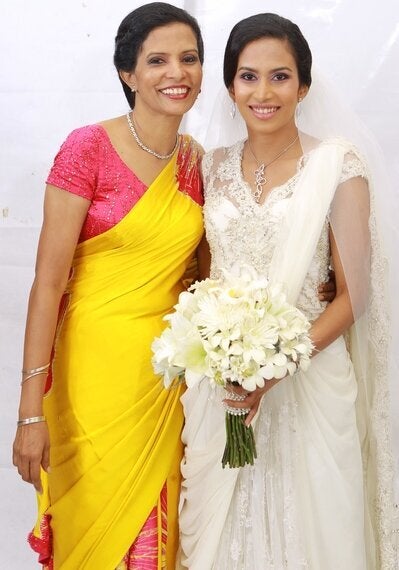 Her fastidiousness and perseverance is evident in her stitching each stone, bead and pearl in my bridal
6. Steward your finances efficiently
She shopped at wholesale stores to buy stationary and other supplies so that she paid less and we never ran out of anything.
7. Invest in the dreams of others
When we were applying to university in the US and she found the forms we needed to fill in, she kept a set of the blank forms at home "for someone else who might need them" and offered them to many and guided them through the process at no cost.
8. Be confident and selfless enough to let your children go
When my brother and I were 19 she insisted that we left to the United States thousands of miles away from our home in Sri Lanka because she wanted us to have a good education, explore the world and learn to be independent.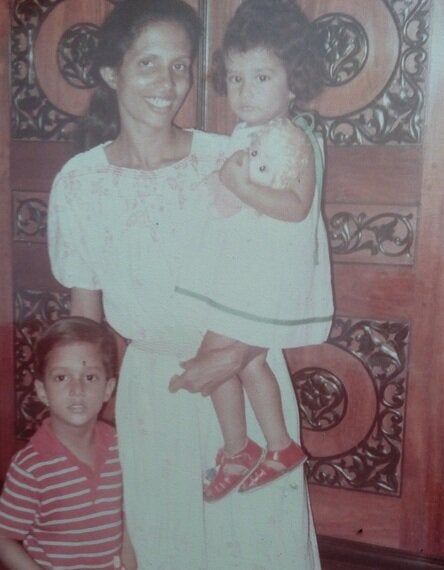 My mother with my brother and me circa 1989
9. Be a mother to as many as you can
There have been at least five young adults who were unrelated to us who lived in our family home at different times so they could pursue higher education without having to travel far, or pay for accommodation and food.
10. Listen to people with your heart and with generous ears
Countless times she's given me gifts that I would've loved to have but never asked for. She has taught me to listen to people's needs even when they are not spoken out loud.
11. Give gifts often and be prepared
She has a cupboard full of gifts for family members, unexpected visitors or for visits she has to make from gifts for newborns to senior citizens and everyone in between.
She always emphasised hardwork and a right attitude towards learning - if we struggled in any area, she spared no pains in finding different tools and resources to help us grasp the content. This strong foundation in learning paved the way for my brother and I to earn degrees from some of the best universities in the world.
When I was up early enough, I saw her seated on the floor gazing at the statues of Jesus & Mary with her thanks, requests, and struggles. My problems never escaped her reminders of God's faithfulness in the past and of His power.
14. Keep in touch with family and friends
On a regular basis she went through her "phone book" to check up on people and planned visits which stands out in our age of relying on algorithms of social media to connect with people.
15. Visit the sick in hospital
She knew that illnesses never come with pre-booked appointments, so regardless of how busy she was, she went with delicious home cooked meals whenever anyone she knew was in hospital.
16. Make jelly out of fresh lime juice
She taught me to value fresh, natural and unprocessed food and to experiment with natural ingredients instead of buying processed and packaged food.
17. Be industrious and entrepreneurial
She worked along side my father and built a successful business and worked diligently although she did everything above. By being a working mother she modeled the importance of working hard and multiplying what we have for the good of the family and those around us.