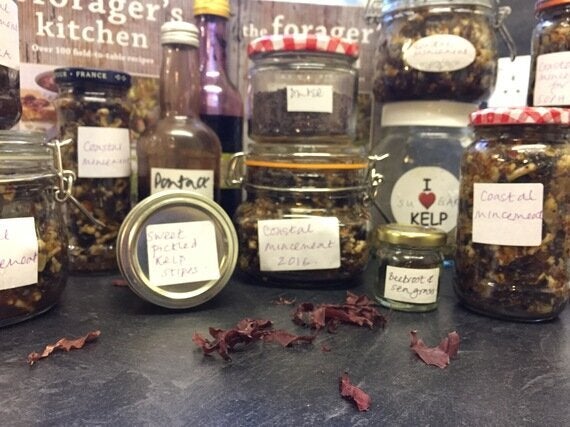 On Christmas Eve at around 4 o'clock you'll find me making mince pies listening to Carols from Kings College, Cambridge on BBC Radio 4. If I'm lucky all of our six grown up children are at home although a driver may have gone to collect the turkey. Somebody is making orange zest scented pastry (a Magimix is helpful), another is rolling out pastry as thinly as possible and then another will be stamping out lids and bases. Mince pie making is a family tradition I cherish.
My own mincemeat recipe is adapted from Katie Stewart's ( The Times Cookery Book). It's delicious. My Katie Stewart edition is battered and has travelled with me since university days. I always use fresh suet which I buy from from my local butcher. Try it and taste the difference. Nowadays, I add roasted and chopped chestnuts, lots of dried seaweed and finely chopped pickled kelp stipes too. The green seaweeds (Ulva spp.) are assertive, you can really taste them. I don't use green seaweeds in my Christmas cooking because it's traditional. It doesn't need a seaweed statement. Dried brown seaweeds are subtler and I add the red seaweed, dulse too, although take care with that species because it can be a wee bit shouty. Perhaps it's the warming colours that makes me plump for brown and red seaweeds but these species, dried, work well at Christmastide. I use dried seaweeds as one would a herb or spice. I often blend dried beetroot and dulse together, a pinch or two of this adds redness and sweetness to a Christmas cake.
A seaweed stipe is rather like a plant's stalk but kelp stipes can be tough. There is an explanation of the evolution of my recipe for pickled kelp stipes in my book, Seaweed in the Kitchen. It owes a lot to a group of Victorian seaweed ladies and personal determination. Mark Stephen, a presenter on Radio Scotland's Out of Doors programme, suggested that the pickled stipes would be nice with ice-cream; indeed, mincemeat can be stirred into homemade ice-cream too. I've also added an elderberry syrup, called Pontack, to my mincemeat. Pontack is a rich, dark syrupy affair that like the pickled stipes improves with age. Old cookery books insist that it is kept in a dark place for over seven years before use. A Pontack recipe can be found in The Forager's Kitchen, which has recently been reissued.
A Coastal adaptation of Kate Stewart's Mincemeat Recipe
450g sultanas roughly chopped
175g candied peel, chopped
100g chestnuts, roasted, peeled and chopped
100g almonds, blanched and chopped
450g apples, peeled, cored and grated
Medium carrot, peeled and grated
Tablespoon dried and finely ground kelp
Tablespoon dried and finely ground laver
Dessertspoon dried and finely ground dulse
2 teaspoons pickled kelp stipes, finely chopped
Large orange, rind and juice
250ml rosehip or sloe infused gin
Mix all the ingredients together in a large bowl. Cover with a cloth and leave overnight. Pot into sterile jars and store as Katie Stewart suggested, in a dry place.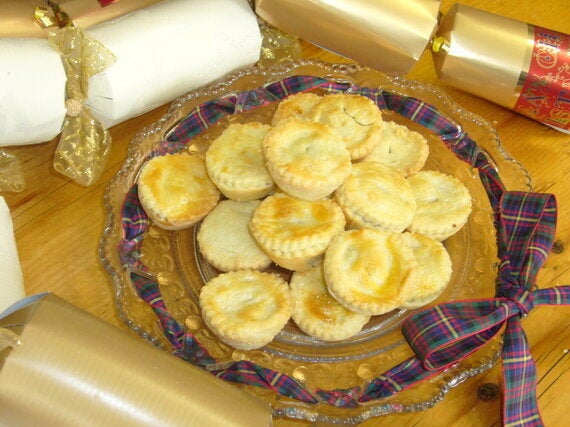 Happy Christmas Cooking from The Forager's Kitchen