One day this week I went on not one, but six escalators. Life on an Outer Hebridean Isle or in rural Angus doesn't provide such first world experiences but what they do offer more than makes up for a quick jaunt on an escalator - I can forage wild plants, fungi and seaweed on a daily basis.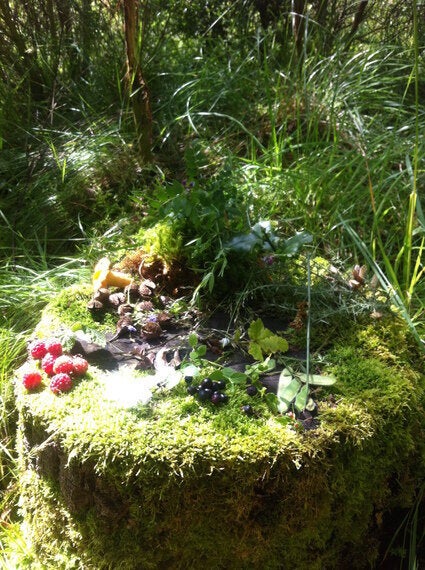 Nobody in the UK lives more than 70 miles from the seashore and even this may be disputed if we include tidal rivers. Everyone does however live considerably closer to the countryside and wild food is of course also freely available in towns and cities. The problem is that few are skilled in the identification wild edibles. Summer holidays provide an opportunity for families to explore the countryside together. Foraging free food need not be about stripping our countryside bare, in spite of what recent New Forest mushroom press reports suggest. Commercial foragers aside, foragers who pick for their personal use harvest with care, ensuring sustainable growth for the next season. Folk who run foraging courses follow an ethical foraging code because, to be candid, if they didn't their businesses wouldn't survive.
I harvest wild edibles for my own breakfast, lunch and supper table. A little here, a little there, and never more than a sixth of what's on offer. I ensure that plenty is left for the birds and bees. Common sense dictates that picking every summer elderflower in sight, doesn't bode well for elderberries in the autumn. When I find chanterelle heaven, however, (a phrase coined by Maxim, child number six at the age of four) it is tempting to consider storage by dehydration or preservation in oil. I make a point of not being generous with foraged edibles because this could be the start of that human trait that pushes us towards Dante's fourth circle - greed. Gluttony, the third circle is of course always tempting to any lover of good food, wild or otherwise. I freely admit that foraging arouses a hunter gatherer instinct, which can stray towards both sins. The next bush, the one just out of reach somehow always looks more tempting. Small wonder foraging is a pleasant way to while away many hours.
Foraged food may be free but it isn't guaranteed. The deer and birds often dine on blaeberries and other human lovers of this wild berry may reach the tiny bushes before you do. Picking blaeberries is time consuming and fiendishly fiddly (children's hands are useful) - don't be disappointed if you return home with a half empty basket. The true joy of foraging is about being out of doors and appreciating the natural beauty of the countryside. When I am harvesting wild food, I barely notice a spot of rain, the cold or windswept sea spray. Perhaps this indifference to inclement weather is a throwback to the times when we needed to hunt and gather our own food. Foraging is for me a most pleasurable experience, although I do find that foragers are loathed to share the finer detail of their preferred harvesting spots.This trait is true of a lovely nonagenarian priest who picks seaweed on the Isle of Barra. He smiled wryly as he told me that people are always asking him to tell them where to find the best carrageen. The wild discovery is, for me, part of the foraging adventure.
Novice foragers might find a mossy tree trunk that doubles up as a children's nature table on which to display their wild loot. It might or might not contain tasty edibles. Blaeberry or blackberry juice is freely available face paint for kids and if it rains, mud will do the job too. I'm always amazed at how far children will run when gathering wild bits and bobs for their nature table - yes, foraging is a good form of exercise too.