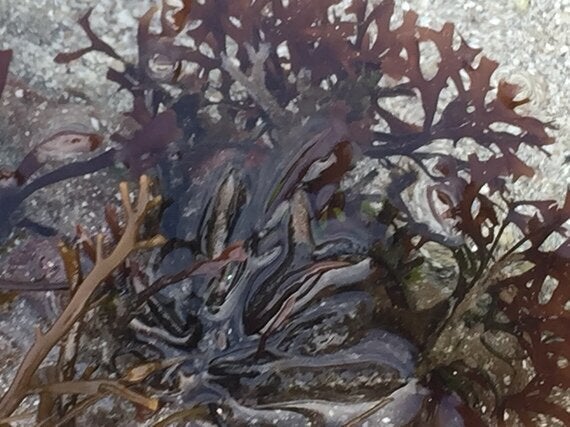 The common ocean garden carrageens (Chondrus crispus) and Grape pip weed (Mastocarpus stellatus) are red seaweeds that can be found at low tide hanging from rocks or carpeting pebbles. If you've explored rock pools, you will have probably come across carrageen. Use scissors to cut its tiny stipes from the rock, but leave plenty to encourage regrowth. Grape pip weed is also called carrageen. This species isn't smooth like Chondrus crispus but bristly and often covered in bubbly warts. Carrageen is a setting agent that's used commercially in toothpaste, beer and ice cream. It is very useful to vegan and vegetarian cooks.
I pop some well washed carrageen into a pan, cover it with water and simmer the pan over a low heat for about 20 minutes until a rich gel is released. I then sieve the gloop into a pot, cover, and refrigerate the resulting gel for up to ten days. I use it to thicken, add sheen to sauces, in marshmallows or as a setting agent in panna cottas and mousses.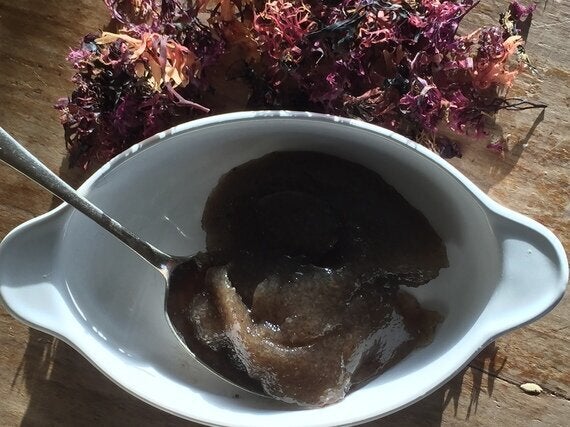 Carrageen gel (credit Fi Bird)
This recipe is an adaptation of my tablet recipe. I gradually increased the sea grass from two teaspoons to a tablespoon because I found the seaweed taste too subtle. The flavour mellows as it ages - so add an extra pinch of sea grass, if you can resist eating the tablet immediately.
The addition of carrageen softens the traditional crumbly texture of Scottish tablet, making it almost fudge like. I've tried making fudge with dried dulse and pepper dulse too. Both are delicious but the ulva spp. remain emerald green on cooking, which gives the fudge a jewel coloured speckle.
This recipe probably deserves a health warning, so don't compromise taste by replacing the butter with margarine. Use as large a pan as possible. If at first you don't succeed, in Robert The Bruce style, try the recipe again. Errors may occur if you melt the sugar too quickly or don't boil the mixture to the correct temperature. The stirring is an art too, persevere it's worth it.
This tablet is not part of a calorie-controlled diet.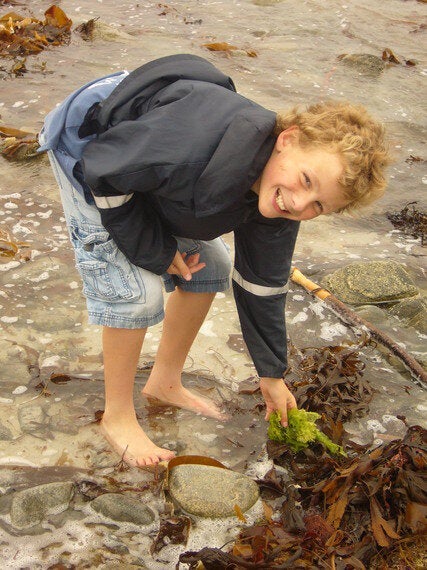 Sea Lettuce Credit Fi Bird
Craftily bagged, this emerald dotted seaside fudge makes a wacky Christmas present, and you might leave Santa a piece as a Christmas treat.
Makes 6 bags approx 1.35kg
Tbsp dried sea grass finely ground Tbsp carrageen gel (P.29) Additional ingredients:
Small tin condensed milk (c 400g)
Put the sugar, butter and milk in a large heavy based pan over a low heat to combine the ingredients. Bring the mixture to the boil and add the condensed milk and sea grass (it will bubble up). Slowly bring the mixture back to the boil, stirring continuously until it reaches a butterscotch / light caramel colour. Test that the mix has reached softball stage (drop a small amount into a cup of cold water and it will harden into a ball). Remove the pan from the heat. Add the carrageen and beat continuously until the mixture is very thick (for at least 10 minutes). Pour the fudge into a non-stick or greased baking tray to set. Before it has set completely, mark squares, this will make it easier to cut the fudge when it is firm. Cut the cold fudge into squares and put it into bags.