Wild garlic or ramsons merit another Huffington Post outing. It's one of the safest leaves for the novice forager to hunt because the scent is strong. It is similar to the leaf of the Lily of the Valley but the garlic odour is overwhelming. Rub it between your fingers if your sense of smell is poor. In Scotland wild garlic was planted in castle driveways, far away away from kitchen gardens where it might have caused sensory grief. Garlic must have gone out of favour though because many older folk only associate it with France.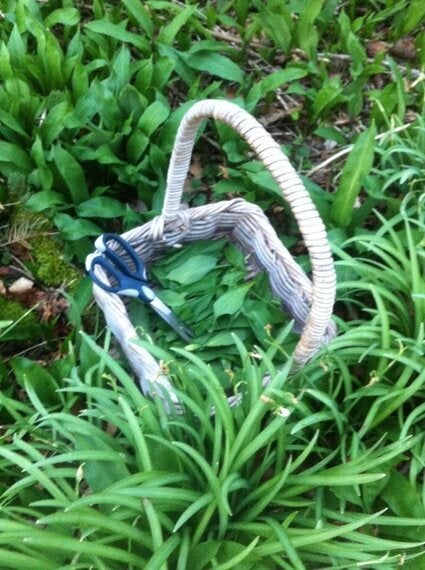 Ramsons amongst fading snowdrops
After three weeks of pickings we've yet to tire of cooking with wild garlic. In honesty it's a joy to any lazy cook who loathes messing about with the papery skin which encases cloves of garlic. I take a pair of scissors into the woods to ensure that I don't pull up ramson roots and then, continue to use them to snip the washed ramsons in the kitchen. Pick a little here and there and not enough to feed the neighbourhood. Add the shreded leaves as late as you dare to Spaghetti Bolognese for colour and intense wild garlic flavour.The leaves can be shredded in salads or stuffings or the more adventurous might add them to homemade pasta.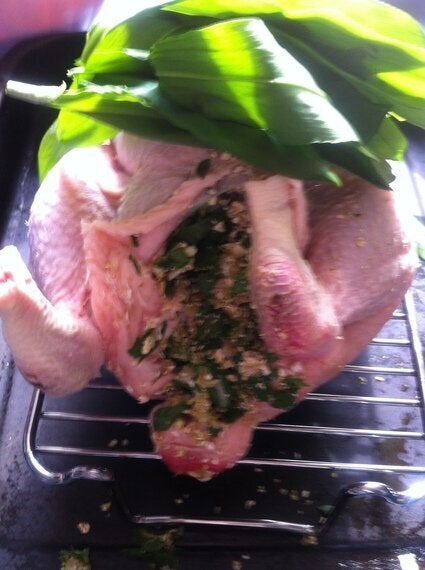 Artisan food producers will sell you wild garlic pesto in fancy jars but it's far cheaper to make your own.Take a traditional pesto recipe and simply subtistute the basil leaves for wild garlic and omit any cloves of garlic. I add a tsp. of lime zest and a dash of lime juice to taste. Don't be a slave to pine nuts either; they are expensive and have a tendency to burn, unless you watch them like a hawk. Toasted pumpkinseeds will add texture as will toasted pinhead oatmeal.
Considering the diet of the French again, snails are being harvested on the Isle of Barra which I can see from the window of our Uist house. Three cornered leeks grow in South Uist ditches and may grows on Barra too, so I suggest trying snails in wild garlic butter. Very French but in this case with West Coast provenance too. In fact unlike the Isle of South Uist there are trees on Barra so ramsons Allium ursinum may grow there too.
Continuing my Island theme here is a recipe for wild garlic aioli taken from The Forager's Kitchen. It is delicious with langoustines.
Use eggs at room temperature and add the oil trickle by trickle to prevent the mayonnaise curdling. The key to success is 'go slow' when making mayo.
300ml light vegetable oil
2 tbsps Ramsons, finely shredded (chiffonade)
Wild Garlic oil (optional)
Put the egg yolks and lime juice into a bowl, season lightly and whisk together.
Slowly whisk in the oil a little as at time, whisking constantly until the oil has emulsified and the mayonnaise is thick. As the mayonnaise thickens the oil can be added a little faster. If the mayonnaise looks very stiff, whisk in a little boiled water until desired consistency is reached.
Fold in the shredded Ramsons and a drizzle of wild garlic oil if you have some.
Replace the lime juice with a wild vinegar perhaps elderflower or violet, both of which are in season with ramsons. If you have made ramson flower salt use a pinch of this with some freshly ground pepper. Jack by the Hedge (Garlic Mustard) is also in season, these leaves could replace the ramsons. I find a helping hand is useful when making mayonnaise. An adult or child with a steady hand pouring the oil in very slowly is really useful. You could make this in a food processor but do fold in the finely chopped Ramsons (or Jack by the Hedge) by hand.