I wish I could have taken a photograph of my tube carriage this morning, but that would have required me to actually have enough room to manoeuvre.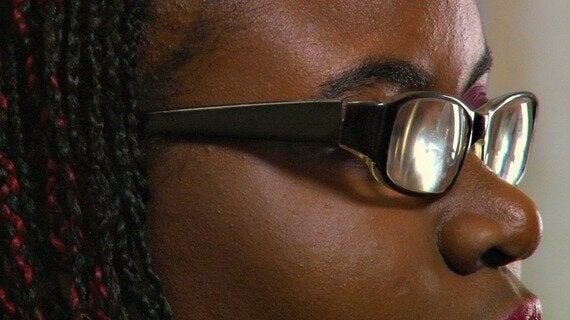 Despite getting on at the first station, I managed to find myself crushed between an increasingly agitated businessman and a tween playing her music too loud. My position was the consequence of missed-placed kindness; I had wrongly identified a woman as pregnant at an earlier stop and offered her my seat. Rookie error.
As people continued to cram themselves in to the non-existent space, and my capacity to breathe lessened (both due to a lack of air and multiple elbows to the rib cage), I cursed my suburban dwellings and wished I had a shorter journey. I convinced myself that I was the guardian of 'the worst possible commute.'
Upon arriving at my office, it didn't take long to be reminded of how ridiculous that clause is. See I am currently working on a feature about a young Londoner, not dissimilar in age to myself, that has gradually been losing her sight since the age of four. Born with a condition called Chronic Uveitis, at the age of just 20, she is now completely blind in her right eye and has had to endure a string of operations to retain some sight in her left.
I recall our discussion, just yesterday, about her commute to work and my self-pity instantly waned. Like me, Joy has to suffer packed carriages and train delays. Unlike me, she does not have the privilege of being able to see her fellow commuters or even easily identify stations.
"Out of my left eye, I can only see large objects, colours and shapes," she told me, "I can see people's faces, but not their features. I wouldn't recognise someone I knew if they were walking down the street."
However, Joy is not a person that engages in self-pity. In fact, she is full of praise for the London transport system, notably Transport for London's turn-up-and-go system,
"I think London is a really good city to grow up in if you are a person with a visual impairment. If I need to go to Victoria, for example, I just turn up to a station, find a member of staff and let them know my desired destination. That member of staff will take me to the platform, get me on my train, and then call up Victoria station and make sure that someone is there to assist me."
This positive, can-do attitude, is one that Joy extends to all areas of her life. Her aim is to live a life without limits, and having lived independently for over a year and a half, something very few of her peers can claim, she is very much achieving it.
Despite all of this, Joy is quick to shy away from any suggestion that she is inspirational,
"I think it's really interesting when people say that I'm inspirational, I literally get it all the time. I understand where people are coming from, but I think that we need to really think about this, because I want to be an inspiration for doing something. You know, people who are blind are not amazing purely because they are blind. I think they should be amazing because they have done something."
Wanting neither to be pitied or seen as an inspiration, Joy explains to me that her primary desire is to live a life comparable to that of any young person growing up in London. After all, she explains,
"Being blind isn't all bad, it means I always look like Beyoncé!"
Joy's Revolution is a campaign launched by Joy in conjunction with the Royal London Society for Blind people (RLSB). To find out more about the organisation, or the campaign, visit: www.rlsb.org.uk/joy
Related