A couple of weeks ago Binky, Thom Evans, my boyfriend and I were amongst a large group heading to Tignes for Bluebird In The Alps. We gathered at the airport at an unholy hour on Saturday morning. Thom arrived early and was in Garfunkle's eyeing up the breakfast menu. Unfortunately for him, we weren't all as punctual. Peter and I had to do a last minute stop off for an extra suitcase because someone (me) ordered a little too much skiwear off the internet (although entirely worth it).
I have a tempestuous relationship with the snow. My first real taste of the slopes was a "school trip" to Val d'Isère back in sixth form. My school had no actual knowledge of this trip. I stole and printed a headed letter to my parents, somehow got them to sign a cheque to "Miss Lewis" - my friend - and off I went. Karma came and bit me right on the bottom. Without skiing before, I eventually clicked on my rented skis and went straight on a lift up the mountain. As we reached the top my friend squealed "remember to snow plough" as she shot off the side of the mountain. Great advice if you know what a bloody "snow plough" is. I somehow made it off the lift, my poles waving in the air. Before I knew it, I was heading down a red run with no idea how to stop. I panicked and tumbled into a tangled mess with a face full of snow and limbs stuck in rather painful positions. It was an hour or so before an extremely good looking, but very frustrated ski instructor, came to the rescue and helped me waddle down to the bottom.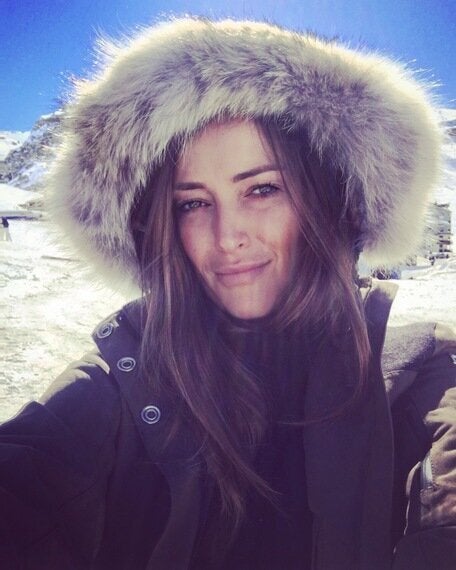 Better at posing than skiing - wearing Mover
I've returned a few times since, but indulged more in the "après" than the ski. If you've watched series four of Made In Chelsea, you might remember a ski trip to Verbier. If you look closely you'll spot pure terror - and some tears - in my eyes when I was forced to ski. Big thanks to a very patient crew (and to Francis Boulle who was even worse than me).
This time I was taking no chances, and searched for somewhere in London where I could enhance my very basic skills. Luckily, I stumbled across somewhere actually in Chelsea. And, even better, it's called Chel-Ski. Our instructor was brilliant, I improved my technique and got a brilliant booty workout too.
After a few hours transfer from Geneva, with plenty of videos of us sleeping made by Thom, we finally arrived at five star hotel, Les Suites Du Nevada. Nevada's interior has a mixture of faux fur and sheepskin on the walls and upholstery. In the reception there's a large polar bear statue, a big steel fire centrepiece by the bar and quirky wooden tables dotted around. We also made sure we spent plenty of time at the hotel's spa. It had a huge hot-tub, sauna and steam room. Dog lovers will also be pleased to know there are two four-legged friends, Igloo and Lulu, who roam the hotel reception freely, and are there for a cuddle at the end of a long day (or after a drink or two).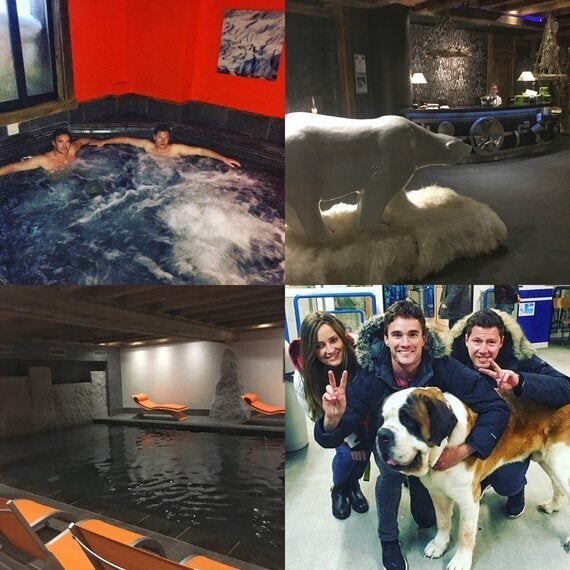 As soon as we checked in we hit the mountain. Well Binky, Megan, Peter (my boyfriend) and Olly went up the real slopes. I decided to call in the help of a professional, ski instructor Julienne, and played around on the greens.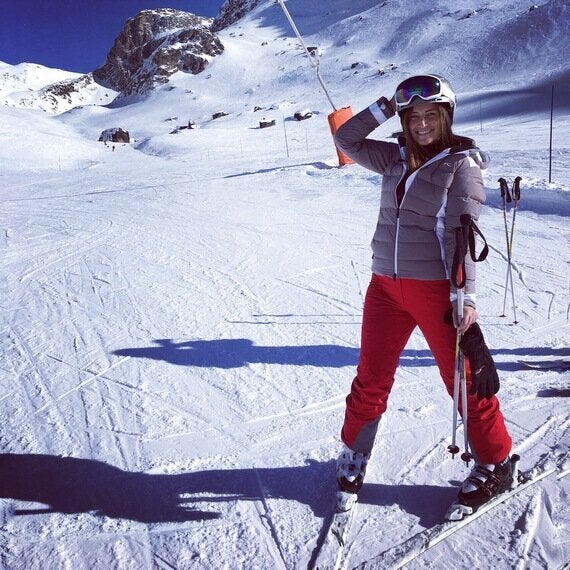 Killing it on the greens - wearing green Kjus Jacket, Perfect Moment salopettes, Giro helmet and Surfdome goggles
On our first night, we dined at Le Panoramic - 3,032 metres up in the Grande Motte glacier! As you can imagine, the view was incredible. There were outdoor fires and comfy seating so you could stare into the crystal clear sky. The food was absolutely delicious. Highlights from the meal include the succulent roast leg of lamb and their hearty tartiflette. Britain's Got Talent's Lettice Rowbotham livened the party playing her violin to the DJ's house beats. As soon as the music started, Thom was showing his Strictly skills. In fact, Thom relished at any opportunity to dance, sing or strip off his shirt during the trip.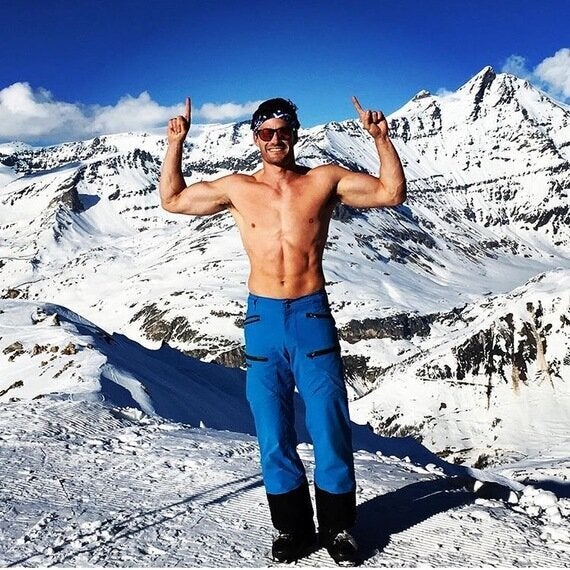 Later that evening, advanced skiers were lucky enough to have the unique experience of the night ski down the Olympic run with head torches on and some highly trained guidance. Safe to say, my snow-plough wasn't quite ready for that kind of action. Not even after all the wine consumed.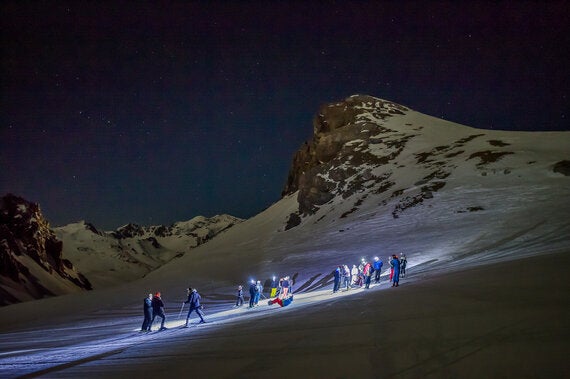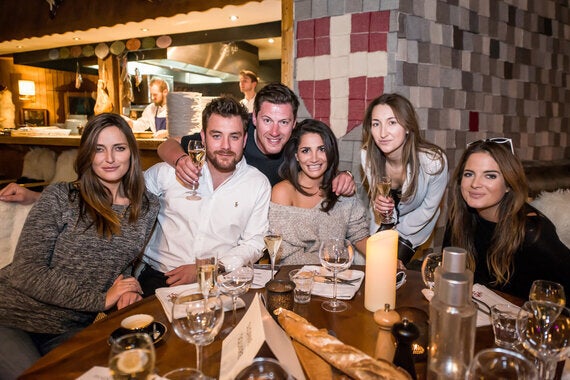 Me, Peter, Olly, Megan, Lauren and Binky in Le Panoramic
I was quite surprised by the affordability of Tignes compared to other ski resorts I've visited. Our two hour ski lesson was just sixty euros each. The food and drink certainly isn't cheap, but it is cheaper than London. It's the ski pass that'll really cost you. And make sure you'll actually use it - it's not required for some of the green slopes! I did, in fact, use it once. Eventually my very supportive boyfriend, Peter, dragged me up the mountain, and let's just pretend it was a very successful and smooth journey down.
If you're looking for some tasty traditional food or a cracking pizza, head to La Pignatta. We shared a mix pizzas, raclette, fondue and an exceptional Chateauneuf du Pape all at fairly reasonable prices (compared to London).
The hotel's restaurant, La Table En Montagne, served up a lovely breakfast buffet complete with a variety of fresh croissants, fromage, meats and bubbles (if you're looking for a bit of pre-slope Dutch courage). We couldn't get a booking for dinner, but the dim-lit restaurant looked stunning in the evening and was highly recommended. Instead, we settled for a couple of their Club Sandwiches. I have to admit, these are seriously delicious.
The ultimate highlight of the trip was at the infamous La Folie Douce. You can ski to or from the restaurant or get a cable car up and down (guilty). Their restaurant La Fruitiere serves up some really good grub. Throughout your meal, you'll be treated to special performances and then it's dancing on the tables until the sun goes down.