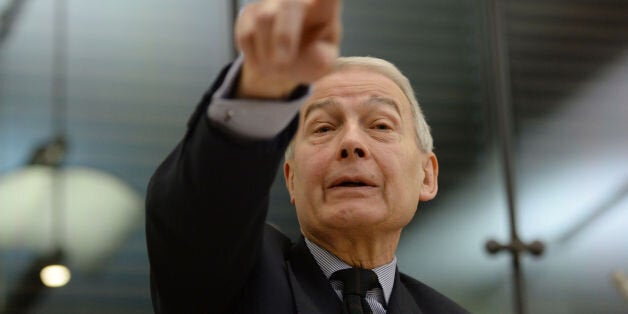 12,500 people last year sought help from Wirral Food Bank. That's 12,500 people - many of whom will have come from Birkenhead - who couldn't afford to buy food for themselves or their family. Hunger on such a scale in our communities simply beggars belief.
The initial political response from both main parties was to point the finger of blame at one another. Such behaviour didn't prevent a single soul from going hungry.
I therefore set up just over a year ago a cross-party inquiry with two objectives: first, to try and find out why so many people - some 600,000 across Britain - have to rely on their local food bank to stave off hunger; and second, to come up with some solutions which might begin to ameliorate their circumstances.
When the inquiry reported in December we set out a strategy, built upon 77 recommendations, to kick start the fight back against hunger in our communities. The inquiry was jointly chaired with Tim Thornton, the Bishop of Truro.
A large proportion of our recommendations focused on what the Government, private industries and voluntary organisations could do to make the benefits system more efficient, to increase wages in an affordable way for low paid workers, give the poorest households a fair deal when they pay for basic essentials, and ensure Britain's food is put to good use and not wasted on the mega scale it is now.
Our recent report, Feeding Britain: Six Months On, set out the progress we've made on each of these fronts. Although given that just last week a Birkenhead resident reported they had been left with no money since April, having had their money sanctioned by the Department for Work and Pensions for missing an appointment after their only child had died, there is clearly a long way to go.
But a further tranche of measures have been set in train at a local level to try and make immediate inroads into the problems we identified.
Last December I met some of the foot soldiers in Birkenhead who have led the way in feeding the hungry. It was at this meeting that our local network, Feeding Birkenhead, was born.
Since then we have piloted projects to tackle child hunger in the school holidays, provide a range of support, advice and advocacy to people receiving their first food parcel, and reform the welfare contract so it strikes a fair balance between the duties and rights bestowed upon people they look for work. With the latter two points, in particular, our emphasis is on trying to offer people a sustainable route out of hunger.
Four organisations in the Whitsun Holiday laid on 'food and fun' programmes for children in Birkenhead. The organisers said they found the 'fun' element to be a major attraction which helped ensure 120 children across the town could make the most of the food on offer. The Tranmere Community Project, for example, which fed 48 children with the help of Marks and Spencer, built its provision around a sports cage donated by the Merseyside Fire and Rescue Service.
Salisbury's MP John Glen piloted a similar project in his constituency. A craft zone, games hall and garden activities went hand in hand with a full lunch for 45 children, all with the help of a local Waitrose Branch, the Salisbury Trussell Trust, St Michael's Church and a social enterprise called the Pantry Partnership.
We're both looking to build on this start by commissioning a further raft of pilot projects in the Summer Holiday. But two key questions should inform national policy on this issue. How can such projects be sustained, perhaps with the help of FareShare and others, over the long term on shoestring budgets? Can we utilise more effectively school buildings and equipment in the holidays, when they're not being used?
Another method being piloted in Birkenhead is what we've called the 'Food Bank Plus' model. This refers to the help offered to people when they receive their first food parcel, to try and resolve the matters that have led them to be hungry. Since March, 166 people relying on one of Birkenhead's food banks have received on the spot help from Involve Northwest (a local welfare rights organisation). A third of those helped no longer needed to return to the food bank, as their problems had been addressed during their first visit. Involve Northwest was able to help them fill in an application form, access emergency benefit payments which they had never heard of, and put in for a mandatory reconsideration on a benefit claim.
Three of Birkenhead's food banks will also be taking part from next month in nPower's fuel voucher scheme. If someone is given a food parcel and they inform a volunteer that they cannot afford the gas and electricity on their prepayment meter to cook the food, they will be given a voucher worth £49 which entitles them to two weeks' worth of fuel at home.
But we are also acting to prevent families reaching such desperate circumstances. We will soon submit to Merseyside Jobcentre Plus a piece of literature containing advice on discounted water, fuel and communication tariffs available to households on low incomes, and emergency helplines in respect to utility bills, debt, and benefits and tax credits. The leaflet is designed to be given to people making a new benefit claim, so what little money they have can be made to go that little bit further.
Our local council is also a full player. It is a Living Wage employer and is currently investigating how it might use its Housing Benefit/Council Tax data automatically to register all poor children from eligible families for free school meals, so no child need go hungry at school.
With the council's help we have plans to help local residents grow their own food, and premises have been secured in Birkenhead's main shopping precinct for a new Community Shop. The Shop would be open to people on low incomes on the condition they take up help either with cooking skills, debt and budgeting, or looking for work. In return they are able to buy normal food at a third of its normal price, because it has become surplus in the supermarkets' supply chains. The plan is to catch people before they are tipped into crisis and to build their resilience to such crises, if and when they occur further down the line.
Our aim is for Birkenhead to become a hunger free zone, and we hope from these pilots to offer a blueprint for local action against hunger. An impossible task in 2015?
Frank Field is the Labour MP for Birkenhead