I recently did a call out on my social media channels to find a reader that was facing a challenge with an area of their home that they didn't quite know what to do with as part of my campaign with HomeSense and Huffington Post. I heard back from Sophia, a single mum who was having trouble knowing what to do with her living space. With the only access to direct sunlight through the adjoining kitchen she wanted to know what she could do to brighten up the area without a major overhaul.
We talked about the colour palette that would work best and were drawn to bright pinks, golds and turquoises to complement the other features in the room.
"Choosing bright colours are a great way to add light to a room but make sure you don't go overboard with the amount - stick to two or three at most."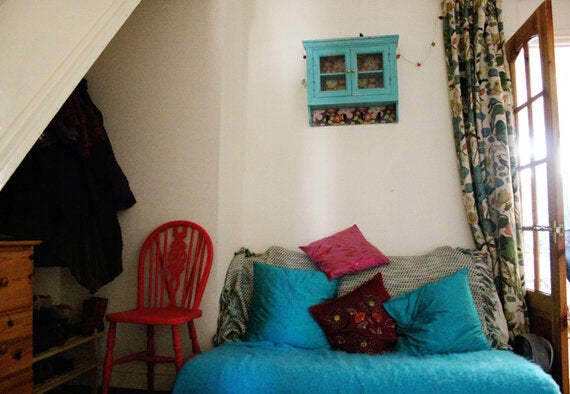 On our trip to HomeSense, we chose open shelves to display some of Sophia's beautiful items and to draw the eye upwards when entering the room. There was a great selection of unique cabinets and shelves so we were really spoilt for choice. I love that they had a real shabby chic feel to them and, with only one of every item, they felt very unique.
By choosing a colour scheme we were able to match items, like the table cloth, to the throws and cushions which created a clear theme to room. We used gold frames to create a feature wall of a few of her favourite images.
"Using mix match frames and hanging them at different levels gives a room a dramatic looking focal point that brings new life to the selected area of the room."
We also moved the futon to face the feature wall and covered it in turquoise throws; this gave it a really cosy homely feel to it. A great find was also a large circular mirror that was placed to reflect the natural light coming in from the kitchen and bounce it into the living space.
"Mirrors are such a great way to add light to a room and make the space seem bigger."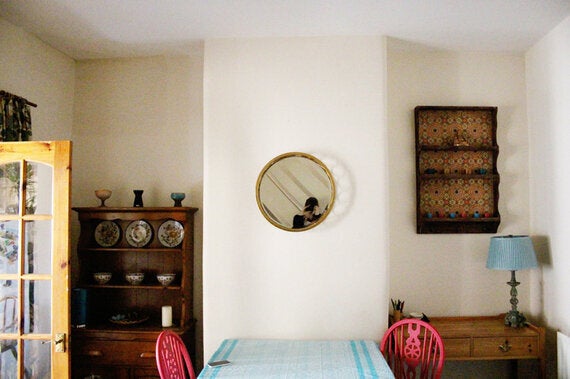 I loved the selection at the store, the gold was perfect for the colours we were after and the circular shape meant the room didn't look to angular. I was so impressed with what we were able to find within our budget and really loved working with one of my reader's and HomeSense in this way!
Don't forget you can find me on my blog Tigerlilly Quinn for more design posts or over on Pinterest for beautiful home inspiration!
Next week, I'll be spending an afternoon at my local HomeSense store in Bristol, so pop on over to my HomeSense Inspiration Day on Monday 28th April!
Related