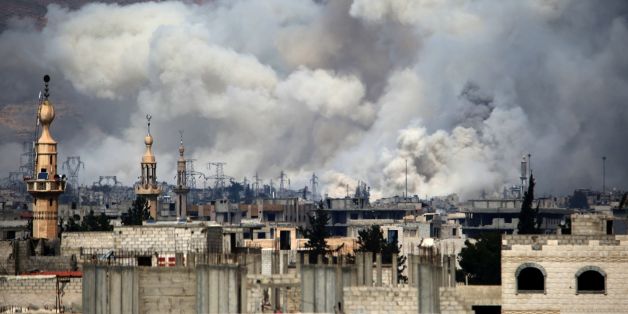 AMER ALMOHIBANY via Getty Images
Well-intentioned friends sometimes ask me how I can stand my job as the UK point man on Syria. I pull a face, I move the subject on. Above all, I duck the question. I don't want to sound some holier-than-thou note about how I'm fine, I have a comfortable life surrounded by friends and family, what's not to like. But it happens to be true. I am fine. It's Syria that's not fine. The question should be better put to Syrians. How, after six years, are they bearing up?
The answer can't be 'fine'. Six years of suffering take their toll. I cannot imagine the agony that Syrians have endured this long.
Six years ago, people across Syria rose up against a brutal dictator, with peaceful protests. These peaceful protests were met with violence and then with war. The war has metastasized; the peaceful protests occur in the rare moments of quiet in between bouts of violence (people keep coming together in places like Idlib, to reject all forms of extremism and call for a better future). The Assad regime and its backers have meted out most, if not all, of this violence.
The anguish that the Assad regime and its backers have caused civilians has been exposed by credible reports from international NGOs and the United Nations. These recent reports assert arbitrary detention, enforced displacements, the use of chemical weapons, attacks on schools, children suffering, besiegement, executions -- the list of ways civilians have suffered goes on and on.
The scale of what happened in Aleppo was unprecedented in the Syrian crisis, as highlighted in the United Nations Commission of Inquiry's reports. Two reports -- debated in Geneva on 14 March - assert war crimes and set out how the Assad regime bears responsibility for egregious violations, including attacks on hospitals, medical facilities and school, as well as evacuations that amounted to forced displacement.
The UN Human Rights Council's High Level Panel on detainees, also on 14 March, featured brave Syrians who detailed the suffering the Assad regime had caused them. The Commission of Inquiry documented the systematic use of illegal detention of thousands of Syrians. These civilians in detention centres faced torture, sexual violence, starvation, and death. Amnesty International has also brought to light the sheer darkness of Assad's detention centres, in their report on Sednaya.
These reports and discussions are robust and impartial. They shine a light on abuses by non-state armed groups as much as they do on violations by regime forces. Yet, reading between the lines, it is clear that the regime's war machine has been responsible for most violence, on a massive scale.
This year, as in previous years, attention turns to trying to resolve the conflict and push for a political solution. In addition to the round of Geneva talks just finished, a separate process in Astana discussed confidence building measures on the ground, in support the of the Geneva process. Astana was never meant to be a replacement to Geneva; it is not the place to discuss a political settlement. We have said that if Astana works to reduce violence, improve the humanitarian situation and free detainees, then it's a good thing. But that means the pressure is now on the Astana process to ensure any ceasefire holds. The forced surrender deal on the besieged areas of Al-Waer this week, as well as continued pressure on opposition-held areas in the Damascus suburbs, are not encouraging. They highlight the need for Russia to pressure the Assad regime to uphold the ceasefire.
Six years of suffering is beyond enough. It is clear that there can be no military solution. It is also painfully clear that Bashar al-Assad has forfeited the right to govern his people. There is no sustainable peace in Syria while Assad remains in power. His atrocities make it impossible for him to unite the country and bring peace to Syria.
Assad turned guns on peaceful protests, used chemical weapons on his people and used starvation as a weapon of war. His forces besieged hundreds of thousands of people, targeted school and school children, targeted hospitals and forced the disappearance of tens of thousands.
As we enter the seventh year of the Syrian war, the international community must unite to support Syrians in their quest to decide the future of their country. That is why it is essential that the political process puts Syrians in the lead. A negotiated political transition will finally end the years of suffering.
I type that last sentence knowing that Assad is not going to negotiate his own departure, gladly. Yet there is a process in Geneva, convened by the UN Special Envoy, at which Assad's delegation has at least attended, and recognition by the opposition, international community and by those backing the regime, including Russia, that the conflict must be ended through negotiation. How Assad leaves power is for that intra-Syrian process in Geneva to decide. The High Negotiations Committee Opposition have shown openness to engaging a broad agenda across issues of governance, constitution, elections and counter-terrorism. The pressure now is on Assad to respond to that willingness to engage.
So, no, Syria is not 'fine', and its people are not 'in a good place'. Yet Syrians' resilience and desire to resolve this conflict endure. Let this be the year a serious effort is made to end this conflict, and I fervently look forward to not having to mark another grim 'anniversary' in a year's time.
Gareth Bayley is the UK Special Representative for Syria