If awards only ever really tell you about who voted for them, what do this year's nominations for the Broadcasting Press Guild Awards tell you about the BPG?
Even if I weren't a BPG member and even if I hadn't assembled the 15 TV critics and writers that came up with the lists from which the BPG members chose the TV nominations for the award winners who will be announced on March 17th, I would (I hope) say the same thing.
BPG journalists write about television and the media and their knowledge of the medium and the message - whether that message is in fictional or factual form - is second to none. Like the Lady of Shallot, these guys know their onions. In an era of multi-tasking and downsizing, they (we) are that increasingly rare beast in newsrooms and on features desks known as specialists. We range from big beasts, such as former BBC Media correspondent Torin Douglas, to new blood, like Buzzfeed's TV editor Scott Bryan. We are switched-on and plugged-in.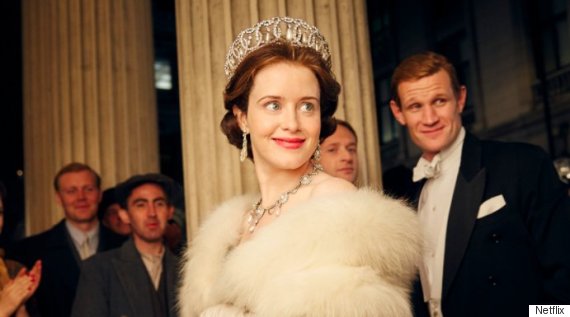 The Crown has been recognised in all the main talent categories
With this in mind, the nominees for Broadcasting Press Guild's annual awards lunch, provides a bellwether for the BAFTA TV awards and the RTS Awards that follow us in the awards' calendar. And this year is no exception: Netflix's The Crown provides nominees in ALL the main talent categories - actor, actress and writer - and the Online First/Streaming category is fifty percent Netflix shows with Black Mirror and The Crown up against two BBC shows, Fleabag on BBC Three and Adam Curtis's Hypernormalisation on BBC iPlayer.
So what does this tell us? Not only that creatives in British television are in the vanguard of those delivering TV content in new ways to audiences, but they continue to tell compelling, timeless stories with intelligence, wit and spirit. That Phoebe Waller Bridge's exceptional, heartfelt Fleabag can be celebrated alongside Adam Curtis's epic and timely Hypernormalisation shows the breadth of taste catered for by British TV. That the filmic storytelling of The Crown holds court beside the dystopian Black Mirror (a drama that originated, lest we forget, on Channel 4) demonstrates the worlds to which great drama can take us.
And that's just one category. Another, the Best of Multichannel - which exists because of the BPG's commitment to recognising and supporting the varied ecosystem of British broadcasting - tells a similar tale. From high-end documentary such as The Fall - Zola Budd and Mary Decker to chilling international drama The Tunnel (both on Sky Atlantic) to a romp through Ealing with Richard E Grant (Gold), the scope of offerings on multichannel is mighty, and mighty impressive. That Dave's Taskmaster made it to the Best Entertainment/Factual Entertainment nominations ahead of any ITV shiny floor show demonstrates that you don't necessarily need massive budgets nor an 'Ant and Dec' to make a bold, brilliant mark on British television today.
Our Innovation in Broadcasting Award nominees also tell a bigger picture story including the power of Facebook Live to bring video to audiences in new ways, the appeal of niche providers like Walter Presents to offer a menu of films across platforms and the use of technology like camera phones to enliven and democratize the filmmaking process as used in Exodus: Our Journey to Europe (BBC Two).
And please also note that two out of the four Best Writer nominees are women. This is a tribute to their talent and but also to the BPG's ability to recognise good telly when we see it.
This year's BPG Awards will be presented on Friday 17 March. The complete nominations list is:
Best Single Drama
A Midsummer Night's Dream (Russell T Davies version) (BBC One)
Damilola, Our Loved Boy (BBC One)
The Last Dragonslayer (Sky1)
The Witness for the Prosecution (BBC One)
To Walk Invisible (BBC One)
Best Drama Series
Line of Duty (BBC Two)
The Night Manager (BBC One)
The Tunnel - Sabotage (Sky Atlantic)
War and Peace (BBC One)
Best Single Documentary
Hillsborough (BBC Two)
Louis Theroux - Drinking to Oblivion (BBC Two)
Louis Theroux - Savile (BBC Two)
The Fall - Zola Budd and Mary Decker (Sky Atlantic)
Best Documentary Series
Exodus: Our Journey to Europe (BBC Two)
Inside Obama's White House (BBC Two)
Planet Earth II (BBC One)
Richard E. Grant on Ealing Comedies (Gold)
Best Entertainment/ Factual Entertainment
Great British Bake-Off (BBC One)
The Graham Norton Show (BBC One)
Strictly Come Dancing (BBC One)
Taskmaster (Dave)
Best Comedy
Alan Partridge's Mid Morning Matters (Sky Atlantic)
Motherland (BBC Two)
Mum (BBC Two)
Stewart Lee's Comedy Vehicle (BBC Two)
Best Actor
Robbie Coltrane (National Treasure)
Hugh Laurie (The Night Manager)
James Norton (War and Peace, Happy Valley, Grantchester)
Matt Smith (The Crown)
Best Actress
Claire Foy (The Crown)
Keeley Hawes (Line of Duty, The Missing, The Durrells)
Sarah Lancashire (Happy Valley)
Andrea Riseborough (National Treasure, The Witness for The Prosecution)
Best of Multichannel (non-PSB)
Alan Partridge's Mid Morning Matters (Sky Atlantic)
The Fall - Zola Budd and Mary Decker (Sky Atlantic)
The Last Dragonslayer (Sky1)
Richard E. Grant on Ealing Comedies (Gold)
Taskmaster (Dave)
The Tunnel - Sabotage (Sky Atlantic)
Best Online First/Streaming
Adam Curtis: HyperNormalisation (BBC iPlayer)
Black Mirror (Netflix)
The Crown (Netflix)
Fleabag (BBC Three)
Best Writer
Phoebe Waller Bridge (Fleabag)
Peter Morgan (The Crown)
Jack Thorne (National Treasure)
Sally Wainwright (Happy Valley, To Walk Invisible)
BPG Innovation in Broadcasting Award
Exodus: Our Journey to Europe (BBC Two) - for innovative use of crowd-sourced content to tell a compelling story
Walter Presents - for bringing the best of subtitled television drama to a wider, on-demand audience, for free
Facebook Live - for bringing the capacity for creating and watching live video streaming to mass audiences