On August 17, football fans will witness what they've never seen before - Manchester United walking out for a Premier League match without Sir Alex Ferguson as their manager. The eyes of the footballing world will be focussed on David Moyes, the man hand-picked by Sir Alex, as he attempts to fill the biggest shoes in the business. It should be a fascinating 90 - or depending on what will always be 'Fergie time' - 95 minutes.
The game at the Liberty Stadium will be Sky Sports' first live match, in what will be our biggest season of Premier League football ever - 116 live games. When you look at today's fixture announcement, it's plain to see that no other broadcaster comes close to the quality we offer, and Swansea against United will be available live in every home in the country. We've been planning for the new season since the last ball of last season was kicked. Now we can begin to put in place who will be where from the opening weekend onwards to ensure we continue to bring the best production of the best games with the best pundits and the best analysis.
We open the season with the three biggest stories of the summer. In addition to Moyes' first league game in charge of United, our viewers will be able to watch Jose Mourinho's return to Chelsea and Manuel Pellegrini's opening match as Manchester City manager. Sky Sports pundit Gary Neville, who'll be returning for Monday Night Football this season, once said to me that Alex Ferguson is worth 10 points in the title race. Take those points away from last season and there would have only been one point in it. The first weekend of football will give us a first look at how the title race will pan out, and sets up a mouth-watering season ahead.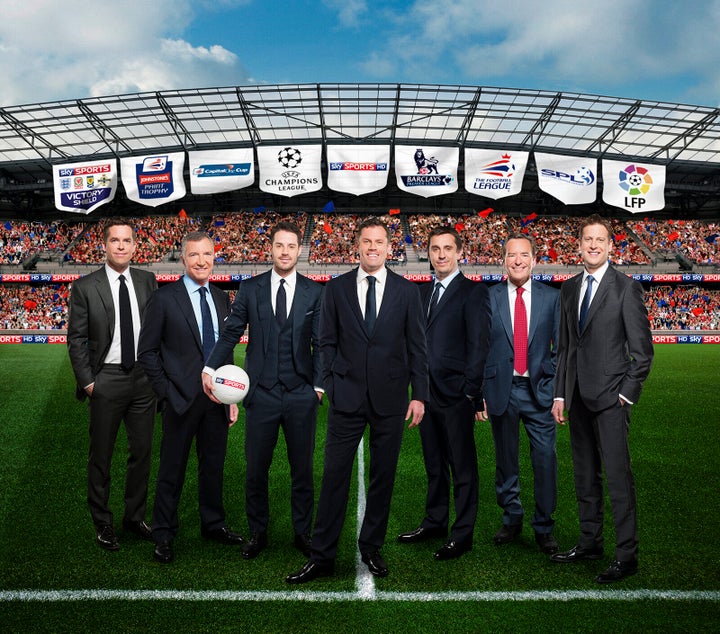 On the first Saturday, Moyes will be under the watchful eyes of David Jones and Jamie Redknapp in our brand new studio show, Saturday Night Football. David and Jamie will be fielding questions on the early kick-offs from a live audience between 1430-1500, before returning at 1700 to reflect on the three o'clock games and build up to United's first match in the defence of their title. We haven't had the teatime slot for a few years now, and the live studio audience will provide plenty of energy and debate in a new look studio. Then, Super Sunday returns with the double-header of Crystal Palace v Tottenham and Chelsea against Hull. A Palace result isn't unimaginable and could be the surprise of the weekend, while Mourinho's return is a breath of fresh air and it's going to be brilliant to see him working his managerial magic, and the press, back in England.
There's yet another debut on Monday Night Football when Gary Neville is joined by old adversary Jamie Carragher for a look back at all the talking points from the weekend, and analysis on how Pellegrini will approach his first Manchester City match against Newcastle. I can't wait to see what City look like in their first game under their new manager, and the chemistry between Neville and Carragher is certain to make great viewing.
Since joining Sky a couple of years ago, Gary has revolutionised punditry. He's given knowledgeable and in-depth analysis since he arrived, which fans from all clubs seem to appreciate. I think Jamie is going to be able to build on that. He'll be just like we remember him as a player - strong-minded, wholehearted and someone who lives and breathes football. He's adding to what I believe is the best team of pundits around.
Another big challenge is making sure the pundits have the right tools to translate their experience and knowledge into insightful analysis for fans. Jamie has already been getting to grips over the summer with the touch-screen technology that helps make Monday Night Football such compulsory viewing, something Gary has mastered already. And this season, fans can do the same with Sky Sports 360 on the Sky Sports app, which launched for the Champions League final and offers up all the facts and figures, heat maps and touch maps, at your fingertips.
It's going to be the most interesting Premier League season for years. I can't wait.
Popular in the Community