Later this week, Dublin City shall witness what looks set to be a phenomenal turnout for the LGBT Noise 'March for Marriage' protest. Noise, founded in November 2007, describes itself as an "independent non-party political group" that is campaigning for "civil marriage provision for people in Ireland irrespective of gender and sexual identity".
Having launched the march for marriage campaign earlier this year, Noise demanded the Irish government to 'Have a Heart' and grant civil marriage to same-sex couples. Organisers of its Valentine's Day launch highlighted that almost 170 legal differences exist between civil partnership and marriage in the Irish Republic.
Opposition to LGBT equality has unfortunately been rife in Ireland as a nation due to overbearing religious influences. A Supreme Court ruling in 1983 rejected a constitutional challenge by David Norris and referred to the "Christian and democratic nature of the Irish State" as a reason to reject decriminalisation of same-sex activity. Hardly surprising then that anti-LGBT legislation from the previous century was in part one of many reasons same-sex activity was only just legalised two decades ago in 1993 after a Campaign for Homosexual Law Reform.
Over the past twenty years Ireland has become increasingly liberal on LGBT issues and on marriage equality in particular. Recent polls held promising results, with the Irish Examiner reporting that a Red C poll conducted in 2011, showed as many as three in four people agree that allowing the principle of same-sex marriage in the Constitution is a must, while an Irish Times poll revealed that 63% think that same-sex marriage should be allowed in Ireland.
In keeping with current trends, the March for Marriage equality has gained huge momentum and appears to have scores of organisations feeding into it. Of particular note is the full backing received from the Union of Students' in Ireland (USI) and its Northern tri-lateral partner NUS-USI.
USI Equality & Citizenship officer Laura Harmon outlined the importance of a genuine commitment to equality saying that "Equal access to civil marriage is just one of the equality issues that our members feel strongly about. We really value the diversity of the membership of our organisation and through our equality and citizenship campaigns; we encourage all students to play an active part in the union. Together we are working towards a better future for all of our members."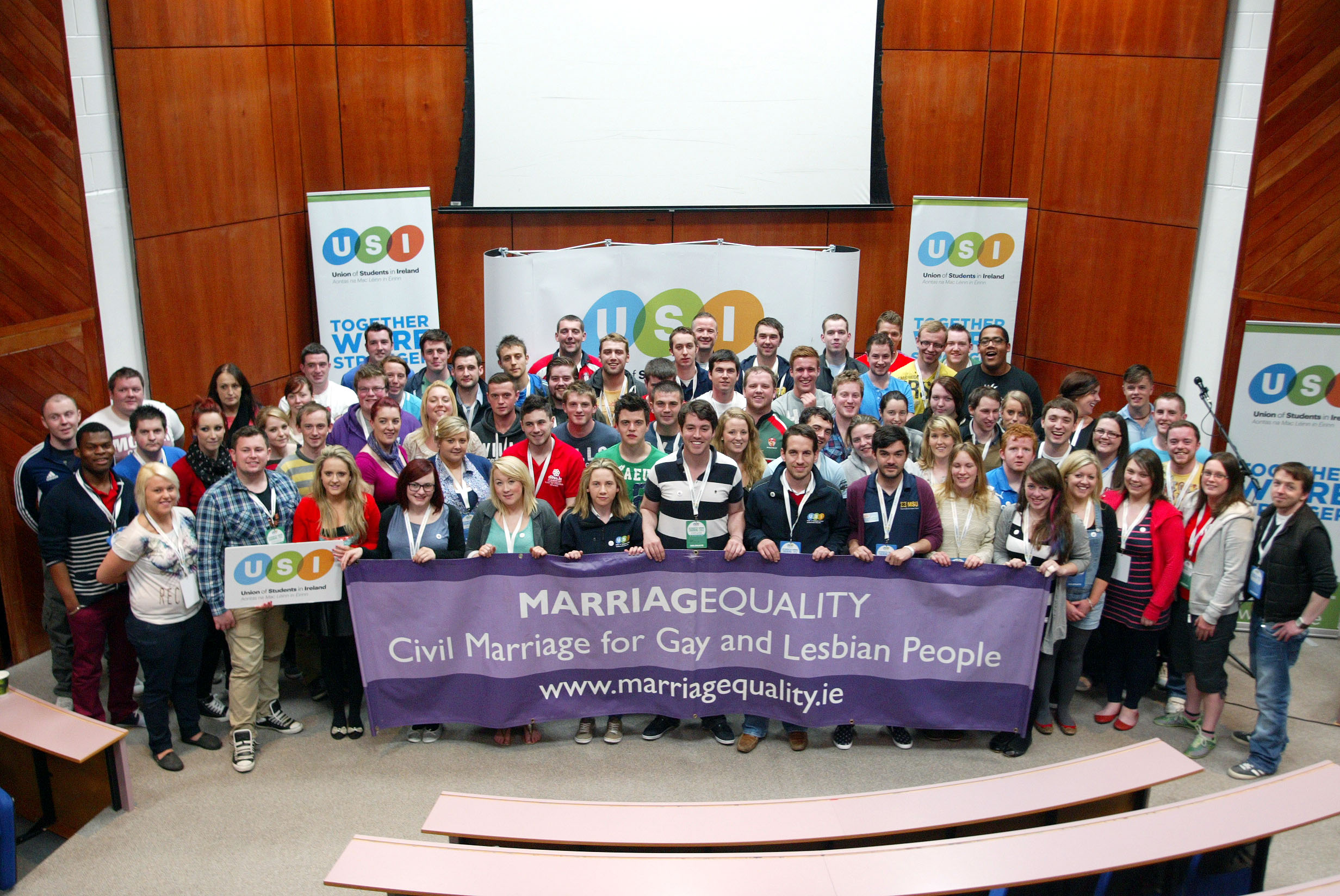 USI get behind marriagequality.ie
LGBT Noise has partnered up with prominent university student unions such as Trinity and UCD to emphasise not only to the government, but to our young people, that civil partnership is frankly not fit for purpose as it does not provide equality for the LGBT community.
Engagement from students in areas of equality, especially on LGBT issues, has rapidly increased, as more young people are sharing ideas whilst being exposed to a fresh equality-rich atmosphere on campuses across Ireland. A recent survey of more than 900 students carried out at UCD found that 91% supported the call for marriage equality in Ireland. USI plan to continue its campaign by lobbying government and creating an all-campus "ally" scheme amongst non LGBT students in September.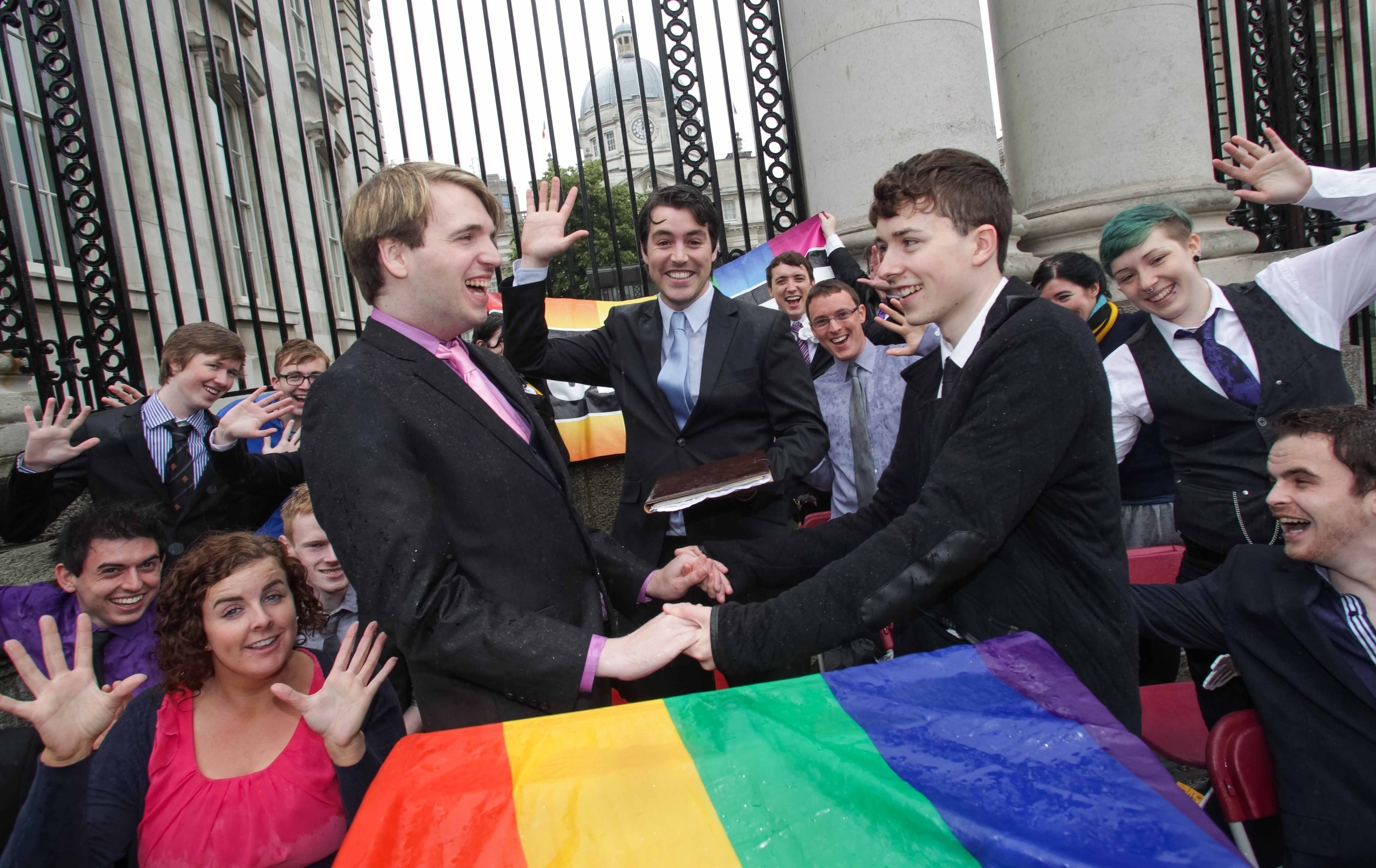 USI President John Logue 'officiating' over '
Rainbow Weddings
' outside the Department of An Taoiseach
Ireland is finally reaching a tipping point on the remaining civil & human rights issues that have yet to be addressed. The Irish Tánaiste Eamonn Gilmore has also pledged his support for same-sex marriage labelling it "the civil rights issue of this generation". Support on marriage equality from the Tánaiste will undoubtedly increase pressure on Enda Kenny, who has repeatedly refused to give an answer on where he stands on gay marriage.
My own opinion is that legislating for same-sex civil marriage is the most equality-inductive method of leading change for the rights of LGBT couples currently discriminated against by the laws in Ireland. Speaking open-heartedly I believe that opening civil marriage to LGBT people is also the most respectful method available, because contrary to claims from religious institutions that fear monger over being forcibly made to perform same-sex religious ceremonies, a civil redefinition of marriage is a legal shift not an attempt to "damage the sanctity of marriage before God". People of faith should thus fear nothing as all those involved in this struggle have emphasised that they fight for civil (non-religious) marriage.
I mean the state has accepted and recognised divorce for years yet not a single church has been forced to accept a divorce before God or re-marry a divorcee. This shows us the irrationality behind religious opposition to same-sex marriage and the duality of the definition of marriage (legal and religious).
Need people be reminded that marriage is centred on that which all humans are entitled?
Lastly, I leave readers with a well put together clip from UCD's Vice-President Campaigns & Communications Paddy Guiney who explained that "Marriage Equality is something that affects many people in Ireland. We made this video to show that students and this generation support the movement and want to see an equal Ireland for everyone."
It is merely a matter of time until Ireland accepts same-sex marriage.
LGBT's Noise will march this Sunday, 12th August at 3pm, meeting in front of City Hall where the march shall head off to the Department of Justice.