Next week, thousands of people will be taking part in the Live Below the Line challenge - spending just £1 a day for five days on all their food and drink.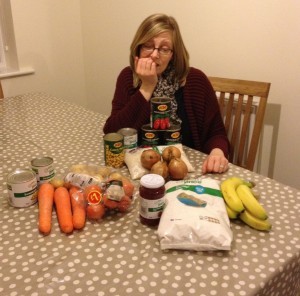 They are doing it to raise awareness of the 1.2billion people living in extreme poverty - living on less than £1 a day (source: World Bank) - and to raise funds for families struggling to survive.
The sponsored challenge takes place from 28 April to 2 May. My challenge started on 3 March and so by 2 May, I will have completed 60 days.
I've run the London Marathon, cycled 100km, done soup diets and climbed mountains, but this has been the most physically and mentally gruelling challenge of my life.
I took on the challenge because I spend an absurd amount of money on food. It brings me so much joy. I love growing food, cooking nice meals for my family, baking cakes and finding and eating good food - in restaurants, shops and markets.
Yet so much of the world doesn't get the same opportunity to enjoy food as I do. They can't afford to go to restaurants and don't have access to a wide variety of shops or huge supermarkets. They only have access to the crops they grow. But many people struggle to even grow crops to feed themselves and earn a living, like in drought-hit areas of Kenya, or in flood-hit areas in Bangladesh.
I work for Practical Action, a charity that helps some of the world's poorest communities to use simple, sustainable technology to find lasting solutions to disease, hunger and poverty.
During my time with Practical Action I've been to see our work in action - I've seen it transforming lives with my own eyes. But I've also met people that we haven't been able to help yet. I've met families in Kenya who survive on very small portions of the same basic maize meal every day and mums who go without food so their children can eat - mums like Martha and her son Joseph (pictured below).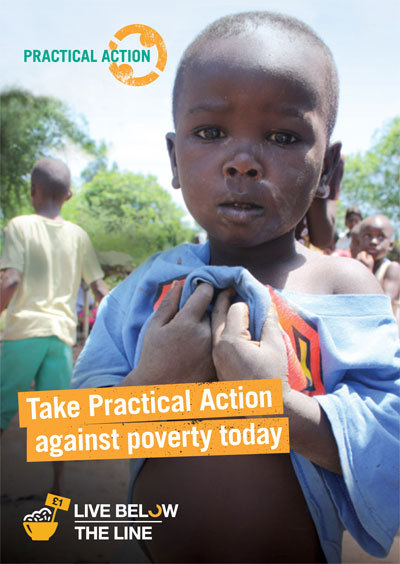 I met them a couple of years ago in a slum in Kisumu, Kenya. Martha earns less than the equivalent of £1 a day. Most of that money goes on rent for their tiny one room tin shack. She struggles to feed Joseph and won't be able to send him to school. They have no sanitation, power or running water. I can't imagine bringing a child up here - in a place where one in five children don't make it to their fifth birthday.
Back in March, I was looking at the photo I took of Joseph. Ironically, the Superman symbol is actually the Kryptonian symbol of hope. It made me think that we could give thousands of people like Joseph hope by taking on the Live Below the Line challenge to help people like him. In the emotion of the moment I said to my colleague: "I think I'll do the Live Below the Line challenge for 60 days." That was it. I'd said it. I couldn't take it back. And so my challenge began...
I spent hours scouring the supermarket aisles, desperately trying to find food that would fit into my budget. My coffee addiction had to be put on hold and I've had to think doubly hard about the nutritional value of everything in my basket. Rice, oats, tinned tomatoes, pasta and chickpeas have been the mainstay of my diet.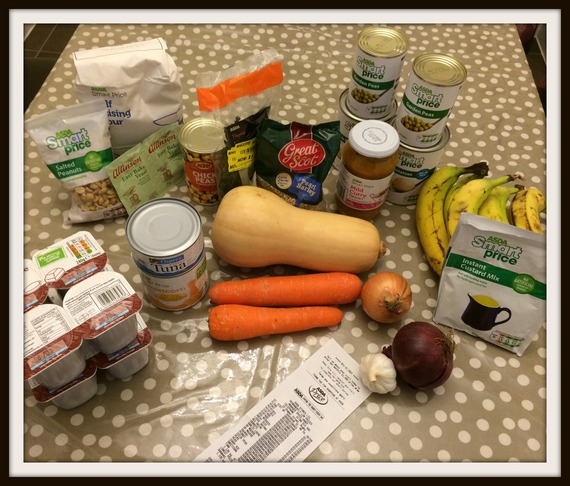 This initiative has made me realise just how little choice these 1.2 billion people have. It's really hard to eat a balanced diet and buy healthy food cheaply.
My first week below the line was a struggle, I didn't really have enough food, and I was hungry and tired.
But as the weeks have gone on, I've got better at it: better at spotting bargains, better at preparing cheap meals, better at arranging food around my daily activities to avoid those expensive moments of convenience that we are usually so used to.

Live Below the Line is not about replicating poverty or pretending that changing your eating habits for a short amount of time will give you an understanding of what poverty is truly like, but the intention is to start conversations, raise awareness and raise funds to help people living below the extreme poverty line.
I hope that by doing the Live Below the Line challenge for so long, blogging about my experience and coming up with lots of recipes and tips, I have inspired more people to take it on for Practical Action so we can continue to make life better for people who struggle to feed themselves and their children every day.
As my challenge comes to an end I am definitely looking forward to not having to live below the line again in the near future. I can't wait to have a glass of wine and a roast dinner next weekend. However, for many people there is no light at the end of the tunnel.
Here are my top tips for Living Below the Line:
• Research food prices before you go shopping (try using www.mysupermarket.co.uk/) and spend your £5 in one food shop at the beginning of the week do your money goes further.
• Go to the supermarkets towards the end of the day (around 7pm) to find some bargains in the reduced sections.
• Buy flour and yeast and bake your way through the challenge - I made cheap bread, chapattis and pittas.
• Encourage other people in your household or at work to take part. You can pool your money and make meals for each other.
• Check out my blog where there are loads of recipes and tips to help you have a successful challenge.
Have I inspired you? Then sign up for Live Below the Line, You'll find plenty of resources, recipes and tips to get you through the week at http://practicalaction.org/live-below-the-line.