It's been a little over three weeks since my last entry, which although appears lazy, is actually a reflection of how busy I've been.
I suppose the most important thing to announce is that classes are now in full swing, with my somewhat imbalanced schedule being a blessing some days of the week, and a curse on others. I'm not required to move until 2:30 in the afternoon on Mondays, Wednesdays and Fridays, but I'm rudely awoken from my slumber at 9am on Tuesdays and Thursdays before having to keep my eyes open right through until 4pm. Not cool.
I'd previously mentioned the difference in expectations regarding essays, and in particular scholarly analysis. I'm pleased to say that what I mentioned seemed to have been an exception and we are in fact expected to reference other scholars in most of our writing. It was a shock, however, adjusting to how little I had to write for a 'short paper.' Now in my 3rd year of university education, I was a little stumped at how to only write 1 and a half pages about the Presidency. Given three readings to analyse and comment on, it almost seemed impossible to write so little; all part of the adjustment though, of course.
Outside of the classroom, it's been equally jam-packed. A couple of weeks ago, my American roommates were kind enough to introduce me to one of their country's finest pastimes; baseball. On a beautiful Baltimore Sunday, we took our seats in the 'ballpark that forever changed baseball', Oriole Park at Camden Yards, to see the high-flying Baltimore Orioles host the storied New York Yankees. The two teams are currently vying for first place in their division, so the matchup was huge. It only took me until the 4th inning to learn the rules, and amongst the blazing sunshine, the spine-chilling rendition of the Star Spangled Banner and the unique beauty of the stadium, I almost forgot that the Orioles lost. Naturally, I'm now a convert and can't wait to get to another game; hopefully, the O's will win that one.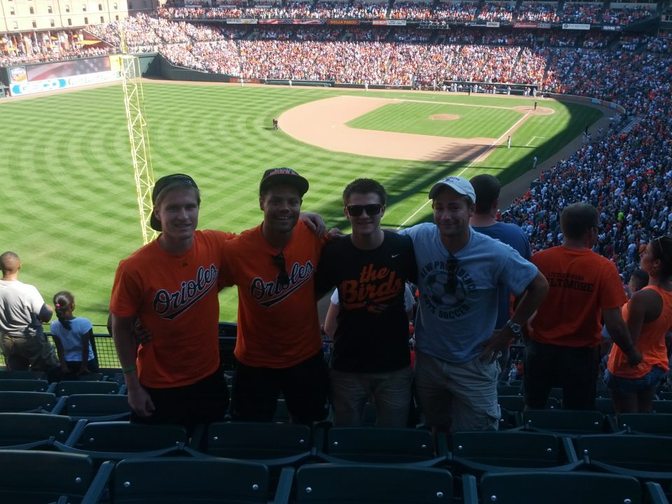 At the Orioles game, Baltimore, MD
Back on campus, last week saw the school embrace another fine American tradition; Homecoming. For those of you not familiar with the idea (which until last weekend included me), Homecoming is effectively a celebration of school spirit, past and present. Students invite their parents to visit, alumni return to Washington College to catch up, and every varsity team plays at home on the Saturday. There's also a highly amusing Cardboard Boat Regatta on the Chester River, which frequently sees 95% of its participants capsized, before the day's proceedings are followed by a huge ball/dance on the Hodson Green.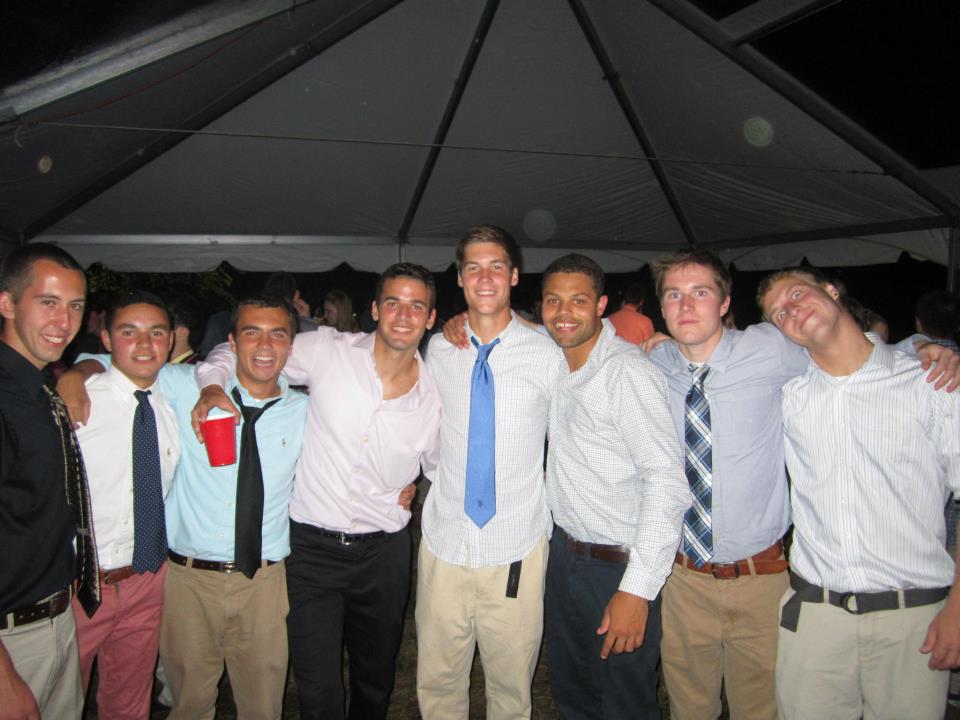 Celebrating Homecoming with some of the Soccer team
The opponent for the varsity teams this year was Gettysburg College, who made the trip from Pennsylvania. The Men's Soccer team had to wait until the very end of the day for our fixture, and kicking off at 7pm meant we missed out on many of the day's festivities. Yet, it was certainly worth the wait as we were able to defeat our opponents in what can only be described as apocalyptic rain. Naturally, the stage was set for me to score, as a theory had steadily emerged that I play my best soccer in weather conditions most comparable to those in England! With 17 minutes left to play, I was able to find the back of the net via the crossbar and it was enough for us to pick up the 1-0 win; our first win over Gettysburg since 2003. Mauled by my teammates and named 'Shoreman of the Week', Homecoming will forever be a day, and a night, to remember!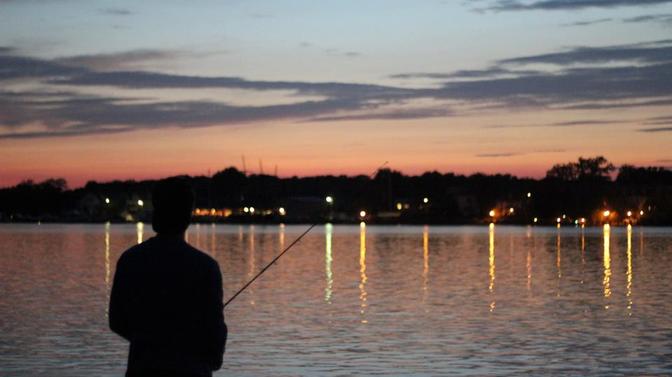 Fishing on the Chester River, Chestertown, MD
The past three weeks have felt much more 'American' to me. Now settled into Stateside life, I find myself doing more things that an American would do as opposed to a tourist. From fishing on the Chester River at sunset, to going to classes and buying groceries at Acme, I feel comfortably at home in Chestertown. Here's hoping it continues!
Until next time,
George