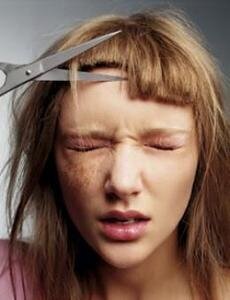 One of life's great unsolved mysteries, along with who killed Kennedy, how they built the pyramids and why you always need the toilet when you're trying to get into the house and can't find your keys, is: why do hairdressers always cut off more than you ask for?
If like me you are, for want of a better word, neurotic, you'll know that a trip to the salon isn't wildly dissimilar to going on a bad first date (minus the alcohol and strategic wardrobe planning). You meet a total stranger in a crowded room, clumsily greet and for the ensuing couple of hours feign interest in a series of mind-numbingly predictable questions about where you live, your job, the weather and the tube upgrades as you strain to hear over the thumping bass line of soul-crushing House, all the while thinking: Please, GOD, just listen to what I say? Be nice and respectful, don't bore me and, if humanly possible, make me feel marginally better about myself when I leave here? Then, when your time together inevitably fails to pan out as perfectly as you'd hoped, you fake a smile as you part ways, book a follow-up appointment you know for a fact you won't keep before promptly going home to weep at your reflection, wondering when you'll next be able to venture out of the house again.
On the face of it haircuts should be one of life's precious few relaxing pleasures. After all you only have to sit back, let yourself go and hand over control to the stylist who will magically transform you into whatever, or whoever, you want to be...right? Sadly, as most of us can testify, the reality is usually closer to some sort of Hitchcockian nightmare with you, head back, strapped down into your chair, wincing at each snip of the blade and precious lock that falls to the floor.
In seventeen years of getting haircuts I can honestly count on one hand the number which have been successes. And by successes I basically mean that the hairdresser listened to me, gave well-considered, professional advice, and I left with a vague resemblance to what I'd asked for. I've had some pretty hair-raising (sorry - I couldn't help it) salon experiences over the years, featuring tears, tantrums, pre-appointment nerves - usually followed by post-appointment breakdowns. Once I had my hair cut in Naples while studying there. I used the wrong word for layers, got lost in the Southern dialect, and came out with a one inch fringe. 'Grazie Mille!!!' I beamed. Then I went home and cried for two days straight.
Disillusioned with one too many cheap, 'no-appointment-necessary' high-street chops (whose '£20 a Cut!' signs evilly mask the extra 20 schlepped on the side to get your hair washed and dried) and impersonal, hugely over-priced chains, I decided to branch out. So I went east. I generally tend to give trendy Shoreditch establishments a wide berth, my unruly, Lizzie Bennett-esque bonce not really lending itself to an undercut or a directional fringe. But I thought, to hell with it, and booked myself in to The Drawing Room, a new salon in the heart of Spitalfields.
Tucked away on the corner of Artillery Lane, a stone's throw from the buzz of the market and Liverpool Street, the salon is a renovated Georgian town house and from the outside looks more like a contemporary art space or a members-only club than a hairdressers. Inside I am greeted by Oskar, the Salon's Director, co-founder James, and Poquito their resident pooch. The cosy seating area is kitted out with huge sofas and a bar from which I order an elderflower and apple juice - it's too early for the Martini I'm offered.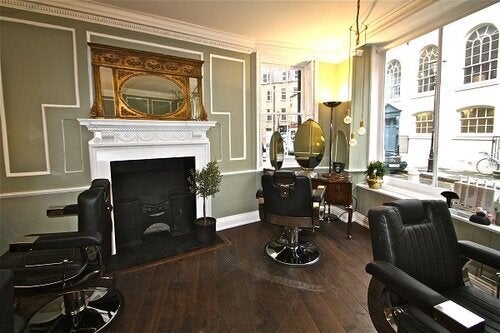 James tells me that the salon is in its third month of business. Oak floors, mismatched vintage furniture and fireplace make it feel like a plush Hampstead living room but there isn't an inch of pretence in sight. The aim was 'to create an environment where people feel more like they're at home than in a busy salon - a bit of a haven. The more relaxed a client is, the more they feel that they can talk to the stylist and ask for advice. They've come to us for our expertise so that's how it should be!' Another plus is the fact that there's only space for 3 clients at a time, rather than a row of twenty seats two inches apart, at the risk of sounding twee, makes you feel special.
As for the haircut, I didn't need to fake anything. Oskar spent 10 minutes looking at my hair, discussing what I wanted, what I'd liked and disliked in the past and, more importantly, how to maintain the cut in the long run (i.e. could I actually be bothered to spend twenty minutes every morning wrestling with the straightener - the answer, of course, was no). And it actually worked! Two weeks on and my hair pretty much looks like it did when I left the salon. And as any fellow curly-haired veteran will know this is most definitely cause for celebration. Mine's a Martini.
To book an appointment or consultation, check out The Drawing Room website: http://drawingroomsalon.com or follow them on Twitter: https://twitter.com/TDRsalon