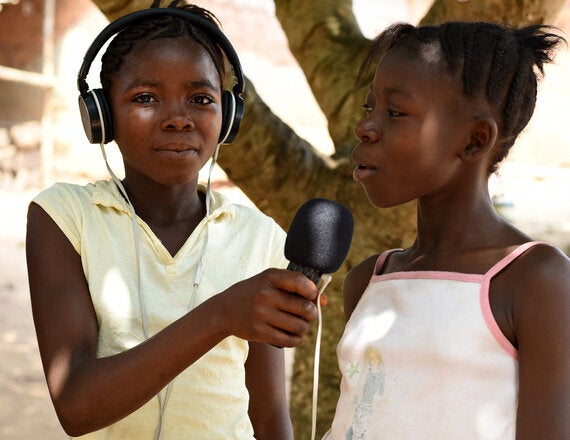 Photo credit: Andrea Gordon
This year, the International Day of the Girl Child focuses particularly on the UN SDGs and their relation to adolescent girls and the pursuit of gender equality. In fragile contexts like Sierra Leone, which have been affected by both conflict and disaster, adolescent girls experience a range of cross-cutting vulnerabilities. It is therefore a good time to both reflect upon and highlight innovative approaches to empower girls and women in difficult circumstances. One such approach is the "Pikin to Pikin Tok" radio for education project implemented by UK based children's rights agency, Child to Child, in partnership with local agency the Pikin to Pikin Movement (Pikin to Pikin means Child to Child in the local Krio language).
Girls' vulnerability in Sierra Leone
Girls in Sierra Leone are highly vulnerable. The 2015-18 Country Development Plan identifies that 50% are married with children by age 18, estimating this number to be higher in marginalised rural communities. Barriers to education, gender inequality, stigma and sexual violence along with weak protection systems, standards and capacity are major bottlenecks to attaining a protective environment for girls.
Pre-Ebola, children were already vulnerable to endemic levels of abuse, child labour and trafficking. Girls' vulnerabilities were further compounded by entrenched gender inequalities, which meant that many were kept out of school to manage household and / or farming responsibilities. There were very high levels of transactional sex as well as gender based violence.
Tragically, much of the sexual abuse is perpetrated by those who should be keeping girls safe; their educators and teachers. There is even a local colloquialism to describe this: STGs or "sexually transmitted grades." In addition to all of this, pubescent girls in these communities are required to join the female secret society (the Bondo Society) initiation into which includes mandatory female genital mutilation (FGM), following which they are eligible for marriage.
In 2011, Child to Child was working with the Pikin to Pikin Movement in the Kailahun district of Sierra Leone, on a community based early childhood development project. This ran successfully until the country suffered a major blow from the outbreak of Ebola. It was in Kailahun that the first case of Ebola was detected, in March 2014. The virus quickly spread from community to community, spreading fear, terror, contagion, devastation and death. Not surprisingly, children, girls and women were most impacted by Ebola. A 2014 study by the Sierra Leonean government, UN Women, Statistics Sierra Leone and Oxfam GB found children and women and girls were disproportionately affected. In 2014, Humanist Watch Salone documented a 30% rise in sexual assaults whilst Marie Stopes recorded a 50% rise in teenage pregnancies.
Pikin to Pikin Tok: A child-centred radio for education project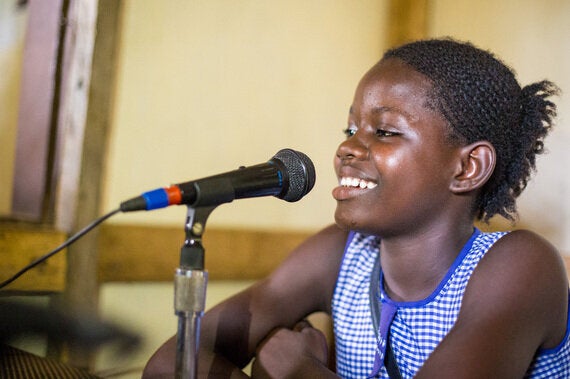 Photo credit: Michael Duff
Pikin to Pikin Tok emerged as a response to the Ebola outbreak, when schools were closed and public gatherings banned. In line with the ethos of making young people partners for change, Child to Child and local partner Pikin to Pikin movement recruited and trained a cohort of 36 "Young Journalists" who helped to identify stories, interview key stakeholders and record audio content. Aiming to empower children to take part in issues that concern them, their wellbeing and development, the radio programmes were particularly successful in allowing young girls to educate others in their area to stay safe, to promote learning, and to combat multiple vulnerabilities. One crucial element for success was the creation of formal "Listening Groups," with facilitated phone-in sessions through which dialogue was made possible between young people.
The series featured a range of gender-specific programmes addressing sensitive subjects like violence against girls, including:
•Addressing how girls are at an increased risk and need to be empowered to make safe choices
•Providing life-skills education activities focused on developing girls' self-confidence and enabling them to make safer choices
•Teaching boys about responsible behaviour, including providing a sense of non-violent male identity
•Providing learning opportunities for parents focused on challenging the significant gender disparities and gender discrimination that remains in Sierra Leone
These serious issues were addressed in culturally sensitive and age-appropriate ways, with broadcasts featuring a variety of participatory elements such as games, role plays, drama, storytelling and case studies. Both female fictional characters and national and local female role models illustrated how to overcome challenges, and demonstrated how girls can participate in all matters that affect them.
The Pikin to Pikin project is a compelling example of the power of young people's participation. The testimonies from the field not only show an increase in confidence and life skills for those who participated, but also a dramatic change in community attitudes towards what girls are capable of achieving. Its transformative impact was recognised by the UN Girls Education Initiative, which selected Pikin to Pikin Tok as a good practice case study; it was also the focus of a dedicated BBC World Service documentary Ebola Voices which you can listen to here.
If there is one thing to remember on this International Day of the Girl, is that girls are their own best self-advocates. It is essential to equip them with the skills and opportunities to express their views and opinions, enabling them to actively participate in the realisation of their rights. These are the building blocks for creating a more just and equal world, in which girls are able to realise their potential, exercise choice, and live a life free from violence and exploitation.
Related