I love London. Hard. It makes me happy with its culture, people, diversity, but 'my oh my' sometimes I just need some SPACE. I get home from work (after 8pm usually) and get snug in my small but shockingly expensive one bed flat with the partner and two kids (pets.) I am one of the lucky ones in London. I have a garden (overgrown patio).
Luckily, on my search for space... big, beautiful, historic, glorious space, I found Stoke Park. The TV/ film friends of mine will know that this is the hotel they put up the execs and A Listers when you are shooting at Pinewood Studios. It's the place they filmed THAT scene in Layer Cake (well aware the men reading this are now all thinking of Sienna's boobies now and not the moment Daniel Craig gets killed) and the scenes in Bridget Jones when the schexy Daniel Cleaver takes her on a mini break, not to mention the two Bond movies that were shot there. It's the hotel that looks like the type of place ALL Americans think we live in, sipping on Earl Grey Tea and eating our third fresh scone of the day.
I arrived on a Friday night to be met with a smile. The place is grand and gorgeous, and you instantly regret not getting the broken wing mirror on your Clio fixed when driving in. We stayed in the Lancelot Suite . I was told it was 'only' a Junior suite, but that included a huge bed, wardrobes, separate shower, self-standing bath, two sinks and a huge terrace. In short, it was bigger than my London flat. Easily.
We had booked in to Humphry's for dinner. It's a fine dining restaurant ran by head chef Chris Wheeler. You will probably recognise him from TV if you like the Saturday Kitchen/ Sunday Brunch type shows. Dinner was immense and the staff know all about what wines to put with what and what to try. I had never tried lobster before so gave that a bash. Frankly, they could have bought out anything and I would have gobbled it down, they made everything look and smell immense. It's a good place to celeb spot too apparently, as they hold lots of events throughout the year and are only 4miles from Pinewood. I saw Tim Lovejoy there. I'll pick it up. (Picks up name drop.)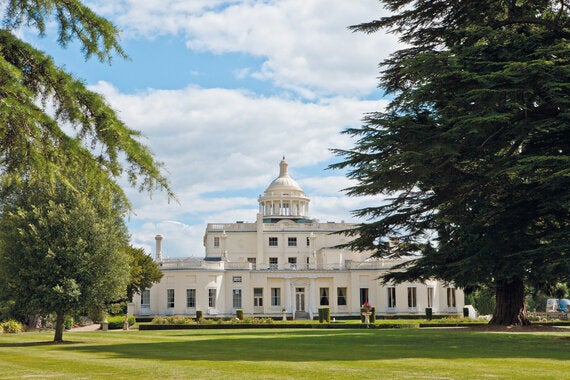 I haven't slept well lately, but slept like a baby that night. The Lancelot Suite will set you back a fair packet (around £540 a night) but it's the dream location for some luxury. I awoke to the most stunning view. I don't earn millions by any means, but I certainly like pretending I do every now and again.
In the morning we had a cooked breakfast and popped to the spa for some massages before our journey back home. I had a 'Deep Sleep' massage which was hard enough to remove some knots but soft enough to make me the happiest girl in the world, whilst my partner had the Thalgo Aromatic Body Massage. For around £80 for a 55 minute massage, I thought this was very good considering the place you are!
To do the full package, with no missing things out, it can set you back a fair few hundred pounds, worth it for a birthday/ anniversary/ event. But, like with most places, they do excellent offers and if money isn't coming out of your armpits, you should sign up to them and have a look, for instance, if you wanted to spend the day there with full use of spa facilities and a lunch, it will only set you back £50! Check out the site for offers, you never know when you can bag an offer! http://www.stokepark.com/
Be like Bridget and get your spa on ;-)